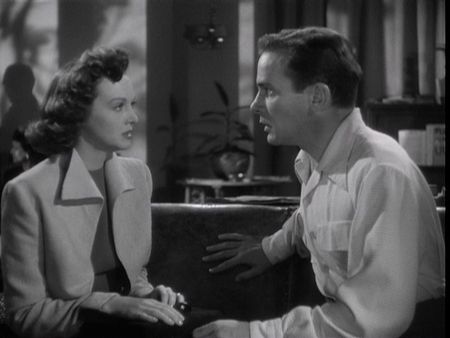 L'ami Gols me tannant (c'est un plaisir, bien sûr, je me fais taquin ce matin) depuis quelques semaines avec les westerns de Budd Boetticher, je décidai enfin de découvrir le bonhomme à l'époque où il s'appelait Oscar (encore avant c'était même Oscar Jr, pas simple...). Disons-le tout haut, Budd est réac. Nan, je déconne, c'est juste un clin d'oeil à notre petite discussion intime sur Borzage (ainsi soit-il...). Behind Locked Doors, redevenons sérieux, est donc un "petit" film noir d'une durée d'à peine une heure qui se passe pour l'essentiel dans un asile de fous - Budd comme un précurseur de Cromwell (Caged) et de Samuel Fuller (Shock Corridor) même si ces deux oeuvres sont définitivement un peu plus radicales dans le genre. L'histoire est assez simple en soi : une jeune femme reporter demande à un détective de faire sa petite enquête sur un juge, recherché par la police, qui aurait trouvé refuge dans un asile. La femme propose au détective, un peu sceptique au départ, de se faire passer pour fou lui-même pour pouvoir être sur place 24h sur 24. Cela présente forcément quelques risques, d'autant que certains gardiens n'ont pas vraiment l'air d'être là pour plaisanter... Mais le jeune Ross Stewart, totalement sous le charme de sa cliente, semble prêt à tout pour lui plaire...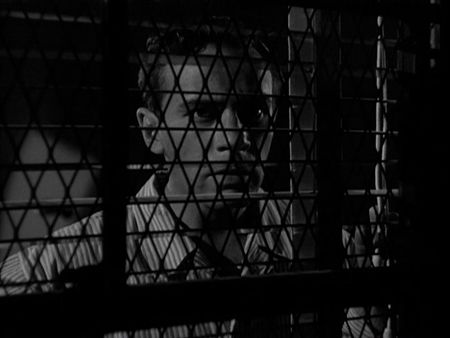 Le film part sur un ton des plus badins, le jeune détective faisant, d'entrée de jeu, grave du rentre-dedans à la mutine Kathy Lawrence venue lui proposer son premier taff. Est-il vraiment détective ou un jeune adulte en rut ? Heureusement la Kathy n'est pas vraiment une midinette et ne s'offusque point. Elle lui propose même, pour faciliter l'internement de Ross dans l'asile, de passer pour mari et femme (Ross se prend pour le loup de Tex Avery). Une fois la petite supercherie mise en place - il est admis comme maniaco-dépressif -, il saura saisir la première occase pour l'embrasser (elle le gronde du bout des lèvres, la coquine)... Rapidement, tout de même, il va moins faire le malin, devant non seulement parvenir à trouver l'endroit où le juge se terre (apparemment dans un quartier sous "haute surveillance" où sont enfermés les individus les plus violents) mais surtout éviter de se faire fracasser par les gardiens - il y a notamment un certain Larson qui, derrière ses petites lunettes sérieuses, est plutôt du genre vachard ; comme le prévient l'un des internés qui a l'habitude de se prendre des baffes : "You came to be cured and you are likely to be killed" - ça ne met en confiance, dis donc, on se croirait presque dans une maison de retraite en France. Ross va tenter de la jouer super finaude (bien vu le coup des allumettes filées au pyromane de service pour créer un instant de panique) mais va finalement tomber sur un os ; le juge, terriblement suspicieux, aidé par les responsables de l'établissement, ne tarde point à découvrir la couverture de Ross : celui-ci se retrouve enfermé avec un fou furieux, un ancien catcheur (que je soupçonne fortement d'être La Chose des 4 fantastiques qui a fini par péter un plomb). Une fois assommé, il a déjà moins tendance à la ramener...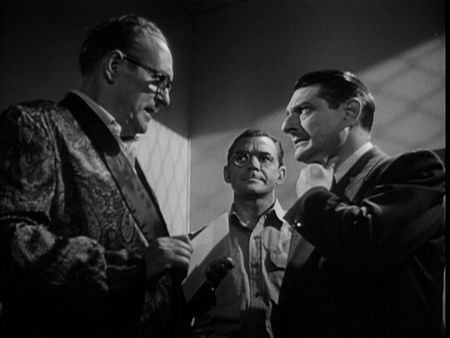 Bah, on est dans de la bonne vieille série B, sans faire preuve de condescendance. Le ton léger et le petit marivaudage entre nos deux jeunes héros, au début, tranchent avec l'atmosphère glaçante et violente de l'asile, et cette petite tension qui monte est assez bien amenée. Le plus effrayant, ce ne sont point finalement les internés eux-mêmes (un type qui hurle pendant la nuit (Gols a l'habitude...), une grosse masse qui dès qu'il écoute un bruit se croit sur un ring...) mais le sadisme de cet enfoiré de gardien - tu hurles, tu te manges une baffe, tu fais ta petite crise, tu te fais défoncer la pommette, tu ne parviens plus à te controler au moindre bruit, on va jouer cruellement avec toi en tapant sur les barreaux de ta porte... Dès lors que Ross devient gênant, le Larson est le premier à jouir en pensant à sa mort... Ca donne décidément guère envie de devenir fou, les gardiens semblant plus sauvages que dans une prison... Mais tous les gardiens, 'tention, ne sont heureusement pas tous faits sur le même moule, Dieu soit loué... Un ptite heure qui passe bien, tranquille, avec sa chtite dose de suspense sur la fin, mais une oeuvre apparemment un niveau en-dessous de celles (les westerns) de la maturité.