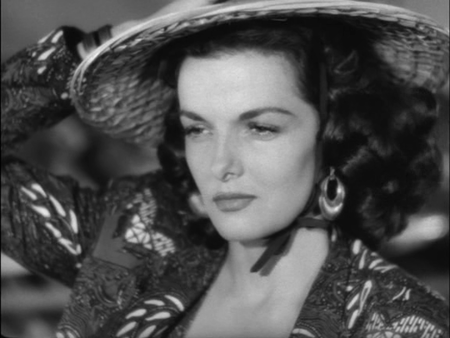 On se frotte les paluches d'avance quand on découvre au générique de la RKO les noms de Robert Mitchum, Jane Russell, William Bendix et autre Gloria Grahame, et on se dit que l'ambiance humide et malsaine de Macao va donner lieu à une petite oeuvre noire, dans les mains de Sternberg, de la plus belle eau. On restera tout de même un peu sur sa faim... La faute à qui ? Difficile à dire : à une certaine nonchalance des acteurs qui semblent plus dérouler que se donner à fond dans leur rôle - Mitchum en "beau gosse" pas bien malin, Russel en femme fatale pleine de classe mais beaucoup trop froide pour faire passer un vrai frisson, Grahame qui se contente de séduire en jouant des sourcils, ou Bendix en traditionnel moulin à paroles pas très fufute au premier abord -, au scénar dont on comprend au bout de trois secondes la seule feinte (Mitchum est-il un policier venu pour résoudre un meurtre, hum hum ?) et qui ensuite ne laisse guère de place à la surprise (Mitchum tombe les femmes par son charme naturel, c'est comme ça, et à la fin, après un vrai combat de mâles aux poings, il triomphe), au rythme un poil mollasson (pauvrettes scènes d'action si ce n'est celle, d'anthologie faut reconnaître, où Russel attaque Mitchum avec un ventilo - bilan : un oreiller de foutu) ou encore à l'ambiance, malgré un certain effort dans les décors pseudo orientaux, jamais vraiment poisseuse...? Bon attention, c'est pas non plus raté, loin de là, juste un peu décevant dans l'ensemble.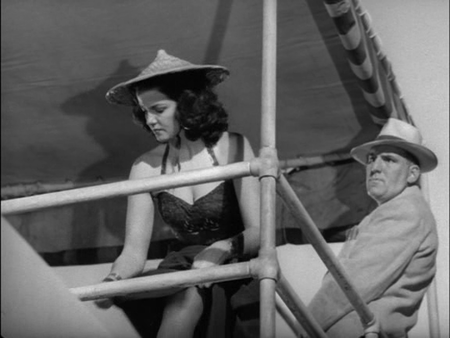 Russell marque des points d'entrée de jeu en tentant de frapper un type avec ses chaussures à talon (bizarre ce réflexe féminin... me vois mal mettre personnellement un gros coup de basket dans la tronche d'un assaillant), en roulant un gadin à Mitchum qui joue les sauveurs (lui piquant au passage son porte-feuille, bien joué) et en acceptant d'un petit vendeur de commerce rencontré sur le bateau (Bendix) une paire de bas de soie qu'elle met illico, là, sur le pont, sans vraiment faire de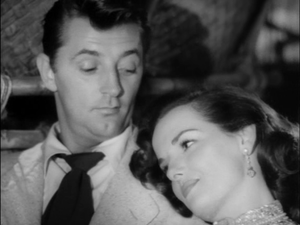 manière. Si son anatomie a des avantages qui ne prêtent pas à discussion, Sternberg n'essaie pas d'en "jouer" outre mesure (sage décolleté, robe ne cherchant point trop à mettre ses gambettes en valeur - son petit top moulant à la fin du film, tout du même, mmmmh... pardon) : il semblerait qu'il cherche à faire de Russell la parfaite séductrice ultra classieuse dont les simples chansons envoutent les hommes, mais n'est malheureusement point Dietrich qui veut (c'est peut-être là le gros problème). Même si Russell balance quelques répliques désabusées pour montrer à quel point elle a déjà "navigué" ("Everybody is lonely and worried and sorry. Everybody is looking for something"... Ben ouais Robert, t'es comme nous, attends...) et qu'elle n'est point le genre de gonzesse à qui on peut facilement raconter des sornettes, son "fatalisme" peine à réellement nous convaincre... On ne croit pas une seconde à sa petite scène de jalousie contre Mitchum (il sait qu'il peut l'emballer en un clin d'oeil, le Robert) tant l'on a deviné depuis le début qu'ils vont finir ensemble (comme eux aussi en sont persuadés, ils ne font pas vraiment d'effort pour nous y faire croire...).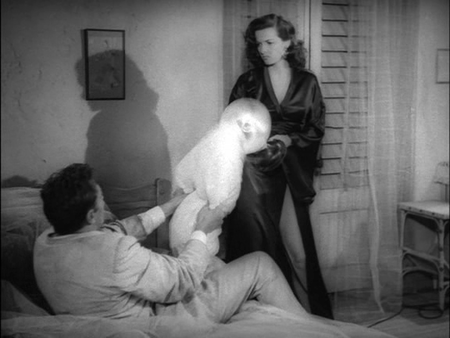 Gloria Grahame est pour sa part terriblement sous employée - deux-trois séquences en tout et pour tout où elle doit jouer à la potiche dont les yeux brillent pour les diamants, obligée de se coltiner son falot de mari parce qu'il a la thunasse... pas très original, tout ça - et n'aura même pas l'occase de rouler un palot à Mitchum qui pourtant lui devait bien ça. Même le final a du mal à nous tirer de notre sommeil - une course-poursuite sur le port où chacun rame pour trouver son chemin entre ces maudits filets, une pauvre baston pour la forme pour que Mitchum prouve que "he is the man and that he desserves the girl" - et tout est bien qui finit bien : nos deux héros n'ont même pas perdu un slip dans cet enfer du jeu... Trop de potentiel tue le résultat, cela arrive parfois. Un simple 7 sur 12 au lancer de dés.