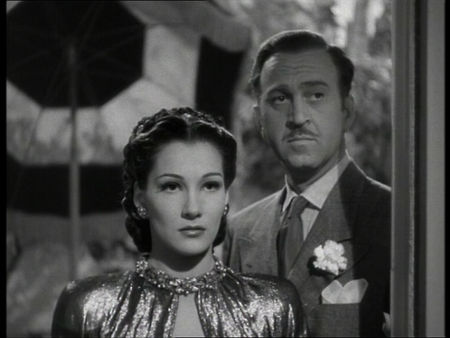 Pas de doute, il me reste encore de vraies perles noires à découvrir, ce Dahlia bleu de très haute volée confirmant toute la richesse du genre. Aucun doute non plus sur le fait que les films noirs convergent aux Etats-Unis avec un certain état esprit désabusé et désillusionné post seconde guerre mondiale : nos trois soldats ricains, après avoir combattu dans le Pacifique, devant faire face ici, à leur retour, à un monde "underground" qui a pris le pouvoir, une pègre pas jolie jolie à fréquenter, sans même parler des individus qui, pendant qu'ils lançaient des bombes, la faisait (voyez le jeu de mot) : patron de boîte richissime qui se la pète, escrocs maîtres-chanteurs à la petite semaine, gros bras kidnappeurs tentant de gratter une poignée de dollars... Franchement, notre trio, loin d'être accueilli en héros, a de quoi s'inquiéter, si jamais il veut tenter de s'intégrer à nouveau dans cette société pourrie jusqu'à l'os. George Marshall sur un scénar qui part dans tous les sens (on a tôt fait de se foutre de l'intrigue principale comme de l'an 40, pour mieux se perdre dans ces multiples séquences où toute une clique de personnages guère fréquentables fait son apparition) se plaît à multiplier les fausses pistes comme pour mieux retranscrire la difficulté pour notre trio de parvenir à reprendre pied dans la réalité. Brillantissime.
Quand Johnny Morrisson (Alan Ladd, héros malgré lui) rentre enfin dans sa casa, il y retrouve sa femme (dévergondée Doris Dowling dont on apprécie tout de même le joli minois) au bras de son amant en train de faire la fiesta avec toute une bande de gaziers alcoolisés. C'est pas vraiment l'ambiance "Welcome back", plutôt celle "Oh, ben mince, mon mari, tiens !". Il vire toute cette bande de fanfarons en deux minutes, met son poing sur le pif de l'amant et tente tout de même de renouer le dialogue avec son infidèle de femme ; ils ont perdu pendant la guerre, leur enfant, il est peut-être temps de soigner les blessures - dans tous les sens du terme - à tête reposée... Peine perdue, son alcoolique de femme, histoire de lui foutre un sacré coup au moral, lui apprend que leur gosse n'est point mort de diphtérie, comme elle lui avait annoncé dans une lettre, mais dans un accident de voiture alors qu'elle conduisait, ivre... Johnny is disgusted, got a gun mais n'ose même point shooter sa wife : il met illico les bouts, totalement écoeuré... Sa femme, sur cette action, pense s'en tirer à bon compte, elle sera assassinée dans la nuit... Toute la question est de savoir par qui, les éventuels coupables ne manquant point...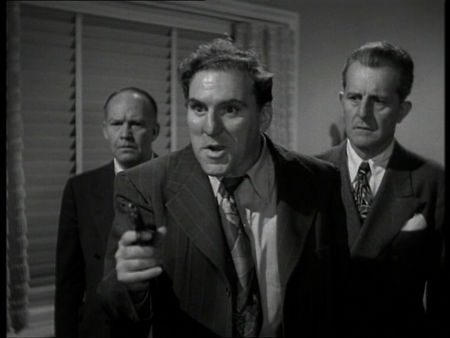 Si, pour la police, Johnny, qui s'est fait la malle ce soir-là, est le principal suspect, deux autres gaziers au moins pourraient être sur le rang des accusés : l'amant de sa femme (le suave Howard da Silva, patron de la boîte "the Blue Dahlia"), l'un des comparses de Johnny (William Bendix, aussi excellent lors de ses délires de fou furieux qu'en gros bras dans the Dark Corner dont je vous parlais hier), qui, depuis qu'il a été trépané, n'a plus toujours toute sa tête ou... C'est tout le mystère du bazar, même si l'essentiel est finalement ailleurs... Dès lors que Johnny se retrouve en dehors de chez lui, il pleut à torrent (une des plus belles pluies cinématographiques que j'ai jamais vues, je pèse mes mots... cela met délicieusement dans l'ambiance, la pluie, dans les films noirs...), il erre sans savoir où aller et, ah coup de bol, une jeune femme l'invite à monter dans sa grosse bagnole : comme la conductrice n'est autre que la sublimissime Veronica Lake (la blonde la plus sensuelle du monde), on se dit, ouais gros coup de bol, et on s'enfonce un peu plus dans son fauteuil pour apprécier la balade...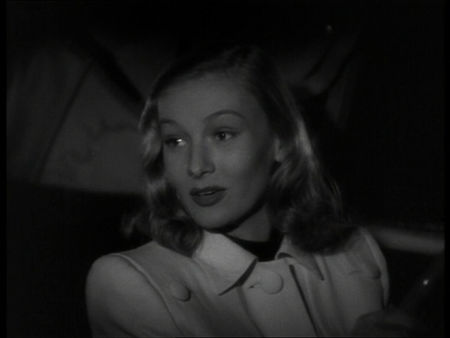 On ne sera point déçu tant la balade se révèlera particulièrement mouvementée, le cinéaste distillant avec finesse les instants précieux et apaisés (toutes les séquences avec la charmante Veronica Lake, lumineuses - elle se fend même d'une petite phrase poétique de toute beauté qui m'a laissé pantois : "It takes a lot of lights to make a city, doesn't it ?") et les passages se terminant en baston ou en sauvages règlements de compte (je ne les ai point comptés). Johnny ne va en effet avoir de cesse de croiser par hasard cette curieuse femme tombée du ciel (elle n'est autre que l'ex-femme du patron du Blue Dahlia) entre deux plans totalement foireux (de l'hôtel louche où on l'amène au piège qu'on lui tend (deux types qui se font passer pour des policiers) et qui se termine en pugilat). Les policiers, quant à eux, ne savent pas trop où donner de la tête (bon, si c'est pas lui, ni lui, ni lui, ni...) et auront quand même le culot d'avoir le mot de la fin en constatant platement et laconiquement que la résolution de ce crime était finalement... du beurre (on imagine guère ce qu'ils considèrent comme un meurtre complexe...). George Marshall, tout en nous narrant sa trame policière, nous mène par le bout du nez dans les endroits les plus glauques de Los Angeles, multipliant les personnages torves (la réplique du film restant : "Même dans le milieu des escrocs, il y a une éthique"... cette réflexion douteuse ne portera po chance au trouble individu qui la prononce...) pour mieux nous faire perdre pied. On est peut-être pas à la hauteur du Faucon maltais ou du Grand Sommeil au regard de la complexité du scénar, mais le film plane assez haut pour nous tenir parfaitement éveillé de bout en bout. Marshall mériterait bien pour cette oeuvre ses quatre étoiles.