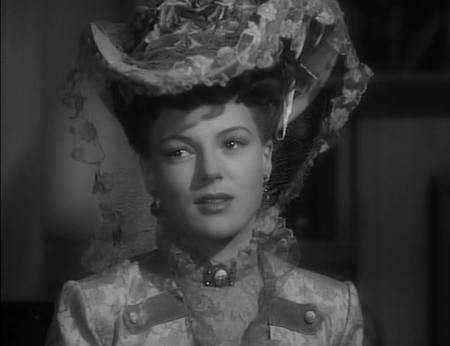 Dur destin que celui de ce bon Laird Cregar. Alors que je venais tout juste de faire sa connaissance et notais son impressionnante perte de poids d'une année sur l'autre - Hangover Square ayant été réalisé un an après The Lodger (il a perdu en route pas moins de 50 kg, le bougre, en ayant marre d'être cantonné au rôle de type mastoc), j'apprenais dans la foulée que cette excellente oeuvre de John Brahm fut sa dernière (il est mort à 31 ans, diable) : son régime s'est en effet révélé fatal (Mediator? Nan). Cette histoire me laisse comme deux ronds de flan - un ami d'un jour ! -, d'autant que l'acteur est encore, ici, tout à fait remarquable dans ce rôle de compositeur qui a de graves absences... Le film démarre une nouvelle fois avec un meurtre, et l'on découvre notre Laird déambulant comme un pauvre hère dans les rues londoniennes. Se sachant victime de trous noirs (suis-je l'assassin ?) chaque fois qu'il écoute des bruits discordants ou Florent Pagny, il prend son courage à deux mains et se rend avec sa douce amie (Faye Marlowe) chez un docteur de Scotland Yard (on est en terrain connu puisqu'on retrouve mon autre grand pote George Sanders - j'adore, en passant, le plan, qui dure juste un quart de seconde en trop, durant lequel Sanders fixe Faye qui a pris la parole : va-t-il encore piquer la donzelle de Laird ? Cela deviendrait une sale habitude... ce bref instant instaure forcément, automatiquement, une certaine complicité avec le spectateur qui a vu The Lodger). Laird est totalement blanchi dans l'histoire mais on sent bien qu'il ne tourne quand même pas bien rond... Brahm dispose d'un casting aux petits oignons (outre Sanders, Cregar et Marlowe en jeune femme pure, il faut noter la présence de la troublante Linda Darnell en chanteuse vénale), d'un grand directeur de la photo, Joseph LaShelle, l'image étant nouvelle fois éblouissante et enfin - et surtout -, de l'incontournable Bernard Herrmann qui donne à la conclusion, au dernier mouvement (on assiste au concerto composé par Cregar) une dimension incroyable - la musique "in" et la musique "off" ne faisant plus qu'une.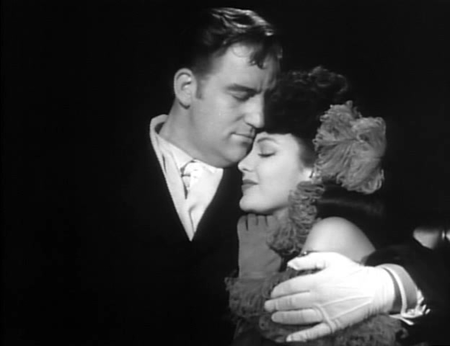 Si on voulait résumer l'histoire un tant soit peu, on pourrait dire que notre compositeur est écartelé entre deux femmes : la douce et rassurante Faye Marlowe qui l'encourage à composer de la musique classique, et la vénéneuse et profiteuse Linda Darnell qui le charme pour que le Laird lui écrive des chansons de variétoche. On sent bien qu'il devrait directement envoyer paître cette dernière - l'hypocrisie de Linda se lit sur son visage - et la jouer sécure auprès de Faye mais, les hommes étant ce qu'ils sont, il préfère forcément la vénéneuse Linda à la doucereuse Faye... Ce pourrait être simplement l'histoire d'un compositeur qui se fait méchamment abuser par une donzelle (excellente séquence dans la calèche quand, pour charmer ce pauvre Laird boudeur, la Linda lui susurre un "Make me comfortable" et se love dans ses bras - notre héros mort à l'hameçon comme une carpe affamée) si notre homme n'avait point justement ces crises violentes : des conduites de gaz transportées à cheval qui se renversent, des violons subitement renversés par un chat et hop, notre Laird entre en transe prêt à décaniller la dernière personne qui l'a vexé...
Brahm tisse de subtiles "correspondances" dans son scénar qui donnent au récit tout son sel : qu'il s'agisse du chat (Laird a recueilli le chat siamois de Linda : ce dernier attirera l'attention de Laird sur une future "arme du crime" - le cordon des rideaux - et trouvera la mort en lâchant un terrible Miaouhhhhhhh exactement au même instant où son ancienne propriétaire attaquée crie son angoisse), du feu (remplaçant en quelque sorte le motif de l'eau dans The Lodger, le feu dévastateur et "purificateur" (il efface toute trace...) étant présent dans la séquence initiale et finale et lors de l'effroyable scène du bûcher) ou de ce fameux cordon (Sanders évoquant l'arme du crime - le principe du noeud coulant -, pendant que Cregar noue son noeud papillon : terriblement caustique ; on pourrait également noter que les deux femmes se font attaquer par l'étrangleur alors même qu'elles vaquent à des occupations toutes symboliques : Faye jouant du piano, l'instrument censé établir une connexion entre elle et Cregar (instrument source de bonheur mais aussi de malheur - ces crises survenant après des périodes de compositions intenses) et Linda s'attachant un collier autour du cou, collier révélant son souci du paraître, du luxe, au profit des sentiments feints), ce sont autant d'éléments qui donnent au film toute sa cohésion.
Notre compositeur a beau tenter de revenir à la normalité sans rien laisser paraître ni laisser de traces de ses méfaits - plus ou moins inconsciemment -, le gars Sanders est un finaud et va tout de même finir par le soupçonner... Les quinze dernières minutes du film sont un pur bonheur, la musique composée magistralement par Hermann, et interprétée par un Cregar en transe, prenant tout son sens : cette musique jouée "en direct" prend la même valeur qu'une musique ajoutée après coup à la séquence : le montage est en cela nickel - l'arrivée des policiers alors que la musique se fait pianissimo, le final infernal forcément fortissimo - et rarement l'on a senti dans un oeuvre cinématographique une telle synergie au niveau de l'histoire (celle d'un compositeur "fêlé"), de la mise en image (cet impressionnant Cregar devant son piano à queue au milieu des flammes) et la musique (le concerto suivant parfaitement le rythme de cette conclusion tragique). Cet Hangover Square (un décor, d'ailleurs, également magnifiquement filmé tout au long du film, ce fameux Square prenant sa "place" parmi les personnages principaux) n'a peut-être rien de génialissime, mais la performance de Cregar (R.I.P), l'utilisation futée de la musique et le jeu sur certains leitmotive dans le scénar en font une oeuvre délicieusement noire à laquelle il est difficile de résister.