Tout commence sous les meilleurs auspices avec ces petites rues londoniennes envahies par le brouillard, ces flaques d'eau disséminées ça et là, ces cohortes de policemen anglais à pied ou à cheval, et ces citoyens armés prêts à bondir au moindre cri : ils quadrillent la ville, mais on sent bien que le Jack va commettre un nouveau crime et leur filer entre les doigts comme une ombre mouvante... Tiens, je l'avais justement parié. On fait la connaissance alors de la grande attraction du film, ce fameux "lodger" incarné par la masse Laird Cregar : un menhir qui a des allures de dolmen quand Brahm le filme en contre-plongée, un regard d'hypnotiseur et surtout une façon incroyable de se mouvoir comme s'il était sur coussin d'air - tient-on déjà notre meurtrier, hum, hum, toujours est-il que notre gars est terriblement suspect... Merle Oberon, en actrice à succès, et George Sanders (que je n'arrête pas de croiser ces derniers temps...) en détective de Scotland Yard forment un petit couple bien mignon en regard de ce grand gaillard inquiétant qui leur fait indubitablement de l'ombre au niveau de la performance d'acteur. Ils auront droit tout de même à une petite séquence assez audacieuse lorsque George fera visiter à Merle le musée du crime : dans cette atmosphère morbide, ils marivaudent comme deux ados insouciants, comme s'il y avait finalement presque quelque chose d'excitant dans ces divers événements criminels - il faut voir d'ailleurs comment chacun se jette sur sa feuille de chou après chaque meurtre. Des seconds rôles qui tiennent la route, une photo signée Lucien Ballard qui tient ses promesses, quelques séquences judicieusement mises en scènes et un final, dans les coulisses d'un théâtre impeccable, pour clore le "spectacle" : une oeuvre de John Brahm qui tient son rang parmi les films noirs.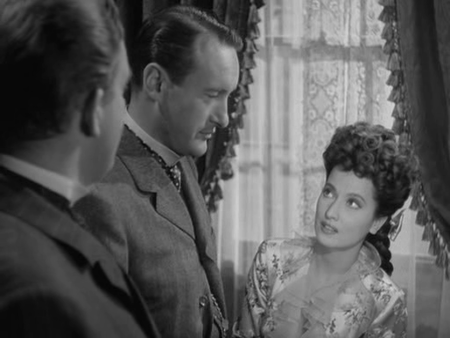 A la suite d'un nouveau meurtre, un étranger surgit dans une maison tenue par un vieux couple guère méfiant. Rapidement le comportement de ce fameux "Mr Slade" (rien à voir avec la famille de Pierre) devient suspicieux : il sort la nuit et rentre à point d'heure, il retourne dans sa chambre les portraits d'anciennes actrices (ah tiens, toutes les femmes assassinées étaient justement des comédiennes, tsst, tsst), il brûle sa petite sacoche noire quand le meurtrier a été aperçu portant la même et jette aux flammes son manteau maculé de sang - euh ouais, comme je suis docteur, voyez, j'avais peur des infections (ouais, c'est ça...); la vieille logeuse sent bien que c'est po clair ces histoires, mais à chaque fois qu'elle fait preuve de son malaise son mari et sa fille trouvent des explications pointues pour tenter de justifier de tels actes - sont tolérants, c'est tout à leur honneur me direz-vous... Brahm soigne parfaitement ses cadres et utilise la profondeur de champ pour faire monter la tension : Cregar et Sanders, côte à côte, faisant face à Merle... lequel va la croquer le premier...; le dos massif de Cregar, au premier plan, pendant que la petite silhouette de Merle, victime bien insouciante et sans défense, apparaît au loin -; Cregar se reflétant en triple dans le miroir (Welles prend des notes pour The Lady from Shanghai) devant lequel est assise Merle après un échange qui devrait la faire tiquer... (Elle : "You can not love and hate at the same time" / Lui : "You can, and that's the problem") et on voit mal comment ce Mr Slade pourrait finir par parvenir à se dédouaner... Faut dire que Cregar est malin : il la joue ultra soft et fait tout son possible pour charmer son petit monde avec ses bonnes manières... Il multiplie notamment les références à la Bible qui constitue son livre de chevet mais on sent bien, en tant que spectateur athée à qui on la fait po, que le type n'a pas "les mains vraiment propres"...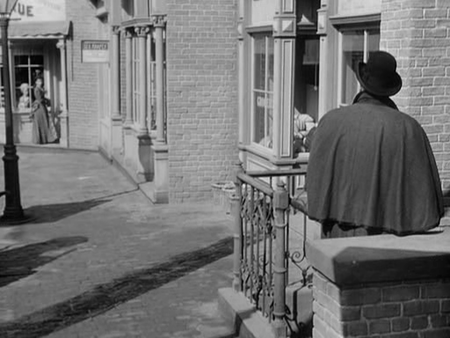 Jack osera-t-il se fourrer dans la gueule du loup quand il a tout Londres à ses trousses... Faut avouer que les flics sont plutôt manches - celui effrayé par des poules lors d'une chasse à l'homme... - et que la foule toute émoussée quand il s'agit de découvrir un cadavre ou d'évoquer le criminel cède rapidement à la panique dès lors que le Jack est dans les parages - il faut crier généralement quatre fois comme un cochon qu'on égorge (oui, bon) pour que les gens s'inquiètent et réagissent, c'est bon à savoir. Brahm nous concocte un final où il soigne ses jeux de lumière - le meurtrier se baladant parmi les cintres au théâtre - et ses plongées inquiétantes - les flics partant à l'assaut des échelles pour pister le tueur - et clôt son film de façon tonitruante avec coups de feu qui charclent et une ultime cascade du meilleur effet - le Jack (monstre véritablement obsédé par la "pureté") finira sa course... à l'eau... Une adaptation du célèbre tueur londonien qui passe très honnêtement la barre, sans aucun doute.