Même après plusieurs visions, et même, donc, en connaissant tous les tenants, aboutissants et coups de théâtre de cette histoire retorse, Minority Report garde un côté haletant, spectaculaire, divertissant, qui lui donne une place dans le haut du panier de l'entertainment. Spielberg est définitivement le meilleur pour envoyer du steak quand il le faut, il n'a plus rien à apprendre en matière d'alimentation des mirettes, et il livre ici un de ses spectacles les plus parfaits rythmiquement, à la hauteur, disons, des premiers Indiana Jones (auxquels on pense souvent dans cette façon de toujours surrenchérir dans l'action).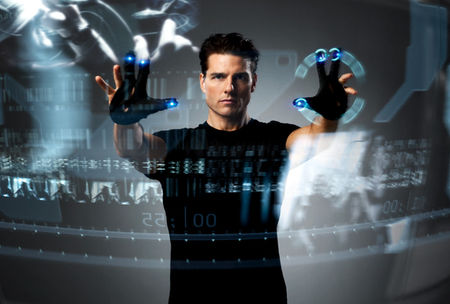 Pourtant, c'est curieux de constater combien, esthétiquement, le film a déjà pris un coup de vieux en 8 ans. Je me souviens comme il avait été considéré à la pointe de l'innovation au niveau des effets spéciaux à sa sortie ; aujourd'hui, on constate que ceux-ci ont vieilli, peut-être par manque de réelle originalité de la part de Spielberg (ces voitures lisses et silencieuses, ces costumes métalliques, ces écrans envahissants, on les a déjà vus dans plein d'autres films), peut-être parce qu'il n'est définitivement pas très novateur au point de vue des lumières (le bleu habituel de tout film de SF qui se respecte, et quand c'est pas bleu, c'est surexposé en contre-jour). Mais aussi parce que les idées "anticipatrices" du film, représentées par une armada de gadgets plus ou moins rigolos (de la matraque vomitive à la plante verte d'attaque) sont déjà dépassées par le monde réel. En plus, on voit les coutures, disons, c'est-à-dire qu'on n'oublie jamais les écrans verts devant lesquels jouent les acteurs, parfois mal intégrés aux effets graphiques. La surcharge d'effets est aussi pour beaucoup dans cette lassitude qui nous prend à mi-parcours : en voulant en mettre un peu trop, Spielberg a réalisé un film plutôt froid, et trop travaillé, trop "produit", trop virtuel. Esthétiquement, mais aussi psychologiquement, on perd au change, et le film n'atteint jamais la prodigieuse intimité que Spielberg a su trouver dans War of the Worlds ou E.T., pourtant peu avares en gros effets de palette graphique.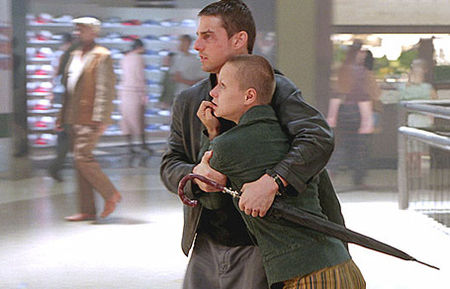 Une fois cette réserve émise, convenons que Minority Report est une pure jouissance de spectateur. Le scénario est franchement impeccable : en 2h20 de temps, Spielberg arrive à user d'un rythme trépidant, plein d'action, mais sans jamais nous faire perdre le fil de cette histoire très complexe, et pleine de pièges. Difficile d'éviter les approximations quand on traite du paradoxe temporel, difficile aussi aujourd'hui de surprendre le spectateur moyen de SF, rompu à toutes les inventions : Steven y parvient haut la main. Son univers est toujours crédible, et on va de surprise en surprise dans le scénario, qui est une sorte de succession de coups de théâtre tordus tous impressionnants. C'est Philip K.Dick d'abord qu'il faut créditer, auteur du roman, mais Spielberg n'est pas pour rien dans cette lisibilité constante de l'action et des évènements, au milieu d'un véritable barnum futuriste. Il arrive à dessiner assez finement le personnage principal, à s'amuser avec ses idées modernistes, à raconter une longue histoire, à développer 40 trames secondaires (divorce, rivalités entre flics, amitiés mises à mal, enlèvement d'enfants, manipulations politiques, etc.), le tout sans jamais nous égarer. Impeccable.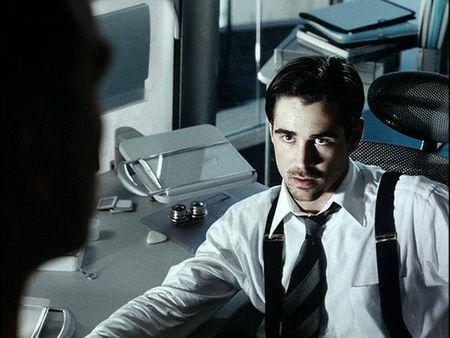 Comme toujours chez Spielberg, il y a aussi ces clés cachées (souvent ignorées par le cinéaste lui-même, à mon avis), qui montrent par la bande la psychologie de l'auteur. Ici, ce sont encore une fois deux de ses thèmes fêtiches qui sont dévelopés, deux thèmes qui semblent le fasciner autant que le torturer : les limites du regard, et l'enfance abandonnée. Du premier, il décline toute une gamme autour des yeux, ceux qui trahissent, ceux qui manquent, ceux qui parlent à votre place : la thématique parallèle de l'image manquante (qu'est devenu le fils de Cruise pendant que celui-ci était sous l'eau à la piscine, pendant les quelques secondes où le regard du père n'était pas posé sur son enfant ?), et celles du regard qui trahit (les yeux que Cruise est obligé de se faire arracher s'il veut perdre son identité), rejoignent des thématiques purement cinématographiques : qu'est-ce qu'on peut voir avec une caméra, qu'est-ce qu'il y a hors-champ, qu'est-ce que, en tant qu'auteur, on peut et on doit montrer aux yeux de son public, etc ? C'est une problèmatique très récurrente dans le cinéma de Spielberg (et qui trouvera son accomplissement dans War of the Worlds), ici traitée discrètement, en restant toujours dans le spectacle et jamais dans la théorie. De l'abandon, grande angoisse spilebergienne s'il en est, il tire quelques personnages très attachants, non seulement le fils du héros, donc, mais aussi la "pre-cog", véritable handicapée-mentale-surdouée dont le psychisme a explosé lors de la mort de sa mère, et retournant à une sorte d'état végétatif foetal (le bain nourricier dans laquelle elle vit) avec ses frères. Il y aussi une très belle figure paternelle, portée par le père de cinéma Max Von Sydow, et qui, sans trahir la trame, va s'avérer manquant à son devoir de protection et de sagesse. On voit dans tous ces personnages le petit Steven qui réclame des parents, c'est très touchant.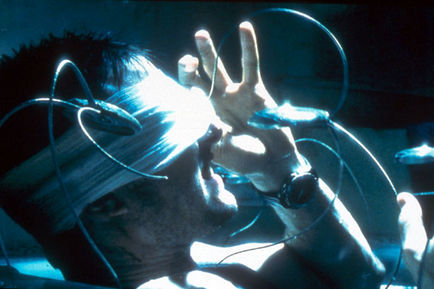 Comme tous les Spielberg récents, à quelques exceptions près, Minority Report est fascinant, non seulement parce qu'il renoue avec le plaisir simple du film d'action parfait, mais parce qu'il nous montre un auteur dans toute son intimité, ses questions et ses doutes. Nouveau chef-d'oeuvre, et répétition de mon mot d'ordre : Spielberg est grand.