Un joyau du film noir ? Sans aucun doute, tant cette chronique d'une mort annoncée nous régale à tous les niveaux : une pléiade de jeunes femmes qui ne font que passer (dommage que l'héroïne, Pamela Britton, soit, elle, un peu fade), des méchants vicelards comme pas deux (Neville Brand est tout simplement énorme), des coups de flingue qui arrivent de nulle part, des portes qui ne cessent de s'ouvrir et de se fermer comme dans un labyrinthe infernal, un suspense haletant (une course contre la montre - et contre la mort - dont on n'ose imaginer l'issue fatale), une intrigue dont on ne cesse de perdre le fil - on s'en fout grave, en fait - pour mieux se concentrer sur notre héros (Edmond O'Brien, parfait en Monsieur Tout le Monde) qui joue, là, sous nos yeux, en quelques heures, toute sa vie : il ne lui reste que quelques heures à vivre et Maté nous offre un véritable concentré en 80 minutes d'une vie entière (les hésitations, les déclarations d'amour soudaine, l'éternelle recherche (de quoi... d'un meurtrier ?, d'un coupable ? du sens de la vie ?... That is the question) avec cette oeuvre menée tambour battant. Un must qui, tout en jouant à fond la carte du film de genre, se révèle forcément en creux beaucoup plus signifiant.
Frank Bigelow se paie une petite semaine de vacances à San Francisco (hum, ça part bien, rien que de retrouver cette ville tout en "hauts et bas"), histoire de faire le point sur son avenir. Se résoudre à épouser la blonde et bienveillante Paula ou continuer de mener une vie de patachon ?... Il y a facilement de quoi perdre la tête dans cet hôtel où toutes les créatures de rêve semble s'être données rendez-vous pour le week-end. Mais du paradis à l'enfer, il n'y a qu'un pas et c'est au "Fisherman" - boîte de jazz tonitruante - que le destin de notre pêcheur potentiel (les tentations sont grandes, bien difficile de toujours garder les pieds sur terre) va se sceller : une seconde d'inattention - il s'approche d'une jeune femme bien trop seule au comptoir -, son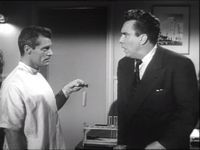 verre d'alcool que l'on échange et notre Frank de boire le poison jusqu'à la lie... Un rendez-vous est fixé avec la donzelle, il rentre à son hôtel pour faire un break et le réveil le trouve aussi nauséeux que le Shang le 24 au matin (j'avais pris de l'avance...): il se résout à aller consulter un docteur, et là le couperet tombe qui le laisse abasourdi ; les docteurs sont formels, il ne lui reste qu'une poignée de jours, voire d'heures à vivre ; il demeure incrédule, se rend dans un autre office pour avoir confirmation : la guillotine lui rase les poils de la nuque : "Vous avez été assassiné !" - tout cela a lieu dans un flash-back et fait écho à sa déclaration à la police en ouverture du film : "Hier soir, j'ai été assassiné" - l'expression est presque "trop belle", on se plaît à la répéter. Avant de revenir au présent - tout n'est peut-être point perdu !? -, on suit notre ami Frank dans la suite de ses pérégrinations : sitôt le pronostic confirmé, il se lance dans une course en avant de fou furieux (Maté est royal sur toute la séquence) avant de reprendre son souffle auprès d'un kiosque où les manchettes du magazine "LIFE" s'étalent cyniquement à ses côtés : il jette un coup d'oeil désespéré au soleil, l'astre brille de façon provocante, Dieu doit s'être caché derrière ; Que faire bon Dieu ! il n'aura plus qu'une obsession : passer les dernières heures de sa vie dans un salon de massage ; je déconne : retrouver l'empoisonneur coûte que coûte. On se doute qu'il n'a de toute façon plus grand-chose à perdre (et à gagner...), c'est encore ce qui peut le détourner, pour un temps, de la prise de conscience de sa fin proche...
Le récit s'emballe, Frank est transfiguré et n'y va par quatre chemins pour interroger toute personne pouvant le mettre sur la voie - au départ du bazar, il y a une trouble transaction sur une vente de chargement d'iridium que son bureau a enregistrée. On comprend bien que cela ne sera jamais qu'un MacGuffin de base pour trimballer notre héros lancé dans une véritable quête du Graal (l'antidote sera-t-il sur sa route...? mmmh...). Le récit nous mène de San Francisco à Los Angeles, de bureaux glauques en usine désaffectée, avec forcément au passage toute la panoplie de personnages inquiétants : une veuve éplorée qui semble cacher d'étranges secrets, des femmes fatales d'une beauté terrible (Laurette Luez dans le rôle de Marla Rakubian, rohhh !), des hommes de main sadistes, des pontes glaçants, des cercueils... Frank se retrouve en cours de route avec un flingue à la main, sans trop savoir comment il a pu, en un clin d'oeil, se transformer en Jack Bauer mais rien ne pourra désormais le faire reculer. On est happé par ce destin en miniature - belle parenthèse que cette déclaration d'amour lors de laquelle notre héros n'a plus le temps de tergiverser -, cette tragédie grecque noirissime. Vous cherchez encore, in extremis, un cadeau de Noël ? D.O.A. va vous mater.