Bon, déjà, un film où il manque la première et la dernière bobine ainsi que deux séquences cruciales au milieu, on a dès le départ envie de l'aimer (je me charrie un peu). Mais quand, en plus, on a droit aux séquences les plus chaudes du cinéma muet (je m'avance complètement, mais si je le dis sur un ton sérieux cela peut faire illusion), alors là on applaudit à deux mains. Borzage troque Janet Gaynor pour la brune et torride Mary Duncan et garde le gars Charles Farrell dont on aperçoit tout de même subrepticement le kiki alors qu'il sort de la rivière - je suis po porté sur la chose mais cela surprend : chacun sort les armes qu'il peut face à l'arrivée du parlant... Une rencontre à haute teneur érotique garantie, sous les yeux d'un corbeau qui fout la trouille (on le retrouvera en leader de bande dans Les Oiseaux d'Hitchcock - j'avais envie de dire un peu n'importe quoi, c'est fait).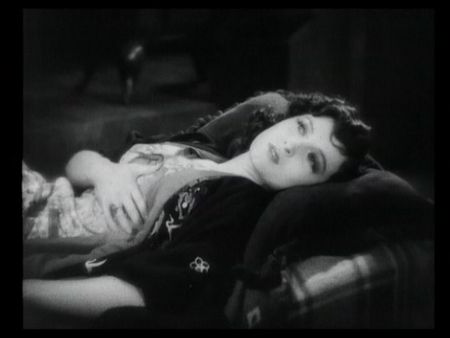 Son ex-compagnon étant en prison pour meurtre - un crime perpétré par pure jalousie -, la pauvre Mary se morfond sur son rocher avec pour seul compagnon un corbaque : véritable Big Brother, il semble veiller sur elle comme s'il transmettait directement les images à son ancien propriétaire en prison. Pendant ce temps, notre ami Charles se la coule douce en se laissant porter par la rivière et en flirtant avec un tourbillon qui s'est crée en son sein : une femme, un homme, un tourbillon, l'obsession, les vertiges de l'amour..., on passe immédiatement en revue tout notre catalogue des symboles prêt à l'emploi. Notre Charles, qui a descendu la rivière sur un radeau et qui est bloqué par un barrage, projette au départ de prendre un train pour passer l'hiver en ville et revenir à la montée des hauts... Un train qu'il ne parviendra jamais à prendre, happé par le regard noir de corbeau de la Mary. Au début, ça flirtouille gentiment : elle le charrie pour n'être encore qu'un jeune garçonnet, mais elle ne tarde pas à s'allonger sur la table de façon bien langoureuse, ma foi, pour lui parler nez à nez, puis par coller son petit corps contre celui du Charles pour se mesurer à lui. Le Charles a l'air quand même bien innocent et défoule une première fois ses pulsions sexuelles en allant couper du bois pour la miss. Ce petit jeu entre les deux va continuer - on loupe une séquence dans la rivière qui avait l'air bien sexy, zut - jusqu'à un soir d'hiver où la pression sensuelle de la Mary devient insupportable : elle tripote notre Charles de ses petites mains pour voir où il a froid, se couche sur son lit avec un regard qui mettrait à genoux n'importe quel individu sexuellement apte, porte sa main sur son propre sein pour parler de son petit coeur qui palpite, et l'autre gros lourd va chercher un jeu de dames - les hommes sont po fins quand même parfois... Mais bon, elle va se faire tellement pressante que le Charles va finir par tilter - ah mais oui, un baiser, c'est ça - alors que l'ombre de la cage du corbeau se fait volontairement menaçante sur un pan du mur. Alors que le baiser est maintenant irrémédiable, le corbeau se jette sur eux ! Nos deux tourtereaux se chamaillent à propos du sort du corbaque, Charles prend la mouche alors la Mary le charrie une fois de trop, et il finit une nouvelle fois par couper quatre hectares de forêt pour montrer à Mary que c'est po une lavette.
Cette attitude guère éco-friendly ne va pas lui porter chance : passer toute une nuit sous de gros flocons à jouer de la hache, c'est jamais bon pour la santé. Charles gît chez lui tout inanimé, et il faudra un massage cardiaque de la Mary et d'un de ses potes, à base de neige, pour le ramener à la vie - ça dure des plombes et on se demande comment Charles Farrell fait pour rester de glace alors que les deux autres larrons le chatouillent dans tous les sens ; il a dû chopper une pneumonie sur le coup, le pauvre, on a froid pour lui... Il finit par voir des images de son passé défiler sous les yeux et par reprendre enfin connaissance. Il projette de se barrer avec la Mary mais l'ex-compagnon de cette dernière survient - il s'est échappé de prison - et cela a l'air de fumer grave - il ne nous reste que des photos et on ne peut qu'imaginer, notamment, le sauvetage de la Mary (qui a fini par se jeter à l'eau sous les menaces de son ex), entraînée dans le tourbillon, par le Charles. On se doute que tout est bien qui finit bien et que les deux vont enfin pouvoir consommer leur amour après avoir fait passer à l'écran autant de petites décharges électriques érotiques. Pas de doute que Borzage sait se faire, quand il le veut, diablement taquin et émoustillant. Me voilou tout remué maintenant par ce superbe film d'amour à l'état brut d'une grande sensualité, malheureusement faut l'admettre un tantinet tronqué. (Shang - 26/03/09)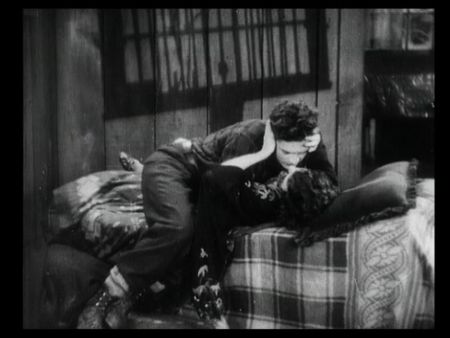 ---
L'érection de mon camarade ayant dû retomber depuis 2 ans, je prends le relais en enfonçant le clou : diable oui, que de phéromones balancés à tout-va dans ce film moite et torride à souhait. A force d'allumer ce pauvre benêt, la fatale Mary Duncan charge chacun de ses gestes et chacune de ses postures d'une sensualité qui explose à l'écran : la scène où elle compare sa taille à celle du garçon est absolument bandante, pas d'autre terme. Elle se colle à lui, rit parce qu'elle a gardé ses talons et là, là... elle enlève ses chaussures, ce qui déclenche l'émoi immédiat. Heureusement qu'il y a cet aspect-là dans le film, dirais-je, parce que, pour le reste de la trame, je suis resté plutôt de marbre. Certes, il manque du métrage, mais même comme ça, on sent cette histoire un peu bancale, entièrement centrée justement sur le pouvoir de séduction de Duncan et sur lui seul : le scénario semble complètement laissé à vau-l'eau pour tout le reste. Ce corbeau est une bien jolie idée, oui, mais que viennent foutre là les trames très secondaires du mari criminel et du copain sourd-muet ? (digression : lançons un cycle sur les sourds-muets dans le cinéma muet, ça me semble être un challenge à notre hauteur ; pour ma part, c'est le deuxième que je vois, après The Mark of Zorro de Niblo). On a du mal à comprendre, également, les motivations et les sentiments de Mary, à la fois dégoutée des hommes, attirée par le Charles, voulant jouer avec lui, désabusée par ses réactions masculines typiques, amoureuse, etc. Psychologiquement, c'est un peu le flou.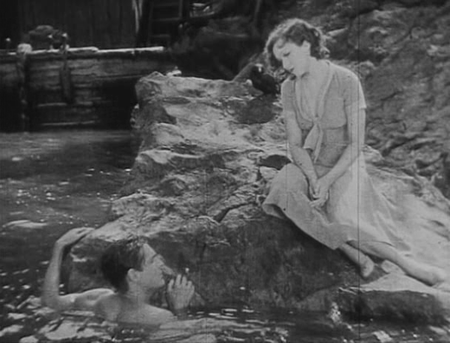 Tant pis : la mise en scène de Borzage est pour cette fois encore splendide, avec ces jeux sur les ombres, avec cette utilisation inspirée des décors (bel enchevêtrement de passerelles et d'escaliers pour accéder à la gare, qui tranche avec la netteté de la ligne de la rivière, elle-même habitée par des tourbillons circulaires), avec ce montage très dynamique, avec cet humour bon enfant dans les détails (le jeu de dames sorti au moment le plus torride du film est effectivement une idée poilante). Pas un chef-d'oeuvre, sûrement, mais un film attachant, sensuel, et très agréable. (Gols - 18/12/10)
à l'aborzage ! clique