L'odyssée borzagienne est longue, et c'est véritablement aux forceps qu'on parviendra à accéder à certains de ses films... Mais justement, nous sommes tenaces ! "Aux forceps" disais-je ingénument (!), quoi de plus normal chez ce cinéaste qui a une méchante tendance à allonger ses personnages principaux dans des lits d'hôpitaux. Pour le coup, nous sommes servis, et pas seulement au regard du titre. Science vs Foi en l'Amour, laquelle pourra bien sortir vainqueur ? Un indice : l'héroïne est interprétée par Dorothy Lamour... Pas la peine de me faire les gros yeux, on sait de toute façon à quel point notre homme est un éternel romantique. Certes, faut reconnaître que cette fois-ci, il n'y va point avec le dos du scalpel pour faire sa petite démonstration mais bon, on ne va pas non plus faire trop la fine bouche vu la difficulté pour mettre la main sur cette oeuvre qui nous emmène (on a vachement de points communs avec le Frankie)... jusqu'en Chine.
John Howard est un homme taillé dans un chêne, résolu à devenir un grand chirurgien. Ca tombe plutôt bien vu qu'il a comme prof une incroyable peau de vache (Akim Tamiroff, un pur et dur): celui-ci a prévenu d'entrée de jeu ses étudiants, il y aura beaucoup de déchets et peu d'élus. Et si jamais on a l'ambition de faire partie de la crème de la crème, il faudra faire table rase, à jamais, de tout à-côté. Il trouve en John un gars à qui parler, ce dernier étant prêt à bosser comme un âne pour devenir the best of the best... John devient l'assistant du Docteur Akim, véritable petit couple dévoué à la science. Bien. Heureusement, le John va devoir opérer une patiente, l'amie Dorothy, qui va méchamment troubler notre homme. Faut dire que la donzelle est surprenante : non seulement elle se fait les cils avant une opération (je sais, c'est vache) mais en plus elle se prétend chinoise : parfaitement, orpheline, elle a été élevée en Chine par des parents chinois ! Notre John ne tarde point à craquer pour la fille mais a forcément un soupçon de mauvaise conscience par rapport à son taff et surtout à son mentor Akim. Un ami de ce dernier va heureusement soulager John de ce poids en lui racontant le passé du gars Akim : depuis qu'il a perdu sa compagne, suite à une grossière erreur médicale, il est devenu ce type triste comme un orme. Borzage met en scène ce récit avec nos deux hommes dans d'improbables lits superposés : on voit bien le lourd message, John reçoit l'illumination de sa vie, il est au Septième Ciel. Il ne tarde point à déclarer sa flamme à Dorothy mais le Dr Akim n'a point dit son dernier mot : il va réussir à convaincre la donzelle d'abandonner le John pour le bien de la Science, et cette dernière de se barrer en Chine...
Quand John finira par avoir vent de cette traîtrise, il sera forcément furax et partira illico en Chine - ça partait mou, les violons commencent enfin à s'énerver. Impossible de mettre la main sur Dorothy dans ce pays en pleine guerre et Borzage nous fait la totale - accrochez-vous : John bosse dans un hôpital de fortune, se prend un shrapnel dans le cerveau en essayant de sauver un gamin immobilisé dans son lit lors d'un bombardement (papapapam !) et seul le Dr Akim peut le sauver. Il fait le voyage, l'opération, mais il faudrait un miracle, j'ai bien dit un miracle, pour que le John reprenne enfin conscience... Science sans amour n'est que ruine de lames ("avec mes sabots..."). Qui va sortir du chapeau pour venir au chevet du John avec ses petits yeux tout humides, ses paroles douces et sa coupe au carré passée de mode ? Do, do, do...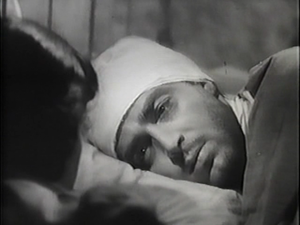 Ah ben oui, on est dans le gros mélo avec happy end tonitruant. On sent venir la petite leçon de loin (Fait moins le malin, le Docteur Akim, avec ses grandes théories scientifiques, hein, dans ta barbiche, vieux !) et faut reconnaître qu'on est quand même loin de la magie borzargienne de la fin des années 20 - mais bon ça fait douze fois que je le dis, on a compris. La rencontre improbable, l'amour salvateur,... il n'y a point de mal à refaire toujours le même film, encore faut-il que le charme ne s'évapore point en route. C'est vrai que nos acteurs, même quand ils ne sont point couchés (pour se faire opérer...), sont quand même ici méchamment figés - John Howard derrière sa petite moustache toute raide, Dorothy dans sa robe chinoise (mon Dieu !) en forme de cierge. On a certes droit au bon vieux gros baiser de cinoche vintage (voir un ancien générique d'émission de téloche...), ça ne suffit point pour donner le vertige de l'amuuur. Un peu chirurgicale, si j'osais, la mise en scène : précise mais trop démonstrative (ce ciel nuageux qui soudainement s'éclaircit, sur la toute fin, gloups : lourdement amené). Un petit Borzage, quoi, loin d'être homéopathique au niveau mélodramatique.