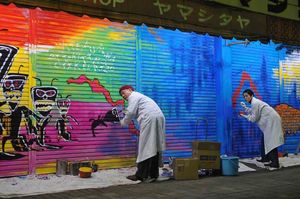 Que ça fait du bien de voir revenir à la vie notre Beat Takeshi, après deux films où la dépression semblait aller de paire avec une perte aigüe de l'inspiration. Achille et la Tortue est pourtant très proche de ces deux opus (Takeshis et Glory to the Filmmaker), formant même une sorte de trilogie autobiographique troublante ; mais c'est un film beaucoup plus maîtrisé, qui nous fait retrouver à la fois le Kitano mortifère, sombre, mélancolique et violent, et celui clownesque et absurde qu'on adore. Beaucoup plus ambitieux, retrouvant une évidente envie de metteur en scène, le maître nippon dresse ici le portrait d'une vie, celle d'un peintre talentueux qui va passer son existence à courir après une certaine avant-garde, toujours en retard d'un train par rapport à son art ; portrait modeste et triste d'un artiste au don indéniable mais sans génie propre, passionné jusqu'à l'obsession par son travail, y laissant même pas mal de plumes (amicales, familiales), mais qui ne parviendra jamais à rattraper ses maîtres (qui vont de Picasso à Basquiat, dans un spectre large mais révélateur d'un certain manque de caractère du peintre).
Je voudrais pas cafter, mais on est quand même en droit de voir là-dedans une nouvelle variation takechique sur la perte de l'inspiration, la difficulté de créer, l'absence de génie. Si les deux précédents volets se vautraient avec masochisme dans l'impuissance artistique (avec quelques réussites, soyons justes), ce nouveau film est beaucoup plus positif, malgré son aspect mortifère prenant. D'abord parce que la comédie y refait son apparition, et libérée du cynisme que Kitano arborait trop fièrement depuis une paire d'années. On se marre bien dans Achille et la Tortue, surtout dans les deux dernières parties, celles où le peintre tente d'être contemporain et en avance sur son temps. On y retrouve la patte originale de Kitano, dans cet humour à froid, à la fois excentrique et plat, qui déclenche à chaque fois l'hilarité. Comme acteur, Kitano a rarement été aussi bon, touchant, drôle, inquiétant, sans que son fameux visage n'ait droit à une quelconque expression : l'exemple même du clown blanc, ou du personnage keatonien, une page blanche sur laquelle on dessine nos propres lectures des sentiments du personnage. Les essais picturaux du gars (se jeter en bagnole contre une toile blanche, peindre au bord de la noyade, bousiller une toile avec un marteau-piqueur) sont non seulement poilants, mais donnent lieu à un de ces portraits de couple dont le gars a le secret : une nouvelle fois, l'acteur est accompagnée d'une actrice sublime, Kanako Iguchi, qui forme avec lui un duo bouleversant.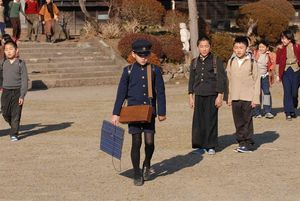 C'est magnifique de voir comment deux êtres barrés peuvent se trouver et créer ensemble, dans la même folie, dans un amour immodéré qui éclate à l'écran ; mais qui éclate sans ostentation, avec une pudeur et une discrétion qui vous tortille le coeur. Ce film pourrait bien être un retour de bonheur et d'apaisement chez un cinéaste bien torturé depuis quelques temps.
Modérons pourtant cette impression : Achille et la Tortue, et c'est aussi une de ses qualités, est proprement imprégné par la mort, l'échec, le renoncement. Ce petit peintre sème la mort et la désolation sur son chemin, dans une série de décès filmés sèchement, sans émotion : accumulation de suicides brutaux (leur mise en scène est impressionnante de justesse à chaque fois), de baffes assénées sans sentiments, d'abandons... La première partie, consacrée à l'enfance du personnage, est presque entièrement dénuée d'humour, flirtant plutôt avec un mélodrame à la Ozu, et développant une amertume sans cri : si le peintre ne parvient jamais au génie, c'est aussi parce que son enfance fut brimée, que son talent ne fut jamais accompagné par les adultes. Ce n'est pas le seul responsable de son échec, mais Kitano montre aussi ce que c'est que de brider un élan créateur, d'étouffer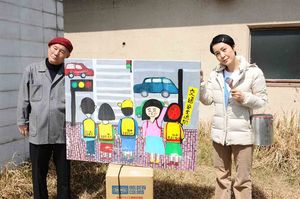 dans l'oeuf un talent et une enfance. La gorge est souvent serrée, d'autant que le reste du film cultive cette atmosphère mortifère, qui refait son apparition souvent entre les scènes drolatiques : le peintre qui veut dessiner le corps d'un accidenté plutôt que le sauver, ou qui utilise le visage de sa fille morte comme oeuvre d'art, ou qui regarde impavidement sa femme se faire massacrer par un boxeur... Son fameux personnage mutique est à la fois un clown blanc et une expression de la dépression, de l'inadaptation au monde. Quand le film se termine, on est dans une curieuse impression, celle d'avoir passé un moment lumineux et sombre à la fois, drôle et complètement déprimé... sentiment qu'on a souvent eu par le passé dans les grandes oeuvres de Takeshi, et qui vient nous prouver une chose : Achille et la Tortue est un grand Kitano.