C'est souvent quand il aborde le cinéma de genre que Polanski est le meilleur ; ici, il s'attaque à l'Hitchcock-film, genre à lui tout seul, et il réussit un très joli exercice de style à la gloire du maître. D'abord parce que Harrison Ford est parfait en vague descendant des héros de The Man who knew too much ou de North by northwest : comme chez Bouddha, Polanski plonge un homme ordinaire dans une situation qui le dépasse, et regarde comment il s'en sort. Ford est très subtil et sobre dans ce rôle pas facile du tout du type banal ; il sait être drôle, héroïque parfois, tout en conservant intact son effarement d'exilé, son aspect bourgeois grand-crin. Notre gars se retrouve à Paris pour y tenir des conférences médicales, et dès le premier jour sa femme disparaît. Le challenge va être bien sûr de la retrouver, mais également de naviguer à l'aveugle dans un pays qui le dépasse complètement : la langue, la lenteur des institutions, l'absence totale de glamour qui semble être le lot de la France pour le bon Roman, tout ça est merveilleusmeent géré en miroir du personnage de Ford, qui arrive avec son bagage d'Indiana Jones et de film américain héroïque. Situations qui pourraient être drolatiques si elles ne reposaient sur un fond dramatique de thriller : nous voilà bien chez Polanski, qui jongle toujours délicieusement entre comédie et noirceur.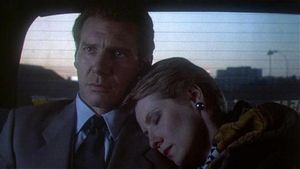 Surtout, le dépaysement du héros se poursuit ici par une rencontre hasardeuse avec une jeune Française d'aujourd'hui (Emmanuelle Seigner, mignonne mais pas toujours bien tenue), qui va opposer à son conformisme bourgeois une démesure très attachante : Ford va se retrouver plongé dans le monde interlope de Paris, ses prises de drogue dans les chiottes, ses clodos intéressés, ses tueurs du dimanche, ses cadavres et ses plans foireux. Le scénario excelle à malmener notre pauvre Harrison, avec ce point culminant qu'est la séquence superbement mise en scène de l'escapade sur un toit : Ford s'y montre embarrassé par ses oripeaux bourgeois (ses chaussures cirées qui glissent, sa cravate qui se prend dans la valise qu'il porte), irrémédiablement confronté à un univers pour lequel il n'est pas adapté. Ca fait moins le malin sans le fouet et le chapeau qui va bien, hein, Indiana ?
Le film est loin d'être parfait, s'essouffle même assez nettement dès lors que le mystère commence à se désépaissir. La musique de Morricone, taquine mais ringarde, les costumes assez lourdauds, le déséquilibre dans l'interprétation, tout ça empêche Frantic d'être vraiment satisfaisant. Mais ma foi, il y a un tel talent pour raconter, et un portrait humain tellement fin qu'on adhère quand même avec bonheur, d'autant que les nombreuses pointes cinéphiles (des allusions à Hitchcock, donc, mais aussi à Charade, à The Tenant, ou peut-être même... à Jacques Deray) sont utilisées à bon escient.