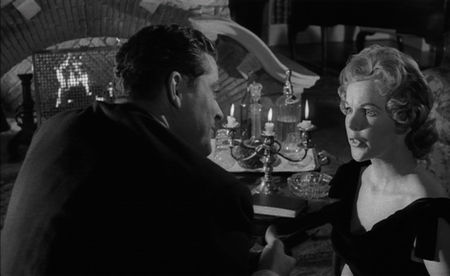 Jacques Tourneur a le vent en poupe en ce moment sur Shangols, et c'est loin d'être démérité tant ce Night of the Demon recèle de séquences prenantes pour ne pas dire gentiment jouissives : même si Jacques a vu en partie son travail sapé par les producteurs (une apparition du fameux démon (je suis rarement fan du genre mais la bestiole est, je trouve, assez réussie) dès l'ouverture, une ambiguïté entre explication rationnelle (vision fantasmée) et surnaturelle (la grosse bestiasse existe bien, diable !) loin d'être exploitée à son max), il demeure quelques vrais beaux morceaux de bravoure qui font à la fois plaisir à voir (superbe jeu sur les lumières et les ombres) et qui tiennent bougrement en haleine (je deviens parano ou arggggh, oh putain c'était juste un ptit minou).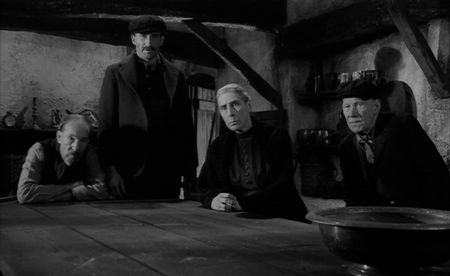 John Holden (Dana Andrews, beau menhir taillé pour le rôle) ne croit point en des forces surnaturelles et démoniaques - pourtant Luc Chatel est bien Ministre de l'Education mais bon...; il enquête sur les travaux d'un certain Docteur Karswell qui se targue de pouvoir convoquer les esprits du Mal. John reçoit dans ses recherches le soutien de Joanna Harrington (Peggy Cummins - eh une faute d'orthographe sur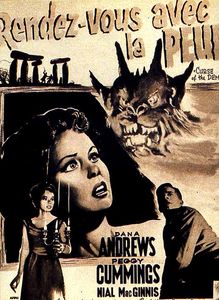 l'affiche !, bravo les gars) dont l'oncle, ennemi de Karswell, vient justement de mourir dans des circonstances super chelous - se faire électrocuter par un pylône à haute tension, passe encore quand on conduit super mal, mais pourquoi ces horribles griffures sur tout le corps, hein ? Elle a beau le mettre en garde contre les agissements de ce curieux docteur qui lit les runes comme moi le chinois (c'est faux mais c'est bien dommage en un sens), John reste de marbre, même si, chemin faisant, il se taperait bien cette petite blonde. John et le Docteur ne vont pas tarder à se croiser et notre John de s'en sortir avec un avertissement plutôt menaçant : le 28 à 22h, il va mourir, et faudra bien qu'une fois dans sa tombe il comprenne qu'il a pas mis les pieds où il aurait dû... On a beau être de tout coeur avec lui - les fantômes, le Malin, le Père Noël, tout ça c'est pour les gosses - le discours inquiétant du Docteur ("Où finit l'imaginaire, où commence le réel ?") aurait presque quelque chose de finalement assez séduisant - surtout quand c'est le gars Jacques qui est aux manettes et que cela sonne, quelque part, comme une profession de foi du cinéaste...
On sera donc gâté en terme de séquences inquiétantes qui peuvent toujours garder (jusqu'au final un poil kingkonguesque (...)) un pied dans la réalité : un médium à deux balles qui prend la voix des esprits avec lequel il communique (le meilleur rôle à ce jour de Laurent Gerra) - entre grotesque et troublancitude (que mon correcteur n'accepte point, allons bon) -, un John cambrioleur qui se bat avec un gentil matou qui se transforme en saloperie de guépard - séquence féline tourneurissime -, un John confronté à des paysans "sectaires" et satanistes qui font froid dans le dos - sûrement ma séquence favorite avec ces tronches de vieux tout menaçants -, un John qui se retrouve tout seul dans les bois (Gaaaaamin, gaaaamin (oups)) poursuivi par un étrange nuage blanchâtre lui faisant perdre de sa superbe - les pas de ce diablotin invisible qui s'enfoncent dans le sol humide, terrible -, un possédé sous hypnose (Quentin Tarantino en caméo, démentiel...) qui se livre à une petite défenestration publique qui marque les esprits, une scène finale dans une gare où la fumée lâchée par les trains a des vertus hallucinogènes... Forces obscures ou pouvoir "d'auto-suggestion", "il vaut mieux parfois ne pas trop savoir" pour paraphraser nos deux héros... Tourneur, lui, a une nouvelle fois réussi à nous foutre le trouble et nous laisse avec au moins une certitude, celui d'être un des maîtres du genre.