Changement de firme pour notre compère qui s'émancipe pas mal dans ces courts-métrages-là. Tous ces films sont réalisés par le maître himself (sauf le curieux His Regeneration), et comme on ne change pas une équipe qui gagne, mes préférés sont comme toujours en rouge, mais vous en faites ce que vous voulez.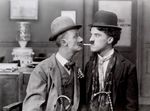 Charlot débute (His new Job)
Le passage d'un studio à l'autre n'a pas vraiment bouleversé le style chaplinesque (il n'y a d'ailleurs que 2 mois entre le dernier film "Keystone" et celui-ci), et pourtant un vent nouveau souffle sur ce film. Qualité de l'image, beucoup plus soignée, affinage de la gestuelle chaplinesque, et surtout, surtout, révolution dans la mise en scène du sieur : la caméra bouge !!! Attention, on n'est pas chez Lelouch non plus, hein, on n'aura droit qu'à deux ou trois travellings très discrets (dont un avant très joli qui occulte doucement une équipe de cinéma en train de filmer pour se concentrer sur le motif principal), mais tout de même : ça donne une indéniable touche de modernité à ce film, qui en avait bien besoin, parce que sans ça, c'est assez plat : gags répétitifs (le gars se ramasse 80 fois une porte battante dans la tronche, ça amuse deux minutes), intrigue très floue, seconds rôles moyens. Mais Chaplin est très bon, dans la foultitude de minuscules gags visuels qu'il décline (du grattage d'allumettes à la perte de chapeau, tout est minutieusement calculé), ce qui suffit à notre bonheur. Il y a en plus une mise en abîme audacieuse, puisque le héros est engagé comme acteur de cinéma, ce qui en fait un de ses films les plus conceptuels (hum).
Charlot fait la noce (A Night out)
Encore un petit film assez paresseux de la part du compère, qui se contente de faire ce qu'il sait faire et ce qu'il a déjà fait. Complètement privé de scénario, cet opus pourrait se résumer en trois mots : Charlot est bourré. Point barre. Ceci dit, c'est forcément poilant quand même, parce que Chaplin fait très bien le mec bourré. Ma séquence préférée : le gars qui veut absolument accrocher sa veste sur des murs absolument privés de patères (entrée fracassante du mot "patère" sur ce blog) et finit par la balancer par la fenêtre. Le film est aussi l'occasion de développer le côté cruel du personnage, prêt à assommer son meilleur copain ou à s'acharner sur un ennemi à terre du moment que ça fait du spectacle. Et puis c'est la première apparition au cinéma d'Edna Purviance, c'est donc précieux. A part ça, répétitif et épais comme un sandwich SNCF, un film quelconque.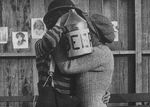 Charlot boxeur (The Champion)
Chaplin est toujours excellent quand il est sur un ring ; ce petit film est une merveille, peut-être le premier vrai grand film de sa carrière. Pas tant au niveau de la mise en scène, assez plate (même si on apprécie ces plans longs et très chorégraphiés lors de la séquence du combat, où les acteurs enchaînent les gags dans la continuité, sans coupure, dans la pure tradition du music-hall), que dans le travail d'acteur : Chaplin, c'est bien simple, a environ une idée par seconde. Filez-lui une saucisse, un fer à cheval ou un partenaire à moustaches, il trouvera 11000 façons de vous faire rire avec, épuisant toutes les possibilités des accessoires ou des costumes. C'est vraiment un festival de gags, d'acrobaties, de trouvailles, et l'acteur montre une virtuosité physique imparable, un sens du rythme monstrueux, que ce soit dans les gros gags (les bagarres) ou dans les minuscules détails (les petites mimiques, qui tiennent à presque rien). Il y a même quelques tentations de mise en abîme, avec ce baiser que le bougre cache derrière sa bonbonne de bière pour garder sa pudeur. Un film qui annonce, bien sûr, City Lights, en plus décomplexé, en plus frontal. Très très grand.
Charlot dans le parc (In the Park)
Autre décor récurrent (le jardin public), mais un film nettement moins réussi. Notre héros se promène dans un parc, drague la chtite Purviance, balance des briques sur les bourgeois et balance des gendarmes à la flotte, tout ça dans un montage absolument hasardeux et au gré des hasards. C'est amusant, bien sûr, surtout quand Chaplin pousse au bout son fameux sadisme : il ne se contente jamais d'assommer ses adversaires, il leur balance aussi un coup de pied gratuit pour la forme, ou leur marche dessus allègrement. Ca donne une séquence craquante où il pousse un candidat au suicide dans la baille, en prenant tout son temps pour que ce soit le plus cruel possible. Mais à part ça, c'est curieusement fagotté, pas mal de jolis gags sont saccagés par un découpage en-dehors de toute raison, l'espace est complètement illisible, et on ne fait que sourire gentiment en s'endormant mollement.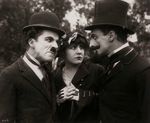 Charlot veut se marier (A Jitney Elopment)
Assez quelconque aussi, ce petit film mal équilibré et avare en vraies trouvailles. Construit à la va-vite en deux parties complètement hétérogènes (1 : Charlot chez les bourgeois ; 2 : Charlot à la campagne), comme si on avait fait entrer en un seul film deux films trop courts, il n'est remarquable que parce que, pour la première fois, les sentiments amoureux du compère pour la jeune première (incontournable et taquine Edna Purviance) semblent partagés. Même si les pitreries de Chaplin (techniques de drague assez expérimentales, à base de jongleries de chapeau) le ridiculisent souvent, il semble bien avoir trouvé cette fois son "sentimentalisme" à lui, et son personnage s'étoffe pas mal du même coup. Pour le reste, quiproquos attendus et éternelles briques dans la gueule, c'est le tout-venant. A noter quand même, c'est une première, un savant travelling échevelé pour suivre une voiture, on dirait presque du Buster Keaton.
Le Vagabond (The Tramp)
Voilà un pur chef-d'oeuvre, avec un personnage quasi-"complet", c'est-à-dire que toutes les caractéristiques de Charlot sont là, et que tout ce qui était inutile dans le passé (l'alcoolisme, par exemple) a été évacué. Du coup, on a presque là la quintessence du caractère chaplinesque : défenseur de la veuve (surtout quand elle est gironde comme Purviance), légèrement sadique, d'une bonté craquante, maladroit et en même temps extraordinairement gracieux, sans-gêne, sans culpabilité, courageux, joli coeur... On est servis au niveau gags (comment trouver 165000 idées avec un sac de farine et une échelle), au niveau jubilation (le gars lutte contre trois brigands patibulaires, les assomme, les écrabouille pas mal aussi, s'essuie les pieds dessus, etc.) et au niveau sentiments : le vagabond est ici amoureux d'une mignonne, et on pense d'abord que c'est réciproque. Il devient son chevalier servant, pur, droit et courageux. Mais quand le jeune premier fait son apparition, notre héros se retire avec une maestria bluffante : c'est la première apparition du plan désormais légendaire de Chaplin reprenant la route, de dos, vers de nouvelles aventures (qu'il renouvelera avec brio dans Modern Times). Ce simple petit geste qui le fait passer de l'abattement à la légèreté est tout simplement énorme ; on vous le dit : tout Chaplin en un seul geste. Parfait.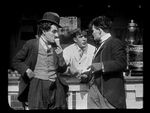 Charlot à la Plage (By the Sea)
L'air marin profite au moins à l'esthétique chaplinesque, puisque ce petit film est joliment photographié à défaut d'autre chose, dans une agréable lumière très franche. Pour le reste, que ça se passe au bord de la mer ou sur la Lune n'a aucune importance : ce n'est qu'un des innombrables films à baffes de sa carrière, sans plus, qui s'est déjà passé sur fond de jardin public, de bar ou de trottoir. Certes, c'est acrobatique et échevelé, mais c'est aussi un peu trop vide pour vraiment remporter l'adhésion. Le culot et l'audace du gars sont toujours au taquet (sa façon d'échapper au gros bras pour draguer immédiatement la bien-aimée de celui-ci), ça se balance des ruades monstrueuses et des calottes en pleine face, on sourit, c'est déjà pas si mal.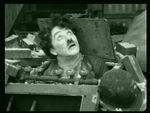 Charlot apprenti (Work)
Un des gros ratages de cette année faste, sans aucun doute : à peine drôle, mal cousu, complètement à l'ouest quand il s'agit de nous orienter dans ce décor trop compliqué (un appartement en travaux, divisé en trois (?) pièces entre lesquelles les personnages valsent), ce court-là ne mérite pas vraiment le détour. On le sent dès le départ d'ailleurs, avec ce gag beaucoup trop long où notre héros est harnaché à une charette et traité en bête de somme : le gars abuse de ce gag jusqu'à épuisement, mais la répétition du même (va-t-il se faire écraser par le train ?) ne fonctionne pas. A part quelques petites mimiques amusantes du bougre, c'est l'ennui qui nous guette...

His Regeneration de G.M.Anderson
Celui-là n'est pas réalisé par Chaplin (quand même crédité comme assistant), et ne nous donne à manger qu'une maigrelette scène avec lui, au début. Il y est drôle mais rien non plus de bien original. Le reste du métrage est constitué d'une poussive et obscure histoire de rédemption mal fagotée, un cambrioleur-meurtrier qui se rend compte, sous l'effet d'une belle jeune première, qu'il faut qu'il devienne sage. C'est complètement décousu, mal rythmé, et il y a même une longue scène dialoguée sans intertitres, ce qui n'est guère pratique au temps du muet. Bon, enfin, une rareté qui permet quand même d'entre-apercevoir l'idole dans un court instant de pitreries amusantes, c'est toujours ça de pris.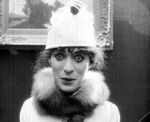 Mam'zelle Charlot (A Woman)
Encore un film un peu poussif et laborieux, décidément Chaplin ne connaît pas grand-chose au rythme du montage à cette époque. Cette petite chose passe pourtant bien, parce que sa première partie (éternel décor de parc où se lutinent les amants) est sympathique : on y voit par exemple notre héros faire preuve d'un rare sadisme en préparant très longuement la baffe qu'il va asséner au méchant (choisir le bon emplacement pour que le gars, non seulement reçoive la calotte, mais en plus manque de se noyer par la même occasion). Ensuite, curieux changement de trame, Chaplin va être forcé de se changer en femme pour échapper à ses poursuivants. La séance d'essayage des habits est longuette, les gags pas terribles, mais il parvient quand même à un certain trouble quand, privé de sa moustache (un gros plan hallucinant montrant le vrai visage juvénil de Chaplin à cette époque), il se prend peu à peu réellement pour une femme et dragouille la distribution masculine. On peut dès lors facilement avoir une lecture crypto-gay de la chose, le tout se terminant quand même par un baiser entre hommes. Ajoutez à cela une apologie de l'échangisme et du cocufiage, soustrayez une vision de la femme assez discutable, et vous obtenez un film troublant et étrange.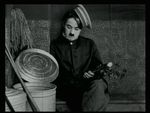 Charlot garçon de banque (The Bank)
Le scénario de ce film n'est guère plus original que d'habitude, mais on y trouve quelques perles qui le font immédiatement entrer dans les grands Chaplin de cette époque. Les gags, d'abord, très inventifs même quand ils sont minuscules : le gars qui confie sa veste à son ennemi avant de lui mettre une mandale phénoménale, une tentative de balayage de papiers par grand vent, une chorégraphie à base de serpillière réglée au millimètre, une bagarre dantesque sur la fin... et surtout les mimiques incroyables de Chaplin, quand il veut narguer un adversaire (le geste qu'il a avec sa clope, hilarant), quand il est amoureux (morgue et ridicule assemblés) ou quand il a reçu une baffe. Enfin, et ce n'est pas le moindre, on y découvre un acteur très sensible quand il s'agit d'exprimer le dépit amoureux, jeu annonciateur des grands moments de City Lights. La fin est étrangement amère, Purviance méchamment cruelle, et notre gars éternel solitaire blessé et grandiose.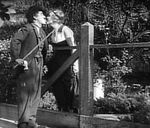 Charlot marin (Shanghaied)
Chaplin écrit un peu mieux cette fois, prenant le temps de trousser une trame un peu plus fournie que d'habitude (un armateur qui veut saboter son bateau pour toucher l'assurance, le Charlie qui est pris là-dedans, plus une historiette d'amour). Mais c'est surtout par une deux séquences vraiment très jolies que ce petit film emporte le morceau : un Charlot traité en esclave (le film est curieusement dur) et qui travaille comme un forçat, quitte à faire n'importe quoi ; une petite saynète de danse purement gratuite, déconnectée de tout, qui montre la souplesse et l'inventivité corporelle du gars ; et une longue scène keatonienne où tout le monde tombe joyeusement à l'eau dans un ballet millimétré. Dommage que le rythme ne suive pas, que les seconds rôles soient un peu pâlots (les méchants, qu'on reconnaît par leurs énormes sourcils collés au double-face) et que tout soit soit un chouille décousu. Il y a quand même là-dedans quelques petits gags d'anthologie.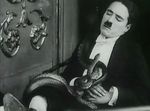 Charlot au music-hall (A Night in the show)
Tiens, Chaplin s'essaye à d'autres personnages, ça nous fait une récréation. Il interprète tout simplement deux rôles dans ce film : un gars assez proche de son clodo ordinaire, mais bien fringué et nettement soûl, qui se paye une place au théâtre et va perturber l'ensemble de la représentation ; et un prolo de base, au balcon, jouant le rôle de l'Auguste et arrosant le bourgeois avec des tuyaux d'arrosage. Tartes à la crème, spectatrice obèse tombant dans le bassin, baffes dans la face, on est dans le pur slapstick sans ambition, et c'est vrai que le film manque un poil de finesse après les courts beaucoup plus subtils que Chaplin a réalisés récemment. On a même parfois l'impression que le bougre s'ennuie et ne sait pas comment aller au bout de son gag (les serpents qui s'échappent de leur panier, l'étrange bébé-adulte qui s'installe dans la loge, ou la grosse drague envers les gorettes des premiers rangs). Bon, on s'amuse quand même à le voir tester d'autres personnages, surtout quand on retrouve dans ceux-ci les mimiques éternelles de Charlot. Mais ce film reste très en-dessous.

Charlot joue Carmen (A Burlesque on 'Carmen')
Assez mauvais, ce moyen-métrage dans lequel on ne reconnaît pratiquement rien du talent de Chaplin. Pourtant, la présentation de son personnage (il joue Don José dans ce pastiche de Carmen) est plutôt amusante : en quelques traits il plante son caractère et sa légèreté, c'est très joliment mené. Mais ensuite, tout devient poussif et pas drôle : scénario confus, scènes étirées jusqu'à plus soif, personnages secondaires inintéressants et qui ont pourtant droit à de longues scènes qui cassent le rythme, flou dans le personnage de Chaplin lui-même, même la délicieuse Edna Purviance joue les potiches. Visiblement ce film a été remanié contre l'avis du maître, j'ai dû voir cette version reniée. Je ne m'explique pas autrement cette absence de nerfs, qui n'est cassée qu'in extremis dans un duel final assez trépidant où enfin le gars retrouve un peu de verve.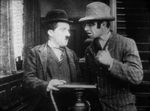 Charlot cambrioleur (Police)
Etonnant de voir comment Chaplin peut enchaîner les films médiocres et les petits trésors comme celui-ci, qui semble contenir tout Chaplin en un seul. Au niveau du burlesque et des possibilités physiques du personnage, on est au top : c'est un festival d'accrobaties et de maladresses, qui prennent place dans la situation idéale d'un cambriolage dans une maison bourgeoise. Entraîné par un bougre sur le chemin de la mauvaise action, Charlot renverse tout, se cache sous le tapis au moindre bruit, passe 10 minutes à forcer une fenêtre alors que la porte est ouverte, assomme du gendarme à tour de bras, vole les fleurs en oubliant les vases, sauve la gironde maîtresse de maison et s'en tire sans un pli. Bref, c'est drôle toutes les deux secondes environ. En plus, on retrouve là la saine bataille rangée contre la police, les gendarmes étant considérés comme de grosses feignasses veules et bêtes servant simplement de chair à canon dans le grand jeu de Guignol mis en place. Les faux prêcheurs de bonne parole en prennent aussi pour leur grade au passage, tout comme le brave prolo de base qui récupère aussi sa dose de coups de pied au cul (très joli catalogue de clodos lors de la scène du foyer d'hébergement). Charlot est tout aussi héroïque que salopard, tout aussi courageux que peureux, tout aussi grand que pathétique, et il apparaît plus que jamais comme seul face à tous les autres, quel que soit leur rang social. Il y a aussi plus d'une invention dans la mise en scène : jeux d'ombres, montage de gros plans inhabituel chez le maître, et la désormais mythique fermeture à l'iris finale sur le vagabond de dos qui s'en va vers d'autres aventures avec insouciance et résignation, plan très émouvant. Une merveille, voilà.
Les Avatars de Charlot (Triple Trouble) co-réalisé par Leo White
Bien que sorti en 1918, ce film peut être considéré comme un "Essanay", puisqu'il est constitué en grande partie de scènes inédites ou non du médiocre Work et de l'excellent Police, auxquels Leo White a ajouté sur le tard quelques séquences de lien histoire de justifier l'ensemble. Résultat : c'est assez bordélique, on passe de la cuisine d'un bourgeois aux bas-fond d'un asile sans transition, Chaplin peut être absent d'une scène et tout à coup surgir sans qu'on sache comment, et l'ensemble marche sur trois pattes. Ceci dit, ça donne aussi l'occasion de constater que les scènes jadis coupées étaient pourtant très réussies, notamment celles de la soupe populaire, mal rythmées mais assez inventives. Pas mal de petits gags justifient la sortie de ce film, y compris ceux rajoutés par White, qui a l'air de considérer la gente gendarmière comme son collègue Chaplin : une ribambelle de guignols ridicules. Dommage que les scénaristes aient pointé aux abonnés absents en ajoutant une trame inutile de formule scientifique à dérober. Mais rien que pour la bagarre hystérique déclenchée par notre héros au sein d'un foyer d'âmes errantes, un film hybride à découvrir.
époques : Keystone / Essanay / Mutual / First National