Andre de Toth n'est pas un rigolo, si on en croit ce western âpre qui cultive un jansénisme du meilleur effet. Déjà, un western qui se déroule entièrement sous la neige, c'est pas banal, et ça donne visuellement des plans épurés absolument désespérants ; mais en plus le réalisateur met son point d'honneur à "appauvrir" encore plus ses ambiances, en ôtant à ses personnages et à ses décors tout la patine glamour de ce type de productions. Day of the Outlaw est finalement beaucoup plus proche du western façon Monte Hellman que celui façon Henry Hataway, c'est-à-dire qu'on a l'impression que Beckett est venu faire un petit tour dans le genre et y a laissé des traces.
Ca raconte une prise d'otages dans un hameau quasi-désert, en plein hiver donc. Une bande de malfrats aux abois débarque là-dedans, prenant la population sous sa domination avant de pousser plus loin leur fuite (ils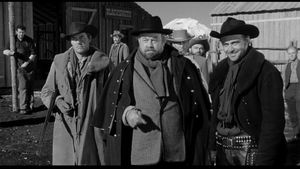 ont volé de l'or). C'est sans compter sur un Robert Ryan au taquet, ancien bandit reconverti en vieux bougon frustré en amour, et qui va leur en faire voir de toutes les couleurs, même en noir et blanc et sous la neige. Malgré le peu d'action, la tension est franchement toujours prenante ; tout semble se dérouler dans une lenteur accablante, figé par le froid, et du coup les pics de violence sont rendus d'autant plus impressionnants. De Toth rend merveilleusement l'abandon de cette poignée de personnages dans l'austérité du dehors. Les intérieurs sont tout aussi rudes que les extérieurs d'ailleurs, vagues bicoques branlantes meublées au minimum, commerce aux étagères vides, "déco" toute en angles droits. Voilà qui accompagne parfaitement l'aridité des personnages, hommes au verbe rare que le film cadre au plus pauvre : on n'aura pas de grandes envolées morales ici, plutôt une dignité qui s'exerce modestement, dans le silence. Si les cow-boys de De Toth ont encore les caractéristiques des canons du genre, la neige semble les avoir ouatées. Les personnages y gagnent en subtilité, notamment les deux principaux : Ryan et Burl Ives sont excellents, ni bons ni mauvais, tous deux opposés dans une lutte fraternelle où ils semblent se reconnaître.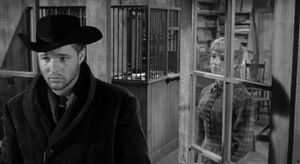 La crédibilité psychologique et formelle n'efface pas le spectacle, et De Toth ne se contente pas de cette épure. Les scènes-climax sont légion, comme celle du bal infernal où les femmes, livrées aux bandits, passent de main en main avec une grande violence, portées par les panoramiques impeccables de la mise en scène ; où les scènes finales, où la mort s'abat sur tous les personnages avec une implacabilité impressionnante. Austère et pourtant jamais chiant, le film sait toujours rester fidèle au genre, en servant son lot d'action, de bagarres, de duels ; c'est juste qu'il le fait avec un sens aigü de l'effacement. Implacable et fascinant.
Go west here