Toujours un plaisir de découvrir un film de Carol Reed, cinéaste qui mêle ici plutôt habilement film d'espionnage, histoire de "séduction" et de jalousie et humour so british. S'appuyant sur un solide casting (la charmante Margaret Lockwood entourée de ses deux "chevaliers servants" Rex Harrison et Paul Henreid et la présence des deux trublions Basil Radford et Naunton Wayne, deux bras-cassés aux saillies drôlatiques) et un scénario au départ en particulier relativement malin, Reed livre un film, en ce début des années 40, qui arrive à mêler aventure trépidante et comédie charmante comme pour soutenir le moral des troupes. L'action du film se situe juste avant le début des hostilités, et l'on sent déjà la tension et la "paranoïa" de la guerre par ce ballet incessant d'espions anglais et allemands, de part et d'autre des deux pays.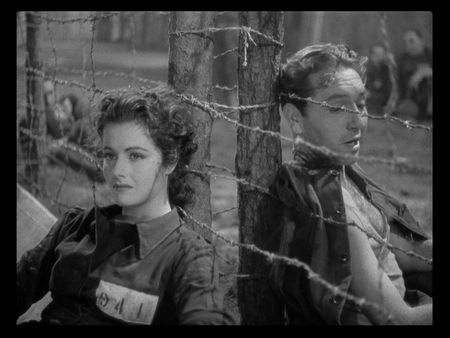 L'Allemagne envahit la Tchécoslovaquie : un riche industriel à la pointe dans la production de l'acier parvient à prendre in extremis la fuite pour l'Angleterre, mais sa fille (Anna Bomasch) est arrêtée par les Allemands. Conduite dans un camp de concentration, elle fait la connaissance d'un prisonnier (Karl Marsen) qui lui propose un plan pour s'échapper et rejoindre son pater en Angleterre. Le plan marche comme sur des roulettes, et voilà notre belle tentant de reprendre contact avec son père. Ce dernier est sous la protection des services secrets britanniques qui réussissent à les réunir. Anna tente de garder des liens avec le fameux Karl avec lequel elle a développé quelques affinités, et se voit subir les remontrances d'un agent anglais (Gus Bennett), qui la met en garde contre ce fameux Karl. Peine perdue, le mal est fait, et le Karl, espion allemand (joli coup monté), parvient à ramener le père et la fille en territoire allemand. Gus s'engage à récupérer les Bomasch et part en Allemagne en se faisant passer pour un gradé allemand...
Anna qui ne faisait jusqu'alors confiance qu'à son feeling (ah ce merveilleux sixième sens féminin...) ne va pas tarder à se mordre méchamment les doigts. Consciente de s'être fait sottement piéger et de ne pas avoir suivi les conseils du très ironique Gus, elle va forcément transférer ses sentiments - ou tout du moins, dans un premier temps, sa confiance - d'un homme à l'autre, une fois qu'elle sera de retour en Allemagne. On assiste alors à un magnifique duel entre les deux hommes - l'Allemand et l'Anglais - pour s'attacher cette femme, l'Allemand ne sachant pas à quel point ce combat est perdu d'avance... Une belle confrontation - qui oppose également deux styles, l'Anglais truculent et l'Allemand sérieux comme un Pape - qui se charge d'une véritable tension alors que notre équipée se retrouve dans un train en route pour Munich. Le film change alors de rail, en se concentrant en bonne partie sur les misères de deux voyageurs anglais présents dans ce train - faire du tourisme en Allemagne en septembre 39, magnifique idée. Ces deux branquignoles ne cessent d'être "déçus" par ces Allemands un poil autoritaires et vont se retrouver réunis de façon assez rocambolesque au destin des Bomasch et de Gus... Le final dans un téléphérique entre l'Allemagne et la Suisse sera, je vous le dis tout de suite, d'un suspense haletant.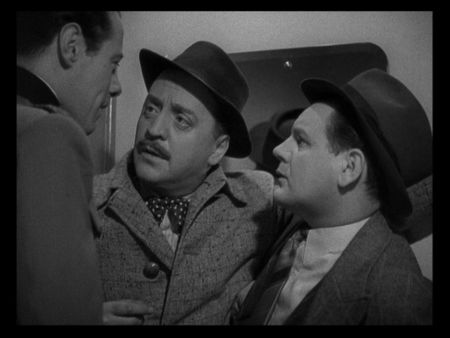 Ecrit par les scénaristes de The Lady vanishes (grands spécialistes des histoires de train, donc), le film alterne avec enchantement l'aspect thriller et un humour à froid qui fait mouche. Gus (Rex Harrison), d'une sérénité et d'un calme à toute épreuve, ne cesse de titiller la chtite Anna toute embarrassée par sa bourde initiale : ils doivent ainsi passer une nuit ensemble, à l'hôtel - Gus, pour gagner la confiance des officiers allemands, veut montrer qu'il peut influencer les Bomasch et faciliter leur coopération - et les constantes petites pointes d'ironie du Gus sont toujours éminemment savoureuses. De même, les aventures des deux touristes anglais (l'achat de Mein Kampf au lieu de Gone with the Wind à la librairie allemande est par exemple assez délirant en soi - un Mein Kampf qui finira d'ailleurs dans une drôle de posture...), qui enchaînent boulettes et décisions courageuses, apportent au film une grande fraîcheur de ton - jamais totalement sérieux, et ce malgré tout le côté dramatique de la situation. Bref, un très bon film d'espionnage aussi rafraîchissant que cette conclusion alpine.