Partagé sur ce doc énergique et intéressant sur les Doors (comprendre sur Jim Morrison, les autres n'ayant droit qu'à quelques miettes d'intérêt) : on y découvre certes des images inédites passionnantes, on y entend certes quelques-uns des chefs-d'oeuvre éternels des compères, mais on se retrouve aussi un peu sur sa faim à la sortie. When You're strange, malgré quelques plans étonnants, n'est qu'une énième hagiographie de Morrison, dans laquelle on n'apprend absolument rien pour peu qu'on s'intéresse un tantinet aux Doors, et qui ne sait jamais tempérer son admiration totale pour le groupe. Il contient en outre trop de défauts formels pour vraiment être réussi.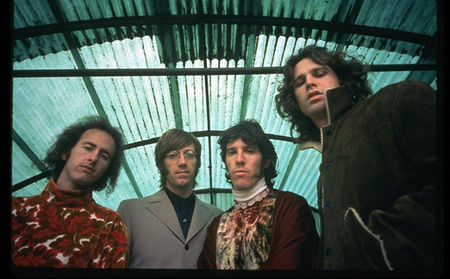 Au rang des choses précieuses, il y a ce film étrange réalisé par Morrison lui-même, qui le montre errant sur les routes américaines dans des postures de rock-star écorchée vive. Images démodées, assez clicheteuses, mais qui dévoilent aussi ce que c'est qu'une icône : Morrison est beau à mourir, immédiatement photogénique, THE poète dans toute sa splendeur. Il y a aussi tout au long du film des tas de documents intéressants : une sortie verbale de Jim bourré face à son public amorphe (il leur parle révolution, ils répondent "Ok, joue Light my Fire"), quelques "récréations" où on découvre la star dans sa vie de tournée ordinaire, quelques images des musiciens tout jeunes, et surtout ces images mille fois vues mais toujours fabuleuses des prestations des Doors sur scène : DiCillo a beau insister sur le fait que Morrison jouait souvent à la limite du coma éthyllique, sa présence sur scène est incroyable, et la musique franchement au taquet. On est très loin de ces concerts inaudibles des Stones ou des Beatles, complètement ensevelis sous les cris d'hystérie des midinettes ; ici, on entend la musique, les fabuleuses inflexions de voix de Jim, le jeu précis de Manzarek, les solos souvent impressionnants de Krieger. Bref, on ne s'ennuie pas, grâce à ces images de rock'n roll mythiques que DiCillo est allé dénicher dans les fonds de tiroir, et grâce surtout à cette musique qui n'a pas pris la moindre ride.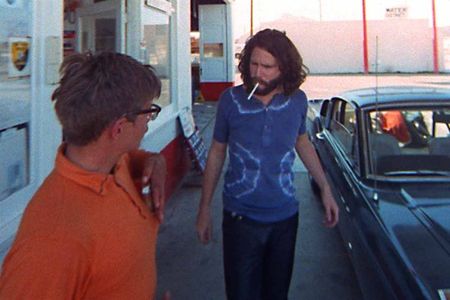 Mais le film aurait dû rester à ce stade-là. Malheureusement, DiCillo ne se contente pas de ça, et se pique de replacer l'histoire des Doors au sein d'un contexte historique précis : le mouvement hippie, la contestation anti-Vietnâm, l'arrivée de Nixon au pouvoir, etc. Certes, les Doors ne seraient pas devenus les Doors sans ce contexte ; mais le film échoue totalement dans sa volonté de faire de Morrison un artiste révolutionnaire, politisé et dangereux. Au lieu de laisser le chanteur dans son strict domaine (Morrison était un poète, pas un politique), il veut absolument en faire un rebelle, ce qu'il n'était que sous la puissance du LSD. Du coup, DiCillo se livre souvent à des montages maladroits, voire mensongers : monter The End sur des images de la mort d'Hendrix ou de Luther King est une falsification de l'histoire, jouer avec les images d'archives piochées à différentes époques et placées ensemble est trop facile. Trop rapide, le film survole le sujet, et nous berne avec un montage douteux. De plus, défaut plus gênant encore, When You're strange ne parle pas de musique. Il parle d'icônes, d'une époque, d'une posture, mais ne s'interroge jamais sur ce qui fait la spécificité des Doors (texte et musique), se contentant de dire "C'est génial" sans essayer de comprendre pourquoi. Si à la rigueur il laissait les chansons parler pour elles-mêmes... mais il les coupe et les remonte sans vergogne, livrant un medley malaisé de l'oeuvre des Doors. A la rigueur, on s'en fout de savoir que Morrison était un drogué ; on aurait préféré savoir ce qui faisait sa grandeur.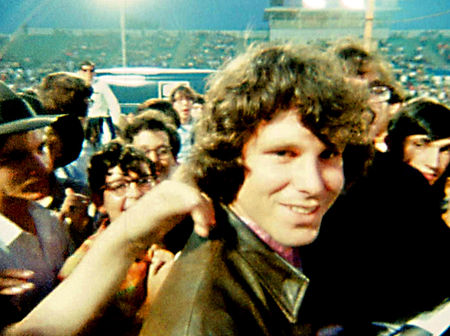 Bref, When You're strange n'est pas un documentaire, mais une déclaration d'amour admirative au culte Morrison. Je vous conseillerais plutôt d'écouter en hurlant de bonheur l'intégrale des Doors, et, si vous voulez un vrai doc sur la musique, de regarder le film de Scorsese, No Direction Home.