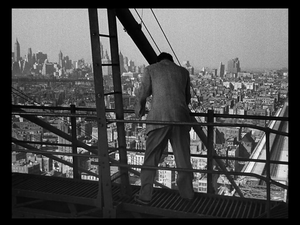 Encore une fois de la part de Dassin, voilà un film en bois dont on fait les bûches, solide, hyper-pro, irréprochable à tous les postes. Il y a toujours chez ce cinéaste un mélange de classicisme très respectueux des genres et d'une précieuse touche de modernité conceptuelle. Ici, l'option est de montrer le travail de la police au jour le jour, en suivant une enquête relativement banale et en filmant tous les moments de l'investigation, depuis les fausses pistes jusqu'aux scènes d'action. Surtout, le choix formel est audacieux : filmer New-York, tel quel, et faire épouser le mouvement de l'enquête et celui de la ville. On verra donc dans The Naked City de multiples plans sur Big Apple, filmé dans un noir et blanc splendide, et Dassin se laissera très souvent aller aux simples cadres contemplatifs sur la beauté de l'urbanisme, quitte à délaisser pendant quelques secondes la trame policière, quitte même à faire passer la ville avant la résolution du meurtre.
C'est une grande idée, mine de rien : le fim y gagne une petite touche quotidienne absolument savoureuse. En plus des personnages principaux, on verra une foule de petites gens ordinaires, tous joliment dessinés en
quelques secondes, new-yorkais de tous les jours que le cinéaste regarde avec drôlerie et passion : une ch'tite vendeuse de sodas, la secrétaire d'un docteur, une vieille folle, un duo de lutteurs bas du front, etc, etc, tous ont droit à leurs petites particularités, à leur petite épaisseur de caractère. En choisissant de donner une place à cet ordinaire, Dassin change son polar noir en chronique précise d'un taff comme les autres : celui de policier. L'enquête progresse doucement, piétine parfois, rebondit souvent grâce à de simples hasards, et les flics ne sont jamais glamourisés façon Hollywood : simples mecs qu'on peut croiser n'importe où, avec leurs soucis familiaux, leur physique pas toujours avantageux, ils ont un boulot à faire, et le font sans éclat, sans excès, tranquillement. Leurs petites combines pour obtenir des infos sont bien pauvrettes, et c'est un vrai plaisir de voir les acteurs jouer sur la retenue et le naturalisme. Ils ne sont pas tous géniaux, mais ils sont tous "normaux", honnêtement cadrés par un Dassin qui désire visiblement enlever toute la graisse de ce genre de production.
Et pourtant, malgré cette volonté, The Naked City reste un film magnifique et super-esthétique. Cette photo mythique, cette musique tonitruante, ces cadres sur des paysages urbains, tout concourt à faire rentrer immédiatement ce film dans la légende. Les dernières scènes (une course-poursuite dans l'enchevêtrement des piles d'un pont) sont énormes, une virtuosité de montage et de précision des cadres qui choppe l'oeil avec une force terrible. Il y a un immense metteur en scène derrière tout ça, malgré le (faux) effacement, malgré la modestie annoncée (filmer la ville telle qu'elle est, point). Du vrai génie artistique qui joue à l'artisan : respects.