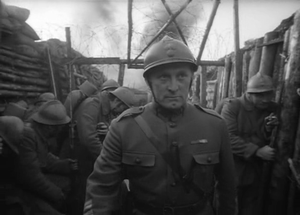 Même après 6 ou 7 visions, ce film garde une puissance incroyable. Kubrick n'en était alors qu'à ses débuts, mais le moins qu'on puisse dire c'est qu'on sent déjà là-dedans toute la virtuosité, l'intelligence, la force et l'originalité du génie futur. Chaque séquence de Paths of Glory est un nouvel émerveillement, comme une tentative à chaque fois renouvelée de prouesse technique et émotionnelle : longs travelings arrière qui épousent le trajet des tranchées, véritables spectacles à eux seuls, avec ce positionnement hyper-précis de la caméra, qui fait halte de temps en temps, puis reprend son mouvement en plan séquence de manière incroyablement souple, comme une composition musicale ; alternances de gros plans eisensteiniens dans les scènes de dialogues, où le laborieux exercice du champs/contre-champs est dopé par cette sensibilité inlassable aux acteurs, à leur photogénie, à la force que peut contenir un cadre (la photo de Georg Krause, à la limite de l'expressionnisme, est pour beaucoup dans ces plans) ; travellings latéraux virtuoses lors de la scène du procès, où on suit Kirk Douglas dans ses lents déplacements au milieu des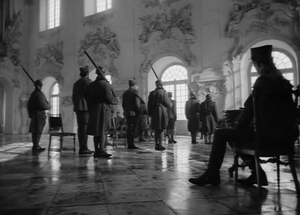 soldats disposés comme des frontières le long de son parcours ; puissance spectaculaire de la scène de bataille, incroyablement variée et réaliste malgré le côté "studio", où chaque figurant qui tombe au combat semble avoir son importance, sa densité, sa part d'humanité ; enfin, simplicité extraordinaire de la scène finale, moment suspendu en-dehors de la trame, et qui résume à lui seul l'ampleur du projet... Au niveau formel, ce film est un chef-d'oeuvre incomparable.
Mais, come si ça ne suffisait pas à notre bonheur, Paths of Glory est aussi une tuerie au niveau du scénario, véritable traité d'humanisme et de courage ramassé en quelques minutes de métrage, qui traite très ambitieusement du courage, de la vertu, de l'absurdité de la guerre, de la mort, avec une maîtrise de chaque instant. Le film est très rapide, enchaînant les séquences sans pause, dans un précipité de destin qu'on n'arrive pas à arrêter. Il y a finalement très peu de séquences sur les 85 minutes du film, Kubrick ôtant systématiquement tout ce qui pourrait être inutile pour raconter son histoire. Tout va vite, trop vite, si bien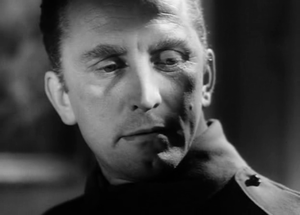 qu'on a l'impression d'une trame qui échappe au contrôle, sujet même du film : dans un ordre presque mathématique, à la limite de l'austérité, l'histoire est contée en staccato, sans pour autant faire l'impasse sur la réflexion, sur le discours, sur la théorie. On n'a jamais aussi bien raconté la bêtise intrinsèque de l'armée, l'horreur d'être pris dans une raison d'état qui dépasse l'humain, la fragilité de la frontière entre courage et lâcheté. Le tout sans fioriture aucune, avec l'aridité qu'il faut, avec la sensibilité sans sentimentalisme qui convient. Tout est génial là-dedans, des acteurs aux dialogues, des décors au montage, avec en plus cette colère douloureuse qu'on sent pointer derrière chaque plan rigoureux, et qui fait que Paths of Glory est aussi un film derrière lequel on sent un auteur, un vrai, un de ceux qui considèrent le travelling comme une "affaire de morale" et ont une opinion sur ce qu'ils filment. On ressort de là révolté, gonflé à bloc, glacé ; et avec la conviction que dès son 3ème film, Kubrick était déjà Kubrick.