Woody a beau se démener comme un beau diable, The Curse of the Jade Scorpion est un signe de déréliction de la part du plus attachant des cinéastes. Poussif, laborieux, avec quand même ça et là quelques pointes de bonheur, c'est le sentiment qu'on a à la sortie de cette comédie pas déshonorante mais très nettement en-dessous des grands moments de légèreté qu'il a su nous donner jadis.
Bien sûr que c'est techniquement du joli travail, on lui en voudrait du contraire : photo raffinée, ambiance des années 40 joliment et nostalgiquement recréée (les costumes glamour, la musique chaloupée), mise en scène mobile et élégante qui ménage son lot de travellings soyeux au sein des décors ocres et marrons, rien à redire ; c'est guère nouveau dans l'oeuvre de Woody, mais ça fait toujours plaisir de replonger dans ce savoir-faire imparable. On est dans ses pantoufles, prêt à rigoler aux bons moments et aux pointes qui ne manqueront pas de saillir. Malheureusement, c'est là que le bât blesse : le scénario et les dialogues, pour cette fois, sont en-dessous. Il y a quelques vannes alleniques, certes, mais qui ne parviennent jamais à atteindre la fulgurance passée ; il y a des situations de comédie croquignolettes (le Woody face à Charlize Theron nue, ou ses duels incessants avec Helen Hunt), mais un peu plan-plan, qui n'arrivent pas à dépasser le stade du simple amusement.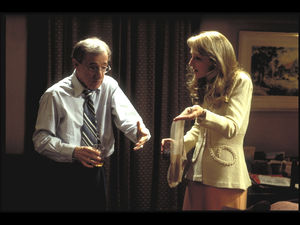 Manque d'ambition peut-être, ou panne d'oreiller, on ne sait pas. Il y avait là un joli plan de travail, mais l'exécution manque de nerf. Sur une trame policière extravagante (un hypnotiseur manipule un petit agent d'assurances et sa collègue pour voler des bijoux), on s'attendait à un feu d'artifices de gags ; à part celui qui éclate au premier baiser partagé entre Hunt et Woody (hommage à Rear Window, comme le méchant fait référence à The Lady from Shanghaï), on se contentera de quelques pétards gentillets, en souriant avec bienveillance devant le débit toujours aussi impressionnant du sieur, ses expressions rigolotes et les seconds rôles sympathiques (surtout un duo de détectives bas du front qui marque des points). L'histoire policière était bien plus réussie dans Manhattan Murder Mystery, le duo avec Hunt manquant de peps, l'osmose n'opérant pas pour le coup. Pas grave, Woody, on a passé un petit moment tout de même sympa.
Tout sur Woody sans oser le demander : clique