Si vous venez chercher des souvenirs émus de votre lecture enfantine de Lewis Carroll, autant vous prévenir, passez votre chemin. Ce serait une litote que de dire que Burton livre ici une lecture très personnelle du chef-d'oeuvre : c'est tout simplement une trahison en bonne et dûe forme, et les puristes risquent l'attaque cardiaque en assistant à ce massacre à la hâche des jolis motifs carroliens. Alice in Wonderland, pour Burton, c'est Lord of the Rings au milieu des champignons hallucinogènes. On n'aurait pas imaginé la petite Alice vêtue en armure et armée d'Excalibur détruire des dragons nommés Jabberwocky ; Burton, si, qui attaque de front et sans complexe le mythe pour le verser dans une inspiration Playstation qui peut tout de même mettre des doutes sur le bien-fondé de l'entreprise.
Le film est complètement raté de ce côté-là. On voudrait que Burton nous donne un nouvel exemple de son imagination visuelle : il tombe très vite dans une imagerie heroïc-fantasy pas du tout adaptée à la magie du conte, et une grande partie du film est gâchée par cette pauvreté visuelle. Des armées innombrables qui s'entrechoquent, une Alice-Messie, un bestiaire sorti tout droit de la pire littérature pour ados, on soupire devant le consensus mou de ces images, et on se fatigue devant ces interminables batailles en 3D déjà vues 15000 fois ailleurs. Le film rappelle les pires heures de Burton, celles de La Planète des Singes, avec cette même fascination pour le cinéma hollywoodien le plus commercial. L'originalité de la vision de Lewis Carroll, qui parvenait à trouver dans son livre la texture même des rêves, se perd dans ces dispendieuses scènes trop chères, trop spectaculaires, trop énormes.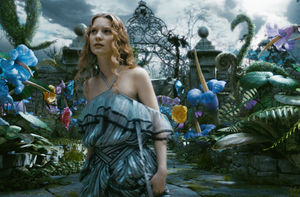 Il en va de même pour l'essentiel des décors : c'est beau, oui, c'est parfois original, c'est très repéré Burton-touch (ces arbres recroquevillés en rond, ces champignons sexuels et légèrement glauques, cette vision de l'enfance entre jouets anciens et aspect malsain des souvenirs) ; il y a même parfois une jolie utilisation des effets spéciaux, notamment dans l'animation du méchant valet noir, qui se meut comme le fantôme de Ring, avec une discrète mais effrayante artificialité ; mais c'est too much, trop travaillé presque, trop pro, en un mot trop lisse pour vraiment convaincre. On préfèrera les oeuvres vraiment dérangeantes de Tim, celles qui traitaient l'enfance comme un univers autant fantasmatique qu'effrayant (Nightmare before Christmas ou Sweeney Todd). Malgré la volonté évidente du cinéaste, rien n'est ici vraiment trouble, et même les tentatives psychanalytiques se noient sous l'imagerie gamineuse : c'était par exemple une bonne idée de vieillir le personnage d'Alice, en en faisant une jeune fille à la lisière de la découverte du sexe et de l'âge adulte, plongée une dernière fois dans son univers enfantin intérieur pour faire le point sur ses choix ; mais ce n'est pas assez développé par le film, qui se réfugie trop vite vers le spectacle pur sans creuser cette veine intéressante.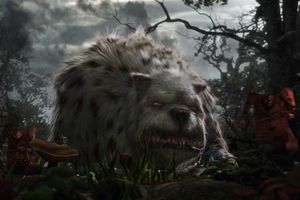 Heureusement, sous les couches de pixels, il reste quelque chose d'unique dans le cinéma de Burton : les personnages. On a même droit ici à un des caractères les plus troublants et les plus beaux de son oeuvre, le Chapelier fou, incarné par un Johnny Depp hyper-sensible. La folie bon-enfant du personnage de Carroll devient ici une maladie mentale lourde à porter, et le Chapelier un dément douloureux porté avec force par l'acteur (les variations de son visage, transcendées par les effets spéciaux, sont sublimes). Encore une fois, après Edward, après Ed Wood, après Sweeney Todd, voilà un personnage de grand handicapé de la vie qui bouleverse profondément. Au milieu des chiens qui parlent, des dragons fatigants, et des chats invisibles, ce caractère profondément humain est magnifique : cassé, bancal, fou jusqu'au malaise, à la recherche d'une identité qui lui échappe. Moins fouillée, mais intéressante aussi, la Reine rouge (Bonham Carter, visiblement ravie de son rôle) est une belle personnalité jusqu'au-boutiste, salope sublime par douleur, enlaidie par les effets spéciaux jusqu'à la rendre carrément freak. Heureusement qu'il y a cette humanité-là dans Alice in Wonderland, une humanité qui semble presque lutter contre le projet du film : même passé à l'essoreuse de la 3D, le film reste un film de Burton, de celui qu'on aime veux-je dire, celui qui sait toujours trouver une vérité psychologique très troublante même dans les projets les plus pharaoniques. Si cette justesse ne se montrait pas (trop rarement, cela dit), ce film lourdaud n'aurait aucun intérêt.