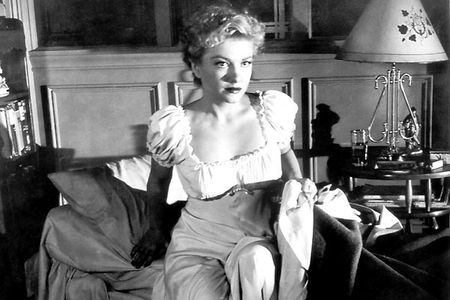 Un scénario terriblement cousu de fil blanc qui, sans enlever tout intérêt à ce film noir de base (Fritz Lang reprenant en partie les motifs (certes classiques) qu'il avait déjà utilisés dans The Woman in the Window : le miroir - brisé -, le téléphone qui joue dans l'histoire un rôle d'intermédiaire crucial, la "meurtrière" qui voit des flics partout faisant monter sa paranoïa...), ne le place parmi les très grands films du maître. Malgré une utilisation finaude de la musique (de Nat King Cole, qui interprète himself, en chair et en os, la chanson-titre Blue Gardenia, parfaite petite musique pour la romance, à l'air sempiternel du Tristan und Isolde de Wagner, impeccable pour incarner la passion fatale...) et quelques plans bien troussés de l'héroïne (perdue dans la nuit ou éclairée par un néon dans le bureau du journaliste), on n'est guère happé par cette intrigue qui se déroule gentiment jusqu'au "rebondissement" final - qu'on voit, qui plus est, arriver gros comme une maison. Anne Baxter en blonde sur la corde raide en fait un peu des tonnes, Richard Conte en journaliste au taquet est raide comme un piquet, et Raymond Burr en homme à femmes qui, à force de jouer avec le feu, finit par se brûler incarne ce séducteur de base sans une grande force de conviction...
Anne Baxter est ravagée lorsqu'elle apprend que son petit ami parti faire la guerre en Corée est tombé... amoureux de son infirmière. Prête à tout pour se changer les idées, elle accepte, suite à un petit quiproquo, de passer la soirée avec Raymond Burr qui a pour habitude de croquer toutes crues celles qu'il croque (il est dessinateur, voyez le jeu de mot subtil). Une petite soirée où elle picole des cocktails en veux-tu en voilà, et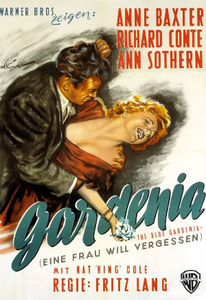 on retrouve la belle en train de raccompagner le Raymond dans son antre. Ce dernier a du tout cuit entre les mains, vole facilement le premier baiser, mais la bougresse se met à lui résister quand elle commence à reprendre ses esprits. Le Raymond est du genre "lourd", comme type, ne sait po vraiment s'arrêter quand il est lancé et... se prend dans la tronche un coup de pique-feu. Notre Anne s'effondre, l'image d'un siphon vient méchamment emplir l'écran : on comprend qu'elle sera victime d'une chtite crise d'amnésie; mais dès le lendemain, elle commence à recomposer les morceaux du puzzle : oh putain j'ai déconné, peut-on lire sur son minois tout bouleversifié... La police pourrait arrêter la coupable en trente secondes chrono (il suffirait de demander au serveur de venir jeter un oeil sur les suspectes... mais bon le film ne durerait que trente minutes...) mais ne semble pas trop maline. Un journaliste, terriblement opportuniste mais qui n'a pas forcément mauvais fond, écrit une lettre ouverte à la "meurtrière" pour qu'elle se confie à lui avant de se rendre à la police. Enorme déontologie, c'est clair. Lang en profite pour égratigner au passage ces journaux prêts à tout pour vendre de la feuille, et surtout ces multiples quidams (féminins, pour le coup) qui ont soif de célébrité à tout prix - il reçoit deux douzaines de coups de fil dès le premier jour de femmes s'accusant du meurtre; mais tout le monde n'est pas Cendrillon... Notre amie Anne, toute affolée, ne va pas tarder à mordre elle-même à la perche... Mais peut-on faire confiance à un journaliste ? That is the question...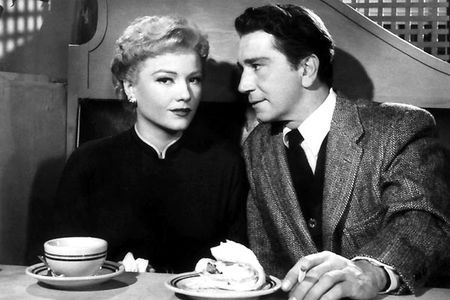 Une morale un peu convenue - l'homme infidèle qui attise un peu trop les femmes finit au bucher -, un retournement de situation qui offre un happy end sur un plateau (et la Corée sinon ?), et même si ce film noir s'amuse parfois ironiquement de ses propres codes (la camarade d'Anne grande fan de romans policiers qui se lance dans sa petite analyse du crime devant une Anne toute nerveuse, l'arme du crime considérée par un gazier comme étant guère "originale"...) et fait passer, tout bien pesé, un moment qui s'effeuille agréablement, cette oeuvre de Lang, notamment la mise en scène un peu terne, n'a rien de franchement transcendantal. Enfin, cela reste mon humble impression, on est d'accord.