Adapté d'une pièce de John Osborne, Look Back in Anger signé du britannique Richardson, fait figure d'oeuvre de proue du mouvement des "Jeunes gens en colère", et trouve en Richard Burton un interprète "idéal" : véritable lion dans une cage, en rébellion contre tous les aspects de la vieille société anglaise, il passe ses nerfs sur sa blonde de femme, Alison (Mary Ure), pâle jeune fille d'un colonel qui a fait ses armes dans l'Inde colonisée. Le jeu du Richard, ultra théâtralisé, peut parfois un peu agacer, ce véritable écorché vif faisant feu de tout bois. Dans cette mansarde exigüe, il rudoie sa femme sous les yeux de son fidèle pote, Cliff, témoin guère bavard qui semble, malgré tout, être toujours là pour calmer les choses. Lorsque Alison invite Helena (Claire Bloom), une jeune actrice brune que Richard exècre, à venir habiter pour un temps avec eux, la situation s'annonce explosive... Richardson filme au plus près ses personnages dans cet espace restreint anxiogène, et livre une oeuvre qui, cinquante ans plus tard, n'a guère perdu de sa force ni de son énergie.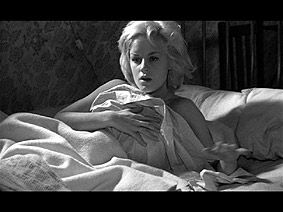 Alison, dont on lit dans le premier regard tout l'amour qu'elle a pour cet homme, est bien patiente pour subir les multiples attaques et les constantes plaintes de cet homme terriblement égocentrique. Il bénéficie qui plus est du regard condescendant de son fidèle Cliff qui, à défaut de le contredire, est toujours là pour venir tendre une oreille aux confessions d'Alison. Celle-ci vient d'ailleurs d'apprendre qu'elle est enceinte, mais n'ose même pas l'avouer à son homme, craignant ses sempiternels sarcasmes - et quand il se laisse aller, ça fait mal... Il faudra attendre une bonne heure pour apprendre le passé traumatisant de cet homme qui passe son temps à se mettre en colère contre cette société sclérosée : des fonctionnaires au racisme ambiant, de l'Eglise à l'Empire colonial, tout y passe. Son seul exutoire, c'est sa trompette, jouant la nuit dans une boîte de jazz (magnifique séquence, un soir, où il se lance dans un solo qui traduit tout son désespoir, son vague à l'âme, devant un parterre totalement coit) - de jour, il est vendeur de bonbon sur un marché londonien et franchement, je serais gamin, à cette époque, face à ce type, je préfèrerais encore m'acheter des timbres... Seulement à force de trop tirer sur la corde, son petit monde commence à se déliter - Alison part rejoindre ses parents, Cliff devient de plus en plus distant - et notre homme (sans public, difficile d'exister...) de se raccrocher aux branches en ayant une histoire contre toute attente avec... Helena : après que celle-ci lui a foutu une magnifique baffe, il l'embrasse fougueusement comme s'il avait besoin coûte que coûte de reprendre le contrôle de la situation... Sans chercher à dévoiler le reste de l'intrigue, disons simplement que l'ultime séquence, sur un pont qui surplombe la gare, est formellement prodigieuse - soulignons au passage le sublime noir et blanc d'Oswald Morris (Lolita, The Hill, The Spy who came in from the Cold entre autres) - alors que notre homme ouvre peut-être enfin les yeux sur son véritable port d'attache.
Richardson parvient à alterner ces scènes en huis-clos très bavardes et tendues comme un corset anglais et les scènes en extérieur - très vivant marché de Londres - qui apportent une petite respiration salvatrice au récit, ce d'autant que le flot de paroles du lion Richard, constamment sur la corde raide, pourrait finir par assommer aussi bien ses proches que les spectateurs. Superbe plan malgré tout où l'on sent, un centième de seconde, cet homme se fissurer, après la claque de toute beauté qu'il reçoit d'une Helena à bout... qui finit d'ailleurs par craquer... pour lui. Pas facile de jouer les vis-à-vis du Richard, d'exister face à lui - en tant qu'acteur et personnage de l'histoire - et ce d'autant que la personnalité des deux femmes est loin d'être aussi fouillée. Heureusement les deux jouissent d'une véritable photogénie - la douceur blonde au regard doucement conciliant et l'impétuosité brune aux grands yeux profonds comme une mine de charbon (mouais, approximativement...) - ce qui donne tout de même à leur personnage un certain relief face à ce Richard déchaîné. Une oeuvre à (re)découvrir, d'autant qu'on loue ici bien rarement le cinéma anglais - un "âge d'or" (ou disons simplement un cinéma alors vivant...) bien terni depuis, certes...