Un petit film de propagande pour bien expliquer aux Américains que les Chinois sont leurs amis alors que les Japs sont de sales chiens chaunes. Tourné en 1943, juste après Pearl Harbor, l'action du film se passe, elle, en 1941 et met en scène un Américain couillu qui réside en Chine et qui vend de l'essence aux plus offrants, c'est à dire, bien entendu alors, les Japs. Mais peu à peu, parallèlement à une vague histoire d'amour qui se trame, notre type va ouvrir les yeux (ouah!) et va héroïquement s'allier aux Chinois contre les Japs... C'est cousu de fil blanc et l'on retrouve l'éternel cocktail de ce genre de production : une pincée de franche camaraderie, de l'aventure et de l'action, et un zeste d'amour, donc. Alan Ladd, qui va faire péter le torse musculeux, a pour partenaire la très jolie Loretta Young et même si les deux ne semblent pas du tout sur la même longueur d'onde (le macho rugueux sans principe vs l'idéaliste au regard tendre comme un cuisseau d'agneau), comme le scénar prévoit qu'ils tombent dans les bras l'un de l'autre, ils vont bien finir par s'y coller.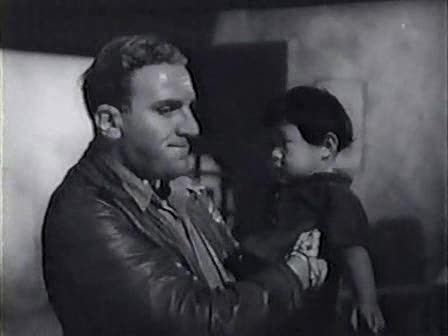 Ca démarre plutôt bien avec un long plan séquence sur notre ami William Bendix qui parcourt la ville sous les bombes; notre homme tombe sur un pauvre bébé chinois qui chouine tout seul au milieu des ruines et comme notre homme est bon, n'écoutant que son petit coeur qui bat, il le prend sous son aile. Il retrouve son comparse et chef, Alan Ladd, que la mini trouvaille ne fait pas vraiment rire - "débarrasse-toi de ce truc encombrant, un conseil" - et les deux hommes de prendre dans la foulée la route, en direction de Shanghai, alors que les bombes japs co
ntinuent de pleuvoir. Ils y vont pour vendre donc de l'essence, le conflit entre les Japs et les Chinois n'étant po vraiment, pour l'heure, leur problème - un chef chinois les arrêtera sur la route pour leur dire que c'est bien mal ma foi ce qu'ils font, mais Alan restera sourd. William Bendix n'a pu s'empêcher d'emporter dans le convoi son bébé qu'il a rebaptisé Donald Duck - cool - et Alan tire la tronche tout du long. Leurs affaires ne s'arrangent pas lorsque leur camion s'écrase dans une paillote : ils sont pris à parti par la foule avant d'être sauvés par une Loretta qui sort de nulle part : elle calme la situation et demande aux deux hommes de transporter toute une troupe d'étudiantes en direction de Chengdu (au centre de la Chine, voyez, po vraiment la porte à côté de Shanghai...). Alan est sceptique, accepte finalement de les prendre juste sur une portion de route... jusqu'à recevoir l'illumination et devenir un vrai héros chinois (c'est vrai que les Japs qu'ils croisent ont un comportement vraiment limite : ils flinguent des paysans et même notre Donald Duck, froidement, et s'apprêtent à violer une jeune fille avant qu'Alan survienne; ce dernier les tue comme des mouches sans aucune pitié : ouais, les Japs sont des méchants). Plus rigolo, a posteriori, est la volonté de Loretta de sauver ces jeunes étudiantes qui représentent à ses yeux la Chine Nouvelle, la fameuse Chine de demain : Loretta, grande fan de Chang Kaï-Chek, espère bien d'une part que ces jeunes femmes suivront ce leader éclairé et d'autre part, en passant, qu'elles deviendront catholiques. Bon feeling. Le film n'a jamais dû être un must en Chine maoïste, m'est avis...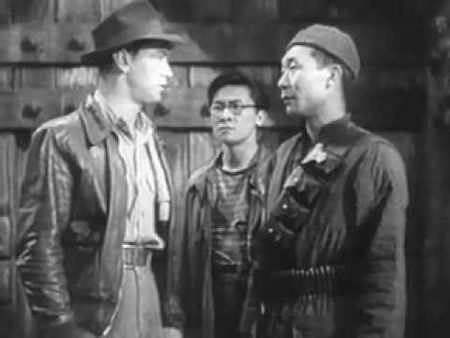 Bref, la fin fait enfin parler la poudre, avec un Alan Ladd prêt à tout pour qu'enfin la Liberté triomphe. L'attaque de Pearl Harbor vient d'être lancée, un Jap a la malencontreuse idée de lui annoncer : il se prendra un glissement de terrain sur la tronche pour la peine. Alan mériterait absolument d'avoir sa statue sur le Bund de Shanghai - mais cela est une autre histoire... Bah, c'est une honnête série B vintage avec son lot d'explosions et d'actes courageux. Ladd, à la surprise générale, tombe dans les bras de Loretta qui vient tout juste de filer un râteau à ce pauvre William - on ne sait quelle mouche le pique, celui-là, quand il fait sa déclaration... Comme le disait dans le film l'une des étudiantes chinoises au taquet : "I've seen a lot of American cinema and in everyone I've seen, the men are either kissing somebody or shooting somebody... or both". Le bougresse peut être rassurée, China (le titre français est quand même franchement ridicule...) ne dérogera point à la règle. A replacer dans l'époque, certes, mais mérite tout de même sa petite étoile prise au drapeau chinois.