Dernière période de courts pour Chaplin, on arrive au bout de cette odyssée. Franchement, c'est sa meilleure période, pratiquement rien à jeter. Mais comme d'habitude j'ai mis mes préférés en rouge.
Une Vie de Chien (A Dog's Life)
Chaplin commence sa colaboration avec la First National par un chef-d'oeuvre, les gars ont dû se frotter les mains. Subtil et intelligent, ce film joue à merveille du parallèle entre le clodo et son nouveau protégé, un brave thien (qui s'avèrera être finalement une chienne) aussi plein de puces et voleur que lui. Tout comme pour Le Kid plus tard, le fait de s'attribuer un alter ego encore plus misérable est une grande idée : ça permet de souligner encore la brutalité du monde face aux parias, et de pointer la brutalité faite envers l'innocence, sans être lourdement manichéen. Ce film est en effet très sombre, malgré son happy end étonnant : tout y est violence, brimades et tension, les bandits rivalisant de tares avec les voleurs, tout étant voué à l'anéantissement de l'innocence. Mais cette vision noire n'enlève rien au génie des gags, des plus directs (Charlie vole des saucisses) aux plus subtils (toute cette tentative de fabriquer du gag "sonore" au sein d'un film muet : la queue du chien qui frappe une grosse caisse, ou la longue séquence hilarante où une chanteuse réaliste fait pleurer la salle entière, alors que bien sûr on n'entend rien de ce qu'elle chante). La mise en scène est désormais bien en place, même si elle reste souvent simplement fonctionnelle, et le rythme (souvent lent quand il s'agit de développer un gag) est impeccable. Grand film.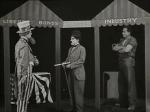 The Bond
Celui-là n'a pas beaucoup d'intérêt, mais notons qu'il est un peu à part : il s'agit d'un film de propagande réalisé à l'arrache pour promouvoir les "Liberty Bonds" destinés à soutenir l'effort de guerre. C'est donc un peu bâclé, Chaplin utilise son image avec une belle franchise mais nous sert un numéro un peu malaisé : à la limite du mime, il surligne un peu ses maigres effets, et échoue vraiment à écrire quelque gag que ce soit. On suit mollement une déclinaison autour du thème du "lien" (amitié, amour, mariage, et si on peut sourire à la poésie surranée de quelques passages (le Cupidon dans la lune), on restera de marbre devant ces séquences longuettes filmées devant un rideau noir. Au détour d'un plan, on découvre un Chaplin étonnamment lyrique et pompier (le Bien terrassant le Mal (un Kaiser) par l'épée, diable !) ; mais on découvre aussi que quand sa mécanique n'est pas en place, il est capable de réaliser des trucs poussifs.
Charlot soldat (Shoulder Arms)
Une pure merveille, bien sûr, un classique de chez classique. Le personnage habituel dévie légèrement, abandonnant son sadisme pour une pureté d'âme totale. On pourrait le regretter, mais on se réjouit en fait de voir naître le Charlot des futurs longs-métrages, celui qui est plus défenseur de la veuve et de l'ophelin que quasi libertaire comme il a pu l'être. Ici, Chaplin utilise à merveille les horreurs de la guerre de tranchées pour les transcender en motifs de gags, et offre un brillant film de consolation qui est aussi un pamphlet anti-guerrier et une pure propagande anti-allemande. Ca fonctionne aussi bien côté reconstitution (la véracité du décor des tranchées) que du côté comique (les gags sont impeccables, depuis ceux de la sieste dans une cabane inondée jusqu'à ceux, annonciateurs du Dictateur, du combat contre le Kaiser), et Chaplin montre même ici un grand talent de metteur en scène : les tranchées filmées dans de puissants travellings avant et arrière (mais en même temps, c'est vrai, filmer des tranchées en travelling latéral est peu aisé), une mise en espace très dynamique dans les courses-poursuites déguisé en arbre ; et surtout cette grande idée de la maison aux 3/4 effondrée, qu'il utilise comme si elle était encore entière (il ouvre les portes et les fenêtres), comme si le quatrième mur théâtral était réinventé devant nous. Le film abandonne souvent le burlesque pour faite des écarts vers l'aventure au sens strict, ou le mélodrame (les beaux plans de Chaplin seul, qui ne reçoit pas de colis et lit les lettres des autres soldats par-dessus leur épaule en réagissant à leur place), et le tout est fait avec une pudeur et une intelligence exemplaires : rien n'est occulté des horreurs de la guerre, ce n'est pas un film à la Benigni qui nierait les faits, mais en même temps Chaplin travaille sur le hors-champ, sur l'irreprésentable (pas de scènes de batailles), et nous offre le plus beau des cadeaux : se servir d'un masque à gaz pour fuir l'odeur d'un fromage, c'est ni plus ni moins que déceler dans la pire violence la part de gaieté qui viendra sécher nos larmes.
How to make Movies
Un petit documenteur plein d'autosatisfaction, ne le reprochons pas à Chaplin puisque le résultat est très agréable. On y voit soit-disant le quotidien du travail de Chaplin : maquillage, préparation des décors, coiffure, répétitions, tournage, montage, pause. En fait, chaque séquence est un nouveau pas vers la déification du Maître : une équipe qui obéit au doigt et à l'oeil, des figurantes que le gars maquille lui-même et qui ne seraient pas contre un petit extra sentimental, le génie en action à chaque poste, sa légende entretenue comme un trésor (ses chaussures de clochard ou sa moustache sont enfermés dans un coffre-fort) : bref, on n'y croit pas une seconde. Mais ça permet de voir les studios Fist National depuis els coulisses, de voir Chaplin sans moustache (scène étrange où il mange un citron face caméra), et surtout de le voir réaliser des gags qui sont de pures merveilles : quelques scènes sur un terrain de golf impeccables. Ce film, jamais achevé ni montré à l'époque, est finalement un joli témoignage sans façon sur les ambiances de cette époque. Et tant d'orgueil fait sourire en en disant long sur le personnage.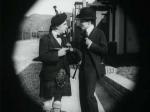 Sans titre (Chaplin vs Harry Lauder)
Notre héros se paye une récréation amateur (d'après ce qu'on sait, un film de charité) en rencontrant Harry Lauder, amuseur très populaire en Ecosse dans ces années-là, me demandez pas. Le moins qu'on puisse dire est que le premier écrase le second à l'écran. Les deux essayent de tirer la couverture à eux, qui imitant la démarche de l'autre, qui troussant une petite mimique pour tenter d'être mieux que l'autre ; mais Chaplin, visiblement tout heureux, est bien meilleur que son partenaire. Il suffit de voir ce gag improvisé à la fin, où les compères remplissent de sueur le chapeau de Chaplin : c'est lui qui trouve le truc, qui le prolonge et qui va même au-delà. Ceci dit, on découvre une vraie complicité entre les deux artistes, et ce petit film sans prétention est finalement assez fun.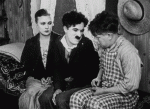 Une Idylle aux champs (Sunnyside)
Forcément, après le chef-d'oeuvre qu'est Shoulder Arms, on ne peut qu'être un poil déçu. Voilà un petit film amusant et intéressant à plein d'endroits, mais il souffre vraiment d'un certain manque de rythme, et même de gags pas assez nombreux. 2 parties : Charlot garçon de ferme, et Charlot amoureux. Les deux ont leurs qualités. Dans la première, c'est un festival de coups de pied au cul. Le gars est maltraité par son patron, et est tellement habitué à ramasser des coups qu'il ne s'en rend presque plus compte. Il y a une scène où il perd ses vaches qui vaut son pesant de poilade, rien à dire. Mais les gags trop répétitifs, et une certaine mollesse dans la réalisation empêchent qu'on s'y mette vraiment. Même défaut dans la partie sentimentale : les idées sont bonnes, mais l'exécution manque de punch. On aime pourtant voir le personnage s'affiner, éternelle victime elle-même bourreau à ses heures (ici contre le frère de sa dulcinée, très lourdaud), faignasse pleine d'entrain, craquant petit personnage romantique et courageux. Un film qui manque de caractère, c'est tout (même si deux séquences, l'une de danse avec des faunes, l'autre montrant ni plus ni moins le suicide du héros, ne manquent pas d'originalité).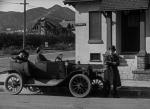 Une Journée de Plaisir (A Day's pleasure)
On continue dans le respectable pas génial, avec ce film curieusement construit en deux ou trois films collés bout à bout et qui ne parviennent pas à en faire un complet. Marié, père de deux gosses (dont le ch'tit Jackie Coogan) et presque bourgeois, notre héros amène sa smala en virée dominicale. Un premier court autour d'une voiture qui démarre pas, assez longuet ; un deuxième plus marrant sur une balade en bateau ; et un troisième sur un pugilat en plein centre-ville. On a du mal à voir le lien. On a du mal aussi à vraiment se marrer : les meilleurs gags sont des répétitions de jadis (les bagarres habituelles, le bateau qui tangue de The Immigrant), les moins bons... sont moins bons. Il reste bien sûr des pépites, le jeu de Chaplin, même quand il ne mène pas directement à un gag, est extraordinaire, les seconds rôles sont de parfaits crétins que le héros malmène avec jubilation, la mise en scène est parfois joliment variée, mais on sent quand même que ce film-là est un poil délaissé (pour laisser la place au Kid qui suit trois mois plus tard ?)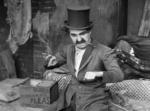 The Professor
Excellent bout de machin tiré d'un film inachevé, où notre gars quitte pour un temps son personnage de vagabond à moustaches pour composer un vieux dresseur de puces savantes passant la nuit dans un foyer. Il est tout aussi génial dans ce rôle, gestes lents, sourcils froncés et sévérité farouche, et tous les petits gags qu'il trouve, même ceux qui sont un peu attendus, sont réglés au millimètre. Bien sûr, on reconnaît là un brouillon de Limelight, mais en plaçant le personnage au milieu d'autres déshérités, il multiplie les possibilités : retrouver SA puce au milieu de celles des autres, gérer un chien, déclencher une frénésir de grattage quand ses puces s'échappent de leur boîte, etc. On ne sait pas trop ce que serait devenu ce film par la suite, mais tel quel ce sketch est parfait.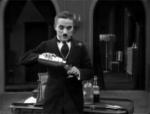 Charlot et le Masque de Fer (The Idle Class)
Voilà du vrai grand Chaplin, complètement dans la continuité du Kid. Très habile mélange entre sombres inspirations et pure gaguerie, ce petit film, mine de rien, traîne dans son sillage une curieuse tristesse, prolongée d'ailleurs par la très jolie musique de Chaplin lui-même. Il y est question d'une femme délaissée, d'un mari tellement désabusé qu'il n'est même plus sensible à la douleur de son amour perdu, et d'une histoire sentimentale naissante... mais qui n'aura jamais lieu, The Idle Class étant un des seuls films de Chaplin qui se termine vraiment mal. Inspirations bien pessimistes, mais habillées comme il se doit sous des gags parfaits, d'une partie de golf échevelée à un bal costumé hystérique. C'est pourtant la mélancolie qui domine, illustrée à merveille par ce gag fantastique qui utilise subtilement les codes du muet : un nanti reçoit une lettre de rupture de son épouse, il se retourne, et ses épaules tremblent comme s'il s'écroulait ; mais quand il revient face caméra on se rend compte qu'il ne faisait que remuer son shaker : voilà ce que j'appelle du gag punk. Le film est souvent comme ça, "presque pas" drôle, à la limite entre le cynisme et la fantaisie. C'est en tout cas, au niveau du ton, un des plus originaux du gars, qui en dit sûrement long sur son moral à cette époque.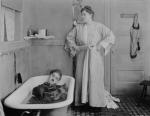 Jour de Paye (Pay Day)
Excellente récréation, encore une fois : un film entièrement dévoué aux gags, sans gros fond, certes (même si on y voit une frontale critique du patronat), mais d'une exceptionnelle visrtuosité et plein de petites idées tordantes. Petit poRtrait du quotidien de notre ami Charlot, entre travaux de chantier et soucis domestiques, c'est une farce délicieuse qui passe par un jonglage vertigineux avec des briques ou un ascenseur, une confrontation avec une mégère absolument hilarante (la gars n'est plus marié avec la jolie fille passée) et une scène de beuverie digne d'un Shang en début de week-end. Tout est excellent là-dedans, avec une préférence pour la deuxième partie, nocturne, où le gars s'efforce d'attraper un tram qui lui échappe sans cesse dans la lumière glauque d'une rue sous la pluie. Le jeu de Chaplin est au top, vraiment, et il s'octroie d'ailleurs quelques gros plans parfaits ; quant à sa description de ce qu'est le quotidien d'un homme marié, il vaut son pesant de tactiques militaires (comment rentrer chez soi bourré tout en évitant le rouleau à patisserie de sa balèze moitié ?) Pas un chef d'oeuvre, pas assez profond pour ça, mais un grand grand moment de burlesque.
Nice and Friendly
Celui-là est assez anecdotique, il s'agit visiblement d'un cadeau de mariage aux Mountbatten, ce qui me ferait bien plaisir aussi pour le mien. Seul Chaplin se donne un peu dans ce film rempli de comédiens amateurs (ah y a le petit Coogan quand même) absolument mauvais, et comme en plus on ne comprend pas grand chose au scénario, on reste un peu dubitatif. Notre compère y va pourtant avec plaisir, rejouant quelques unes de ses mimiques dans une compil agréable : le chapeau qui vole, les pieds dans le tapis, le serrage de mains interminable, la bravoure excessive, on revoit tout ça avec plaisir. Il s'essaye même aux effets spéciaux, avec un marteau qui apparaît par magie dans sa main, ou des méchants qui sont assommés en stop-motion. Mais l'ensemble reste poussif et superficiel. N'empêche, vraiment, c'est mieux qu'une pelle à tarte, comme cadeau.
-------------
Voilà. Après ça, et sans compter les films perdus, le gars ne réalisera plus que des longs-métrages, à l'exception (soyons exhaustif) du film de vacances de 1933 (période United Artists donc) : All at Sea. Pas vraiment notable, mais il n'avait pas forcément vocation à être regardé cent ans plus tard non plus, on y voit Chaplin en vacances sur un yacht avec un poteau et la sublime Paulette Goddard. Il est vrai que, ne serait-ce que pour voir Paulette en bikini, le film vaut le coup d'oeil. Et aussi parce qu'il en dit assez long sur notre Charlie, véritable vedette de ce film de souvenirs, qui se met systématiquement au centre de toutes les images ou presque. Pris en flagrant délit d'orgueil, le gars imite Greta Garbo ou le prince de Galles, fait le clown avec un balai, refait un plan s'il a raté son premier plongeon et montre qu'il sait trop bien amarrer son bateau. C'est assez révélateur. A part ça, bah, rien à signaler.
époques : Keystone / Essanay / Mutual / First National