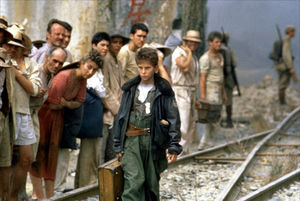 Je sais que ça ne va pas faire plaisir à l'une de nos fidèles lectrices, mais l'honnêteté me pousse à dire que Empire of the Sun est raté. C'est un de ces nombreux Spielberg-movies consacrés à l'enfance, à l'abandon, à la vision enfantine du monde, mais à l'inverse de A.I. (dont ce film est un quasi-brouillon), jamais Spielberg ne parvient ici à cette puissance émotionnelle qu'il sait trouver parfois. Pire: le film souffre de gros défauts de narration et de rythmes, éléments dont on pensait que Spielberg était le maître incontesté. Trop long, trop emphatique, trop pompeux, trop riche, cette tentative d'"infantilisation du monde" prend vite des dehors de pétard mouillé, malgré 20 premières minutes vraiment belles.
Le début en effet est bluffant : un petit Anglais nanti vit à Shanghai en pleine préparation de la guerre contre le Japon. Protégé par ses parents, éloigné de la réalité, il coule une vie paisible, passionné par la guerre et les avions. Les scènes sont impeccables visuellement : le sigle de la Limousine qui fend une foule misérable, quelques bourgeois grimés pour un bal costumé au milieu de l'horreur de la guerre , et cet enfant qui regarde tout ça comme un jeu passionnant. Spielberg semble presque se livrer à une auto-critique dans ces quelques minutes : l'innocence de l'enfance, ce sont en fait des oeillères qu'on met aux gosses.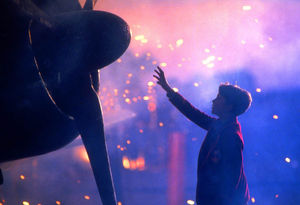 La guerre éclate, et c'est une des plus belles scènes du film (sensiblement la même, en moins directe, que dans War of the Worlds, quand le garçon est arraché des mains de son père) : un abandon en bonne et due forme, poignant dans ce cri que pousse le môme auquel on enlève sa mère. On a l'impression d'un second enfantement, douloureux, violent, rendu d'autant plus terrible que le monde dans lequel on laisse le gosse est incompréhensible et opaque (la Chine et ses Chinois, que Spielberg regardera jusqu'au bout comme "les autres", les inatteignables, ceux qui ne sont pas comme nous). A ce stade du film, on se frotte les mains, impressionné par la puissance visuelle et la force des symboles, convaincu que le Steven tient là le point d'orgue de ses angoisses de toujours : être seul au monde, face à la violence. On songe à tous les abandonnés de sa filmographie (donc, à toute sa filmographie en gros), et on attend avec impatience.
Hélas, à partir de là, le film devient poussif, lourd et confus. Spielberg tente les ellipses et les rate pratiquement toutes, la construction de son récit étant plein de trous un peu incompréhensibles qui enjambe allègrement les années, sacrifient les personnages et cassent les rythmes. Ce qui semble intéresser le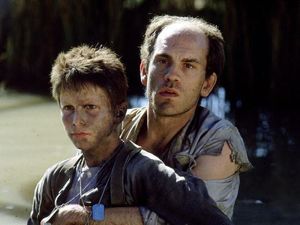 réalisateur ici, c'est de montrer la guerre par les yeux de cet enfant qui aurait gardé une certaine naïveté de regard ; autrement dit comme une mascarade un peu clownesque, pas vraiment dangereuse, passionnante et aventureuse. Beau projet, mais qui finit par déréaliser complètement la chose, voire la faire tomber dans un carnaval douteux : la bombe d'Hiroshima, vue de loin par le héros, devient une jolie image de l'âme de son amie qui s'envole ; un bombardement de camp devient un feu d'artifice tonitruant et esthétique ; un camp de prisonniers devient un terrain de jeu rigolo où le môme apprend le troc et la débrouille. Naïveté de l'enfance qui se transforme en naïveté du réalisateur : quand notre jeune Jimmy se trouve enfin concrètement face à l'autre, c'est pour une scène d'une mièvrerie totale où on se renvoie un petit planeur par-dessus les fils barbelés... ben voyons. On savait le Spielberg des années 80 un peu puéril, mais cette vision oecuménico-cul-bénit des rapports entre les peuples remporte le ponpon.
Bein sûr, il reste la mise en scène, souvent très ample, parfois belle. Mais, peut-être par trop d'ambition, sûrement par trop de fric, elle est gâchée par ce goût du spectacle "quoiqu'il arrive" qui a tant pollué le cinéma de Spielberg dans ces années-là. Le gars ne sait pas filmer simple, ne sait pas montrer les choses sans hystérie : il lui faut forcément une musique symphonique, 11000 mouvements de caméras soyeux, autant de figurants et trois avions qui explosent en fond.. Le film aurait pu devenir une très belle errance
solitaire, sur la fin, et on aurait aimé voir un môme enfin abandonné totalement au milieu du monde, de la nature, simplement. Mais si on y a droit au détour d'un plan ou deux, c'est très vite pour revenir à cette grandiloquence d'enfant trop gâté par les producteurs ; on dirait que Spielberg justifie son chèque, et c'est très gavant. Du coup, les pistes intéressantes du scénario (retrouver un père, même déviant et malhonnête ; renaître au monde par la violence ; devenir adulte par l'expérience) passent au second plan : il importe d'épater avant de réfléchir. Spielberg semble depuis quelques films parvenir enfin à parler de ces choses-là en adulte, c'est tant mieux. Il y a 23 ans, il était encore un bon élève sans génie.