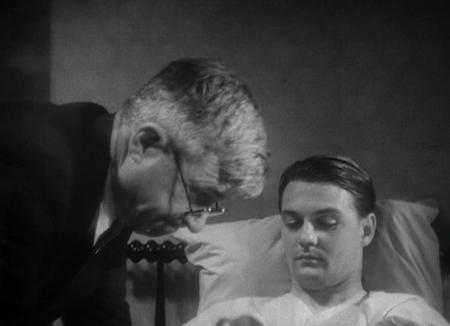 Avant d'endosser les tenues de juge (Judge Priest) et de capitaine de bateau (Steamboat round the Bend), Will Rogers avait joué au docteur pour John Ford. Peut-être point l'un des summums de la carrière du John mais un petit film sympathique qui montre notre Docteur quasiment seul contre tous dans cette micro communauté basse du front. La foule, chez Ford, est souvent bêtasse et les vieilles peaux de la ville et autres bourgeois confortablement installés qui tentent de forger l'opinion morale en prennent pour leur grade. Le Docteur Bull est un type de la vieille école, plein de bon sens, qui a certes un peu tendance à donner toujours les mêmes remèdes mais qui ne compte jamais son temps pour venir au chevet de chacun. Sourd aux multiples rumeurs sur son incompétence, il tient son petit rayon de soleil en la personne d'une veuve chez laquelle il passe ses rares soirées de libre - même si cette relation permet à son tour d'alimenter les potins les plus acerbes...
L'ennemi du Docteur, c'est le téléphone, qui ne cesse de sonner chez lui... ou chez la veuve Cardmaker chez qui il a ses habitudes - difficile en effet dans cette petite ville de dissimuler ces allées et venues. Pas beaucoup de repos pour notre Dr Bull qui passe d'un patient à l'autre - une vieille mamie, un jeune paralysé, une vache... -, n'hésite jamais à distiller quelques conseils personnels, au passage, à une jeunette désoeuvrée, passant certaines de ses nuits dehors en cas d'accouchement notamment, étant dérangé jusque dans son lit dans les prémisses du sommeil par un hypocondriaque notoire qui ne le lâche jamais... La condition des docteurs, il l'évoque lui-même en ces termes : "Il nous faut mourir pour dormir". Ses méthodes un peu vieillottes et son franc parler ne lui attirent pas que des amis (bon, c'est vrai que l'idée de soigner un malade avec le même sérum qu'il a utilisé pour soigner une vache ne plaide pas en sa faveur), surtout quand il se met à soupçonner un des pontes de la ville d'être à l'origine d'une épidémie de typhoïde... Une réunion spéciale est organisée à la Mairie pour tenter de virer notre bon vieux bougre qui s'est pourtant toujours occupé corps et âmes de ces enfoirés de concitoyens lorsqu'ils étaient malades. Le Docteur Bull assiste à ces "assises" le sourire en coin, sachant parfaitement à quel point, en toute humilité, ces "gens-là" ne le méritent point... Will Rogers se marre et il a bien raison, sa déclaration en public lui donnant même le courage de tenter une autre déclaration, cette fois plus intime.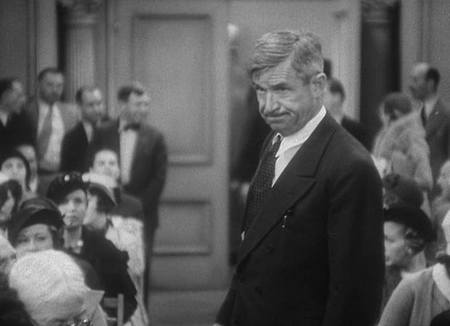 On les connaît ces petits villages uniquement rythmés, chaque matin, par l'arrivée du train qui balance un sac de courrier mais aucun passager; les esprits mesquins du lieu vivent exclusivement sur les potins, savent toujours qui a fait quoi, où, quand et comment, surtout si cela est auréolé d'un léger parfum de scandale. Les visites sympatoches du Doc à la veuve tombent dans la catégorie des actions po très catholiques et les commères s'en donnent à coeur joie pour ruiner la réputation du Dr Bull, bien moins sauvage qu'un taureau... Comme dans The Sun Shines Bright, Ford filme ce qui se passe derrière les fenêtres des baraques, les vieilles semblant passer leur vie derrière celles-ci pour noter tout ce qui se passe dans la rue. Certaines séquences d'intérieur sont filmées tout même un peu trop platement - le début est terriblement plan plan quand même - et Ford nous secoue un peu (sur le tard, on avait commencé à fermer un oeil) avec cette réunion dans la Mairie où le Docteur va faire son show, tout en ayant, lui, la pudeur de ne pas dire à chacun ses quatre vérités - parce que des petits secrets, lui, il en a douze sur chacun, et po du flan. Ca booste indéniablement la toute fin du film qui risquait de nous endormir, comme cette petite ville définitivement trop paisible... Allez, une corne quand même et deux oreilles et demie.