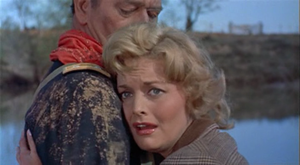 Du classique dont on fait les classiques. The Horse Soldiers sent la sueur sous les bras, la sciure et les hormones mâles, et Ford nous offre un solide bloc de virilité sans nuance dont il a le secret. S'il lui manque le petit plus qui pourrait en faire un grand film, il donne toute satisfaction au niveau du spectacle, de la trame et des jolis ciels ouverts. On regarde tout ça avec la petite nostalgie du grand cinéma hollywoodien de rigueur ; on ne frémit pas vraiment, mais on apprécie de retrouver les canons éternels de l'entertainment vintage, et c'est déjà bien assez.
Ford n'est pas vraiment un adepte de la subtilité, on le sait, et celui-ci est sûrement un de ses films les plus binaires. Tout s'y divise en deux camps : les sudistes contre les yankees, les hommes contre les femmes, et surtout la culture contre la force, ou en tout cas le savoir contre l'action. Les deux personnages principaux sont d'un trait : John Wayne, c'est le mâle dans toute sa quintessence, soldat inculte mais valeureux, droit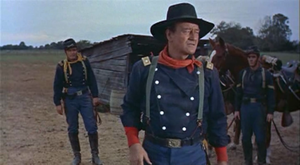 dans ses bottes à 20 dollars, envoyé en mission-suicide en plein camp sudiste pour saccager les voies de communication ennemies ; il brandit haut et fort son appartenance au peuple, son absence de savoir, son passé d'homme-qui-s'est-construit-tout-seul et ses glaouis bien placés. Son opposé, c'est William Holden, médecin rusé et affûté, balancé dans cette guerre parce qu'il le faut bien, et qui l'affronte en essayant de rester humain et subtil (il va même soigner des blacks pendant ses heures creuses). Voilà, le film est résumé : les deux heures seront consacrées à cet affrontement buté entre deux univers, sur fond de guerre idiote et de bravoure mal placée. Je vous le confirme : c'est un peu court. Pour faire semblant de réfléchir un peu, Ford tente deux-trois scènes qui laissent songeur : une explication "psychologique" de la haine de Wayne pour les intellos (sa femme est morte suite à une erreur des médecins), ou une historiette d'amour qui arrive comme une ballerine sur un ring. Oui, parce qu'il y a aussi une gorette blonde (Constance Towers. Qui ? Constance Towers.) en charge de semer le trouble dans les 3 de QI de John Wayne. Mais ces tentatives intéressent bien peu notre ami Ford, qui les sacrifie au profit de ce qu'il sait faire le mieux : des chevaux qui tombent, des explosions, et des hommes qui serrent les dents.
De ce côté-là, rien à dire, c'est du grand : les scènes de bataille (notamment la séquence finale, avec cette variation de plans impressionnante) sont spectaculaires à souhait, on a droit à nos amputations bâton entre les dents, et la direction des figurants au sein de cet énorme barnum force le respect. Il y a dans ce défilé de cow-boys sur fond de coucher de soleil toute l'aura des légendes, pas de doute, le John sait dégager de la noblesse dans chacun de ses personnages, chacun de ses cadres, chacune de ses actions. On aurait juste souhaité un peu plus de nuance, un peu plus de complexité somme toute, dans cette histoire un peu trop épurée. The Horse Soldiers reste un beau spectacle puissant, mais il passe à côté du grand film.