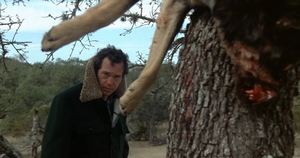 C'est le bon Gérald Anarkao qui nous a conseillé ce film par e-mail, et on reconnaît bien là son goût pour les chemins de traverse plutôt que pour les grandes autoroutes. Race with the Devil a tout de la série B, avec ce que ça comporte de manques de moyens et de techniques hésitantes, mais c'est franchement un spectacle très plaisant sur la longueur. Dans les premières minutes on grince quand même des dents devant ce côté cheap et bordélique : Starrett se cherche un peu, dirait-on, et ne sait pas trop comment amorcer son histoire. On a droit à deux courses de moto assez mochement filmées, sans enjeu qui plus est, et qui sont complètement déconnectées de la trame à venir. Par crainte de faire un film trop court peut-être, Starrett préfère remplir avec ces séquences vides, qui ne servent à rien, si ce n'est à préciser maladroitement les rapports entre les deux personnages du film (Peter Fonda et Warren Oates, pas mal).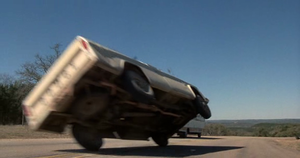 Une fois cette lourde intro passée, nous voilà au coeur du sujet : deux potes partent en vacances à bord d'un camping-car dernier cri, accompagnés de leurs deux gorettes (qui passent assez loin du prix d'interprétation à Cannes) et d'un gentil chien. Au cours d'un bivouac bon enfant, ils tombent sur ce qu'ils n'auraient pas dû voir : une cérémonie sataniste grand crin, avec formules magiques et sacrifice humain de rigueur. Dès lors, ils vont se voir pourchassés par une horde de villageois qui veulent les empêcher de dénoncer ces agissements paranormaux. Comme souvent dans les films d'action de ces années-là (The Texas Chainsaw Massacre, The Hills have Eyes), c'est la communauté toute entière qui se ligue contre les héros, avec comme arrière-plan un portrait de l'Amérique profonde absolument torve. Pour Starrett, tout le monde est monstrueux à partir du moment où il vit dans le trou du cul du monde. C'est un peu court, mais c'est aussi assez effrayant, le film flirtant sans cesse avec les codes du film d'horreur tout en gardant une certaine crédibilité qui fonctionne.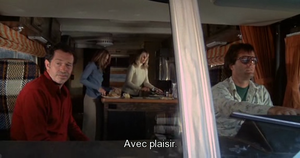 Nos braves gars et leurs fiancées hurlantes vont subir bien des malheurs dans leur traversée de l'arrière-pays (Fonda doit en avoir un peu sa claque de se faire décaniller par des paysans), la meilleure séquence étant celle de l'attaque de deux serpents gros comme mon bras, filmés au plus près, glaçante scène qui fait froid dans le dos. Ca tonitrue bien comme il faut, Starrett répondant présent dans les scènes d'action pure : belle "lisibilité" des poursuites en bagnoles, montées au taquet, très dynamiques, sens de l'atmosphère et du détail (la vieille bizarre installée au milieu de sacs de bouffe pour cheval, mmmm), simplicité d'exécution... On pardonne au film sa mocheté très 70's au niveau de la photo, et ses gros flous d'interprétation, pour se laisser aller au plaisir du frisson et du suspense. Un tout petit film sympathique que je n'aurais jamais vu sans la vigilance de l'ami Gérald, gloire lui en soit rendue.