On retrouve chez Haneke ce soin méticuleux à concevoir, à mettre en place, la structure du récit, et je n'ai guère pu m'empêcher dès le départ de penser au déroulement narratif de 71 fragments d'une chronologie du Hasard si ce n'est qu'ici il serait plutôt question de chronologie du mal (j'ai po compté les fragments non plus...). Si l'expression n'était point si galvaudée, on pourrait tenter de dire que Haneke nous plonge dans les racines du mal (j'ai bien du lire 34 fois l'expression au gré des interviews, du coup impossible de m'en défaire): ce qui séduit surtout dans ce concept de "racines" c'est qu'elles soient "cachées"; non seulement la plupart des événements violents se passent hors-champs (ce qui oblige le spectateur à un effort constant pour tenter de reconstituer le puzzle de l'histoire - qui a fait cela, qui aurait pu le faire, pourquoi ?...- et, ainsi, à "creuser sa réflexion") mais cela parvient surtout à nous faire sentir à quel point tout se joue dans l'intimité des maisonnées (la magnifique séquence (artistiquement parlant) de flagellation des enfants qui se joue derrière une porte close) et des individus (personne n'exprime directement son ressentiment mais nourrit en soi sa vengeance). Cette façon de procéder, qui laisse une grande part à l'implicite, créé une tension permanente tant le spectateur se doit d'être à l'affût du moindre indice ou du moindre cri étouffé pour savoir exactement de quoi il retourne en coulisses.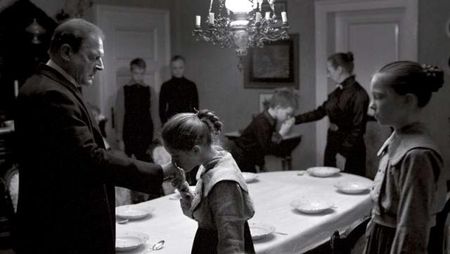 Le deuxième aspect captivant dans le "développement de ce mal" est la recherche constante de la préservation des apparences (à l'image de ce ruban blanc qu'on affiche à la vue de tous mais qui cache ce qui se passe au fond des coeurs), coûte que coûte, qui finit elle-même par pourrir encore plus la situation : plutôt que d'étaler au grand jour la vérité, chacun décide de protéger sa famille (le pasteur donnant la communion à sa fille bien qu'il la soupçonne d'un acte pervers, ou accusant l'instituteur de propos scandaleux lorsque celui-ci accuse ses propres enfants) ou de ne pas "confesser" ses méfaits (il vaut mieux prétendre avoir rêvé (la fille du régisseur) ou se faire accuser d'un autre "crime" (l'enfant du pasteur dont on attache les mains au lit). Ce qui rend possible de tels actes barbares - autre thématique joliment développée par Haneke -, c'est l'absence de toute réelle punition parentale (les enfants du pasteur, Klara en tête, se font punir pour des actes qu'ils n'ont pas commis ou pour des fautes bénignes) ou de punition par une quelconque justice divine (l'enfant du pasteur qui se balade en équilibre sur la rampe du pont pour défier Dieu... et rien ne se passe). Un tel contexte va favoriser le développement de ces actes terribles puisque finalement rien ne va s'opposer à eux. L'engrenage du mal est enclenché, l'absence de réaction jetant de l'huile sur le feu...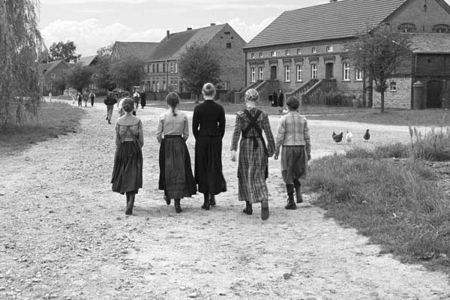 Ce qui rend particulièrement réussie cette oeuvre de Haneke, ce n'est pas seulement cette structure théorique froide dont on l'a parfois accusée. Nombreuses sont les séquences, notamment grâce au jeu des acteurs (les adultes comme les enfants, ces derniers étant souvent impressionnants) pleines de "chair", capables de provoquer une troublante émotion. Haneke excelle dans les différentes séquences mettant en scène la pureté ou l'innocence de ses personnages (les rencontres entre l'instituteur et Eva la bien nommée; les scènes entre le benjamin des fils du pasteur avec son oiseau (d'abord blessé puis soigné) et son père; la scène où le fils du docteur apprend ce qu'est la mort... - à chaque fois, le rythme et le ton sont d'une justesse incroyable). D'autres scènes font, elles, véritablement froid dans le dos par la violence des paroles qui sont échangées, en particulier la scène de rupture entre le docteur et sa "bonne" : elle est à vous dégoûter de l'amour tant la haine semble avoir fini par tout recouvrir... brrrrrr! On suit pas à pas ces pièces qui se mettent en place les unes avec les autres, et lorsque le film s'achève et que l'architecture devient visible, on se dit que le père Haneke n'a peut-être pas réalisé un monument cinématographique éternel mais qu'en tant que maître d'oeuvre, c'est quand même un monsieur. Respect, sans courbettes. (Shang - 01/11/09)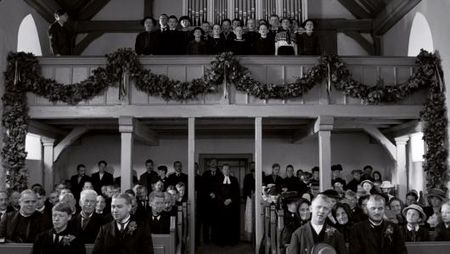 ---
Curieux : je suis d'accord avec mon collègue, mais les scènes qu'il cite sont justement celles qui m'ont semblées les plus dépassées, les moins réussies au final. Si, comme le dit Xavier dans les commentaires ci-dessous, le film est vieillot, ce n'est à mon avis point tant dans sa forme générale, effectivement académique mais tout de même très class, que dans le système-Haneke qu'on connaît maintenant bien, et qui fait ici un peu long feu. Pas d'invention donc, pour moi, dans cette séquence de flagellation évoquée simplement par un cadre sur une porte fermée : c'est après tout le "folklore" habituel du gars, qui se pare ici d'une curieuse pudeur un peu roublarde ; pas d'invention non plus dans ce dialogue too much entre le docteur et la sage-femme, où la violence sèche des propos m'a semblé trop premier degré, trop explicite. Ce sont les deux moments qui m'ont gêné dans le film, et c'est justement ceux-là que mon compère relève, ça promet de belles discussions futures autour d'une bière.
Je préfère 1000 fois la subtilité de Haneke pour imposer son ambiance délétère à travers des séquences a priori beaucoup plus innocentes. La lenteur extrême des plans, la lumière surexposée, les maquillages mortifères, la nature menaçante par son simple "à-plat" formel, voilà ce qui m'a semblé toucher au génie dans ce film. Haneke explore les motifs du cinéma fantastique, tout en restant dans des apparats de film psychologique, ou social, ou historique. On songe bien sûr à Village of the Damned dans cette communauté d'enfants mutiques, fermés, qui se regroupent mystérieusement comme mus par des signaux secrets : ils sont totalement effrayants, et c'est quand Haneke les filme simplement, dans des cadres frontaux, qu'il terrorise le plus : l'interrogatoire final de l'instituteur, avec ces champs/contre-champs fulgurants sur ces visages inexpressifs, les quelques scènes où, ouvrant subitement une porte, les enfants sont là, froids et muets, les quelques séquences où les enfants sont seuls entre eux et qui révèlent des liens indéfinissables entre eux (l'incendie vu depuis la chambre, le dialogue autour de la mort). Dans ces moments-là, on touche à l'essence même de ce que Haneke tente de faire depuis toujours : une symphonie de la terreur sans "images", déclencher une peur latente par la seule force de la mise en scène et de l'imaginaire du spectateur. Les quelques plans frontaux en sont d'autant plus impressionnants (la chute de cheval au début, et surtout ce plan sidérant sur un visage d'enfant torturé, dont les yeux et les dents ont disparu).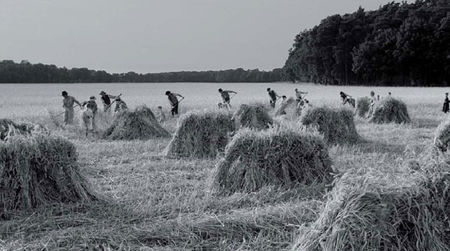 Le film est bien sûr d'une profondeur abyssale, traitant aussi bien, comme le dit bien mon collègue, des racines cachées du mal que des tares de la communauté, du conflit des générations que du thème de la vengeance, de la bourgeoisie en tant que menace que de la culpabilité collective. Comme toujours, Haneke fait de la philo en images, et on sent les lectures d'un Sartre dans cette façon de désigner une société comme responsable d'un mal collectif (pensée déjà présente dans Caché). Mais contrairement à ce que disent ses détracteurs, il le fait sans leçon, avec un profond respect pour le public, contraint de combler les trous de la trame par son imagination. Le film oblige à être attentif à chaque instant, à interpréter, à construire sa propre signification. Formellement splendide, dans son maniement inoui des rythmes et des focales et de la profondeur de champ, il accorde complètement une pensée abstraite à une forme concrète, faisant de la mise en scène son sujet même. C'est encore une fois impressionnant malgré quelques moments appuyés, et on quitte ça en silence, sonné par l'intelligence et la maîtrise complète du maître autrichien. (Gols - 22/11/09)