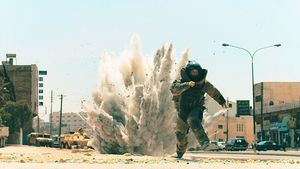 Kathryn Bigelow livre un vrai film qui sent la sueur sous les bras avec cette chronique âpre et frontale de quelques faits de guerre dans l'Irak d'aujourd'hui. The Hurt Locker force le respect par sa simplicité, et par la somme d'inspirations qu'il brasse tout en restant au niveau du film d'action pur jus. Rare de trouver une telle intelligence d'exécution et de scénario dans un film de ce genre : s'il vous donne la dose d'adrénaline voulue (faisant même de l'adrénaline en tant que drogue le sujet principal du film), il n'hésite pas aussi à réinterroger le cinéma de genre, ainsi que le statut du héros dans l'Amérique contemporaine.
On suit un mois d'actions d'une équipe de démineurs en plein Bagdad. Ce qui frappe d'abord, c'est l'éternelle répétition de jour en jour : le quotidien de nos camarades consiste à s'équiper de gros scaphandriers pour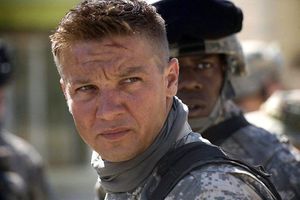 aller couper le fil vert et le fil rouge pour éviter que les bombes artisanales explosent. Parfois (le plus souvent), ça marche ; parfois boum. Dès la première scène, on est happé dans cette tension impressionnante, par cette façon de concentrer toute la tension sur un minuscule détail (les fils) ; et on se rend compte que The Hurt Locker va être une incessante répétition de la même scène du début à la fin. Certes, les techniques des artificiers irakiens varient, et on a droit à un quasi-reportage sur les mille et une façon de dissoudre du Yankee : réseau d'explosifs, bombe humaine, voiture piégée, otage bardé de dynamite... Mais au bout du compte, toutes les scènes se résument à ça : sautera ? sautera pas ? L'adrénaline monte donc de plus en plus, Bigelow ne s'éloignant jamais de ce dispositif répétitif, qui confère au film un réalisme tout en exigence.
Sauf que... pour doper sa trame, B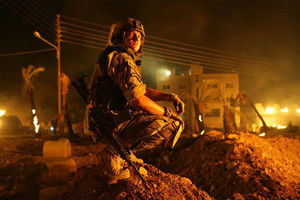 igelow invente un personnage principal particulièrement intéressant : un "soldat ++", complètement drogué par la guerre et les prises de risque, sacrifiant sa vie intime pour aller frôler la mort avec délice. La progression de son caractère est admirablement tenue : on croit d'abord à un de ces cow-boys morveux et gavants qui jouent aux durs ; puis petit à petit on découvre un être perdu, conscient de sa dégringolade dans le morbide, et le voilà chargé d'une humanité très touchante. Bigelow le suit avec une grande attention, et l'acteur, Jeremy Renner, endosse ce complexe héros avec une totale finesse. Belle idée d'ailleurs d'avoir choisi ce corps-là, entre garçon un peu rond et homme musclé, et surtout d'avoir choisi un inconnu pour jouer ce rôle. The Hurt Locker est un film sans star, ce qui semble être le seul biais pour rendre crédible cette histoire (l'apparition de Ralph Fiennes sonne comme un scandale, mais heureusement il ne fera pas long feu).
Le film excelle donc à nous immerger dans cette réalité, et montre de façon très crédible les rapports entre soldats américains et citoyens irakiens : mélange de méfiance, de mépris et de fausses déclarations d'amitié, scindant très clairement les personnages en deux camps nets. La plus belle séque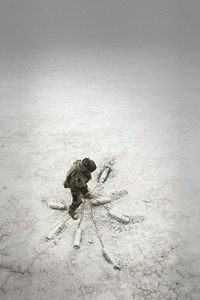 nce à ce titre est celle, centrale, des deux armées qui se font face à des kilomètres de distance : on tire de rares balles sur de toutes petites cibles indistinctes, on attend, on attend encore... Une tension qui finit par se vider de sens, et qui fait plonger le film dans une quasi-abstraction bienvenue.
On retrouve dans cette scène des éléments de westerns-spaghetti, et c'est dans cette veine-là aussi que Bigelow est grande. En ressucitant une des ces figures de héros qui peuplèrent le cinéma des années 80, elle en interroge le fondement-même. Elle semble croire dur comme fer à son personnage aux machoires carrées, si bien qu'on en vient presque à soupçonner le film d'être reaganien dans ses archétypes ; mais son travail sur l'imagerie américaine vient démentir cette tendance. En plus du western, on a droit à quelques occurences de science-fiction (ce "cosmonaute" errant dans des terrains complètement déserts et désolés, au milieu de la fumée), mais comme vidées de substance, comme si le personnage tentait de retrouver des postures de héros au milieu d'un monde qui ne peut plus les accepter. On songe souvent à The Right Stuff de Kaufmann, dans cette façon de montrer des cow-boys fantomatiques dans un univers contemporain où ils n'ont plus leur place. Etrangement mélancolique, le film y gagne encore une épaisseur de sens, et ça finit à nous convaincre qu'on est là face à une oeuvre très personnelle, intelligente et forte, qui se cache sous de beaux habits de film de mecs-en-treillis pour mieux nous balancer sa tristesse au visage. (Gols 15/10/09)
---
C'est bien dit tout cela, ma foi, ce cosmonaute inter-iraktique étant finalement aussi perdu en ce territoire inconnu - mais excitant - que dans les supermarchés américains où la consommation à outrance lui fout la gerbe. Le héros est une sorte de jeune Jack Bauer qui ne s'embêterait point à vouloir servir un quelconque pays ou une quelconque cause, ne cherchant que l'action brute, ou, plus précisément, uniquement le danger. Un genre de super-héros de l'absurde. Il aime avoir les mains plongées jusque là dans le cambouis (quand ce n'est pas les entrailles d'un gamin) et son obstination à aller à chaque fois jusqu'au bout de "sa mission" ne le mène jamais bien loin (ce gamin qu'il "opère" n'est même pas celui qu'il connaît et lorsqu'il décide de s'aventurer dans le no man's land (bel écran totalement noir de quelques secondes) autour de l'explosion, il ne sera guère plus avancé...). Belle séquence également, déjà commentée par mon camarade, que cette attente qui s'étire jusqu'au coucher du soleil, comme s'il n'y avait, à part l'accumulation de quelques cadavres, pas grand-chose à attendre d'autre de cette guerre, le peu de dialogue entre les Ricains et les Irakiens tournant de toute façon en eau de boudin. Belle idée également que ce pauvre Irakien bardé de 3.000 explosifs que notre super-héros sera incapable de sauver - les grands "libérateurs" ricains ne servent définitivement à rien quand il s'agit d'aider les plus innocents... J'avoue en revanche avoir été parfois un peu agacé par ce style à la 24 heures avec cette caméra sans cesse flottante et ce caméraman atteint de la maladie de Parkinson dès qu'il s'approche de l'option zoom. Une fois, ça va, à la longue, on se demande si le type n'est pas un peu astigmate ou s'il ne srait pas assis sur une mine d'hémorroïdes. Ce nouveau style tout tremblotant dans le film de genre tranche un peu avec la sobriété louable du propos de Bigelow. C'est ça, le procédé, à force, il mine... Un film tout de même tendu comme un slip en fonte qui fait sur l'adrénaline une belle mise en abîme. (Shang 18/11/09)