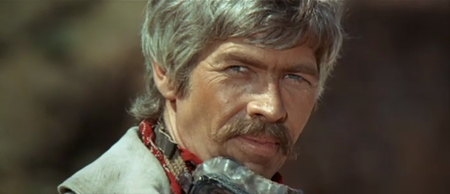 Je n'avais pas le souvenir d'une telle profondeur sur ce film de Leone, m'attendant à simplement passer un bon moment gaguesque dont il a le secret. Dame, j'ai pris ma claque. A Fistful of Dynamite est prodigieux, et c'est franchement étonnant qu'il soit un peu oublié au milieu des grands films du maître : il fait le lien entre les westerns ludiques précédents et l'incontournable Once Upon a Time in America futur, presque soigneusement partagé en deux parties consacrées tour à tour à un style puis à l'autre.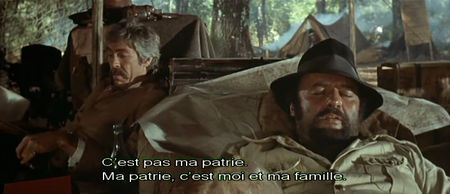 Dans la première heure en effet, c'est le Leone taquin qui s'exprime, celui qui étire ses plans jusqu'au non-sens, qui filme des trognes à deux millimètres en Cinémascope, qui met son point d'honneur à compliquer chaque séquence, aussi simple soit-elle, par pur plaisir du spectacle et du jeu. C'est déjà un festival : un bandit crasseux (Rod Steiger), représentant le western à lui tout seul, rencontre un Irlandais solitaire (James Coburn), symbole quant à lui de la modernité. Le duel est non seulement dans les caractères (l'un est une pie italianissime, grimaçante, excessive ; l'autre un taiseux aux yeux mi-clos, calme, sobre), mais aussi dans toute l'imagerie qu'ils traînent avec eux : si Steiger a encore un pied (sale) dans le sable, les colts et les attaques de diligence, Coburn est motorisé, cultivé, et manipule les nouvelles armes (la nitroglycérine, la dynamite) en virtuose. On sent déjà que Leone est en train de se débarrasser très habilement du western, prenant acte d'une modernité galopante qui vient s'infiltrer à l'intérieur même de ses décors passés. On se marre bien à voir les agissements des deux compères, destinés à piller une banque inattaquable, et on se cale tranquillement dans son fauteuil.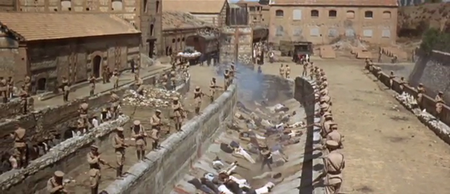 Mais après cette première heure, le film vire brusquement, avec un changement de ton absolument bluffant. Il n'est pas question ici d'attaques de banques, de bandidos en concurrence ou de gags tonitruants, comme on l'avait cru jusqu'ici ; le film devient sombre, lent, infiniment émouvant, dès lors qu'il dévoile ses cartes et annonce son vrai sujet : la Révolution, et la nécessaire métamorphose d'un homme, du brigand inorganisé en citoyen politique. A l'aide de tableaux gigantesques, qu'il sait toujours alterner avec des personnages filmés au plus près, Leone nous parle de la Violence, avec un grand V, c'est-à-dire de l'histoire de la violence. A Fistful of Dynamite devient d'une brutalité directe, loin des jeux formels passés : il importe de montrer ce que c'est qu'un homme qui en tue un autre, et il n'y a donc guère de place pour l'amusement. Pogroms, charniers gigantesques, exécutions sommaires, déportation : le film aligne les signes de la violence moderne, résultant aussi bien de la Shoah que de l'histoire révolutionnaire dans son entier. L'Histoire happe ces deux petits personnages, les plonge dans la tourmente. Le jeu sublime de Steiger rend parfaitement compte de cet ahurissement face à la répression de l'Etat, cet effarement face à l'infinie violence des hommes. Petit à petit, il va devenir un vrai révolutionnaire, concerné malgré lui, obligé de faire de vrais choix moraux, jusqu'à ouvrir les yeux sur la vraie fraternité "politique" qui le lie à Coburn.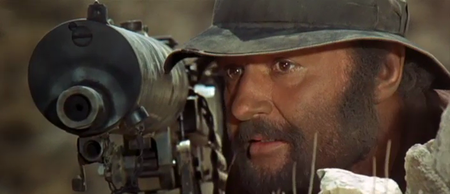 Face à lui, ce dernier représente la dignité par excellence, l'homme qui est passé par ces souffrances, ces trahisons, ces choix éthiques, et qui les enseigne sans parole à son acolyte. Les flashbacks sur son passé au sein de l'IRA pourraient être ridicules (un couple qui court en riant au ralenti, c'est difficile à faire passer) : mais ils sont insérés avec une grâce totale, et dopés par la musique ravageuse de Morricone (chonn chonn), magnifique. La mise en scène est à l'avenant, mélange de plans d'ensemble surpuissants et de scènes de dialogues utilisant l'écran large dans toutes ses dimensions, souvent grâce à un cadre en amorce sur un des personnages immobile prolongé par un autre personnage agissant, le tout sur fond de décor abyssalement profond. La copie restaurée du film rend justice à ce travail d'orfèvre : on est là face à un pur chef-d'oeuvre, triste et drôle à la fois, qui vous serre les tripes.