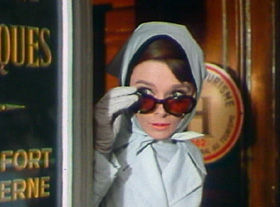 La perfection, tout simplement. Il y a tout ce qu'on attend du cinéma de divertissement dans Charade : tout à la fois brillant film d'espionnage à tiroirs, comédie gaguesque, évasion exotique romantique, défilé de mode glamour, fantaisie pleine de situations parfaites, grand moment de suspense, il comblera aussi bien le fan de Hitch que la midinette, et comme je suis un peu les deux, vous me voyez comblé. C'est l'archétype du savoir-faire hollywoodien, acquis par un Donen rompu à l'entertainment après toutes ces comédies musicales inoubliables (dont Charade garde d'ailleurs évidemment la trace) : à tous les postes, il y a le pro de chez pro, depuis l'écriture des dialogues, pétillants comme jamais, jusqu'à la mise en scène, élégante et suave, en allant jusqu'au générique de début (une tuerie 60's qui rappelle les grands moments de Saul Bass) ou aux costumes (l'inaltérable Givenchy, qui invente la silhouette Audrey Hepburn avec ses manteaux à gros boutons). Et pourtant, cette perfection de chaque détail du film ne l'enferme jamais dans un carcan : il déborde de fantaisie, voire d'impolitesse, de tous les côtés, si bien que, malgré l'artificialité complète de la chose, on est plongé dans un bain de vie revigorant, qui fait mystérieusement appel à la douceur de l'enfance : l'école des "musicals", encore une fois.
Donen semble rassembler une foule de références précieuses, à commencer par Hitchcock convoqué par Cary grant mais aussi par cet aspect sophistiqué qu'on retrouve dans To Catch a Thief ou dans cette façon de filmer les lieux vides et de les charger d'inquiétude, comme dans North by Northwest. Charade n'a franchement rien à envier à Bouddha dans toute sa partie "whodunit", dans ce jeu de chat et de souris plein de faux-semblants, d'espions-qui-sont-des-tueurs-qui-sont-des-espions, dans cet écheveau de fausses pistes complètement jouissif. Les séquences chargées de tension bon enfant, comme la poursuite finale dans le métro, comme ce rendez-vous mystèrieux dans un parc, ou comme cette bagarre sur les toits, sont génialement filmées, en prenant bien son temps, en gérant les rythmes et les cadres en maître. Comme chez Hitch également, ce brillant jeu policier ne fait que cacher une romance sentimentale très romantique : on sent bien que peu importe à Hepburn de retrouver le fric caché ; ce qu'elle veut, c'est Grant dans son lit. Assez sidérante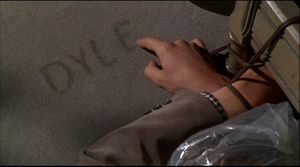 d'ailleurs cette tendance de celui-ci à fuir coûte que coûte les avances de la donzelle, qui pourtant lui fait des yeux de chatte particulièrement dénués d'ambiguité (j'adore la réplique qu'elle lui lance : "You know what's wrong with you ?... Nothing..."), l'attirant même sans vergogne dans sa douche. A croire que le gars, l'âge venant, lutte contre sa légende de serial-séducteur et met son point d'honneur à ne pas céder à cette fille de 25 ans sa cadette.
Romance absolument craquante, donc, d'autant plus qu'elle prend place sur les décors les plus glamour qui soient : le Paris à l'ancienne, que Donen ne se prive pas de filmer dans tous ses clichés (bateaux-mouches, Notre-Dame, métro, braves flics un peu concon), autre tendance hitchcockienne au passage. Ajoutez à ça une bande de méchants particulièrement réussie (le défilé des tronches à l'enterrement d'un des leurs est à mourir), une musique à faire fondre n'importe quel coeur, et surtout un duo d'acteurs parfait : Grant use de
ses mimiques de comédie avec parcimonie, calmant le jeu hystérique qu'il utilisait chez Capra ou Hawks, mais en retrouve les traces avec beaucoup de tendresse ; il y mèle son jeu plus dramatique issu de chez Hitch, c'est parfait. Quant à Audrey Hepburn, qui n'a jamais été l'actrice du siècle, elle utilise son minois et ses grands yeux de biche comme jamais, et ça suffit à la rendre craquante (même si on est un peu agacé par cet éternel emploi de femme-enfant simplette qui doit faire hurler les féministes). La perfection, donc, comme je disais, et THE film romantique des années 60.