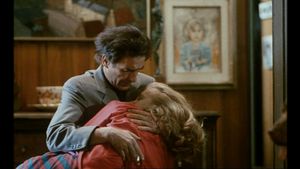 Cassavetes aborde toujours le même sujet : la solitude, la difficulté d'aimer et d'être un adulte, les heures sombres de la nuit, la folie, l'alcool... Love Streams ne déroge pas à la règle, bien au contraire : c'est du Cassavetes-bilan, somme de ses inspirations condensées en 2 heures de pure émotion. A travers le portrait croisé de ces deux inadaptés de la vie (lui, fêtard triste passionné par le sexe, l'alcool et sa soeur ; elle, petit oiseau givré en manque criant d'amour), c'est à une introspection très profonde qu'on nous convie. On y voit concrètement mis à jour deux désespoirs, deux écorchés vifs qui n'arrivent pas à affronter la vie dans les règles, deux gamins qui voudraient bien se marrer encore un peu avant de devenir vieux. Bien sûr, c'est déchirant.
Le filmage si particulier de Cassavetes devient ici plus discret, et on le regrette dans les premières minutes. Il y a bien encore cette foule de faux raccords impossibles, ces b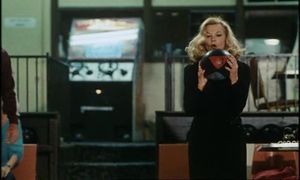 rusques pics de montage faussement amateur, ces façons de capter coûte que coûte l'expression recherchée chez les acteurs, quitte à cadrer à l'arrache ou à rendre une lumière complètement illogique. Mais il semble, dans un premier temps, que Cassavetes joue moins sur l'urgence, prend plus son temps, et a moins d'énergie, finalement, pour filmer son histoire. Mais on se rassure bien vite : l'urgence est remplacée par une élégance incroyable dans les mouvements de caméra, et par un choix de cadres toujours bluffant. Cassavetes trouve toujours exactement la distance miraculeuse pour attraper le sentiment, qu'il soit au plus près du visage de ses acteurs (dont le sien, particulièrement expressif et subtil) ou qu'il reste loin d'eux, voire les cache derrière des portes ou des pans de murs. On a droit ainsi à de longues scènes lointaines, parfois prises à travers une vitre, qui tiennent à distance mais en même temps nous font rester au plus près des personnages. Comme une observation à travers un bocal, disons. Les profondeurs de champ sont en tout cas toujours justes, et la caméra sait toujours laisser tomber son dispositif rigoureux quand il s'agit de faire exploser une émotion ou fixer une minuscule expression.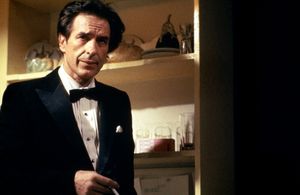 Si l'histoire est somme toute relativement banale (un frère et une soeur, leur passion, leur vie sentimentale bancale), les personnages sont comme toujours absolument fabuleux. Rowlands est magistrale dans cet emploi déjà abordé dans A Woman under the Influence de foldingue au grand coeur : elle s'en donne à coeur joie dans son jeu de montagnes russes, toujours à la juste frontière entre burlesque pathétique (la scène où elle tente de faire rire son mari et sa fille, ou celle où elle débarque avec une ménagerie chez son frère) et tragique ; son personnage est sans cesse crédible, alors qu'il est monstrueux et joué comme tel. Mais c'est à Cassavetes lui-même qu'on doit la plus grande part de l'émotion : en célibataire vieillissant hanté par les autres (enfant, soeur, ou putes rencontrées dans des bars de nuit), il est bouleversant, endossant une sorte de mix de tous les personnages masculins de ses films passés (Husbands, Faces, Killing of a Chinese Bookie, toujours ces hommes malheureux et grotesques).
A part ça, eh bien ma foi, c'est la magie Cassavetes, assez indéfinissable, qui tient à un fil ; mais un fil assez solide pour faire de son cinéma le plus beau du monde. De l'amour brut de décoffrage.