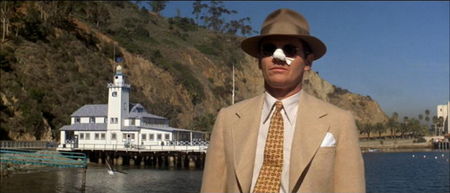 "Most people never have to face the fact that at the right time, the right place, they are capable of anything" - Noah Cross (John Huston). Non, point de polémique ici sur Polanski, juste peut-être cette petite phrase introductive pour souligner le fait que Chinatown n'a absolument pas pris une ride, reste "d'actualité" : cette oeuvre demeure en effet toujours aussi somptueuse et prenante trente-cinq ans plus tard. Des acteurs au sommet de leur art - Nicholson serein, faisant usage de son petit sourire ironique dont il a le secret au départ, puis le visage semblant troublé par une ombre à mesure que le film avance, Faye Dunaway dont la façade de femme fatale cache des secrets inavouables, John Huston en vieux salaud intégral qui ne s'en porte pas plus mal -, une photo, une luminosité, un technicolor d'une rare beauté pour les années 70 (comme si tous les films de cette époque étaient délavés à part celui-là...), des mouvements de caméra toujours réglés à la perfection par l'artiste Polanski (cette façon assez subtile de finir un plan ou d'en ouvrir un sur un gros plan) et un scénario qui ne nous prend jamais pour des idiots : on progresse pas à pas dans l'intrigue, en restant toujours au même niveau que Nicholson; à mesure qu'on avance et que celle-ci se complique, on pénètre dans ces "limbes Chinatownesques" où on finit par se demander si la recherche de la vérité, de la justice ne serait pas une fausse-trappe - pour ne pas dire casse-gueule...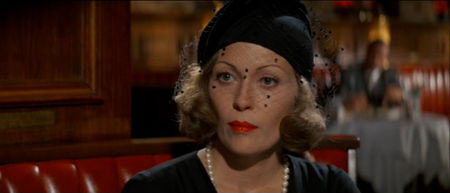 C'est le genre de film qu'on pourrait apprécier tranquillement dans son fauteuil avec un verre de whisky de 45 ans d'âge dans une main et un cigare dans l'autre (j'ai arrêté de fumer et de boire, c'est là tout le paradoxe, digne du film), savourant chaque séquence, chaque répartie tellement finement ciselée que parfois on ne sait si elle est terriblement dramatique ou comiquement ironique (le fameux "C'est ma soeur", prends une baffe, "C'est ma fille", manges-en une autre, "c'est ma soeur et ma fille", prends-toi un aller-retour dans la tronche et maintenant donne-moi une réponse cohérente...). On avance dans le récit à pas feutré avec, à ses côtés, un Jack précautionneux mais bougrement malin - la question est de savoir si cela permettra vraiment d'y voir plus clair ou si on ne s'enfonce pas peu à peu, à mesure que la lumière se fait, dans un territoire diablement dangereux. Polanski soigne ses ambiances tout en sortant légèrement des sentiers battus du polar noir: cet homme que Nicholson suit en filature que l'on retrouve auprès d'une rivière asséchée en plein cagnard (séquence éminemment solaire) puis au bord de la mer (séquence éminemment marine) semble vouloir "revenir aux sources", se souciant de la nature tout court ou de la nature des choses (qu'est-ce qu'il est venu observer ici nom d'un chien!) puis que l'on recroisera plus tard, mort, le visage déformé, ironiquement et bizarrement noyé en eau douce, de l'eau salée plein les poumons...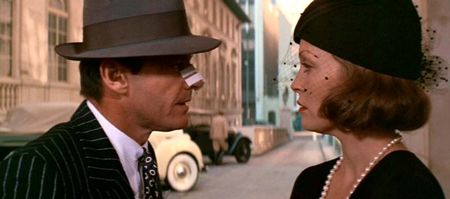 Comme Nicholson on tente de percer chaque mystère mais les rebondissements sont multiples, chaque chose ou personne n'étant jamais vraiment ce qu'on pensait qu'elle était (la première femme qui engage Jack qui se fait passer pour Mrs Mulwray, l'homme pris en filature photographié "dans une situation compromettante" avec une très jeune fille, les lunettes appartenant apparemment à cet homme récupérées dans le trou d'eau au fond de son jardin...), chaque personnage cachant des désirs, des motivations plus profondes (Faye Dunaway est une énigme à elle seule, tour à tour pleine de charme, épanouie, confiante puis soudainement paniquée, affolée, effondrée...), chaque lieu paisible (un réservoir, une orangeraie, une maison de retraite) pouvant se transformer soudainement en enfer : Jack se fait tirer dessus deux fois et se fait également proprement bastonner; il y perdra d'ailleurs dès le départ un bout du nez, situation d'une ironie mordante pour quelqu'un qui est payé pour aller le mettre partout. Mais Jack est un têtu et pense que chaque problème peut encore avoir une solution, une issue - c'est oublier que ce monde n'obéit pas forcément à ses désirs, quand bien même (ou surtout...) quand on est du "bon côté" de la barrière.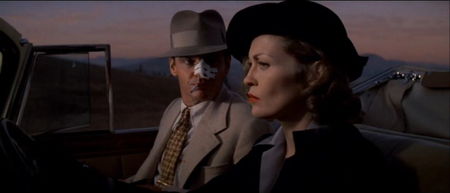 Malgré un rythme des plus paisibles, un nombre incroyable de séquences reste en tête; je n'avais pas dû revoir le film depuis plus d'une quinzaine d'années (avec l'ami Bruno, ce me semble, à Clermont, sur une télé limite noir et blanc, en v.f.) et c'est fou cette impression de reconnaître presque chaque plan, chaque situation, chaque petit détail tant ceux-là sont marquants : le "nain" Polanski qui joue de la lame, Jack en filature qui s'emmerde comme un rat mort et fume comme un pompier, la voilette de Faye sexy en diable (Faye Dunaway ("cherchez la femme" lance-t-elle en français à Jack sur l'oreiller), cherchez la faille...), la scène d'amour, ou plutôt la conversation qui la suit, entre un Jack et une Faye au septième ciel mais qui ne perdent point pied avec la réalité, le personnage de "Curly" qui fait une apparition au début et, très subtilement mais de façon surprenante, à la fin du film (un véritable cercle vicieux, cette oeuvre). On finit par s'attendre à tout, à craindre le pire et on peut compter sur Polanski pour jusqu'au bout nous faire sursauter, nous faire toucher le fond, jusqu'à la lie... Le film est tellement tendu qu'on reste chaque seconde sur nos gardes pour ne pas en perdre une miette, et rares sont les films aussi prenants, "hypnotisants", "aimantants"... Solaire et sombre, un sublime polar, résolument, signé par un grand Polanski.