Est-ce qu'il y a quelque chose de plus coloré qu'un film de Douglas Sirk ? Il semblerait que l'automne a été créé pour lui, une saison où le vent des sentiments emporte tout (mon premier roman a été refusé chez Harlequin, comprends po); une porte fenêtre d'une immense demeure qui claque, des feuilles mortes qui s'engouffrent, des personnes alarmées qui se penchent aux fenêtres, un coup de feu, un homme qui se vautre sur le perron, le mélodrame est déjà là. Coup de vent sur un calendrier qui égrène ses pages, nous voilà revenus un an en arrière.
On sent dès le départ que cette rencontre entre Rock Hudson, homme d'un bloc et serein, et la classieuse Lauren Bacall va faire des étincelles. Rock bosse à la solde d'un magnat du pétrole, Robert Stack, personnage à la vie dissolue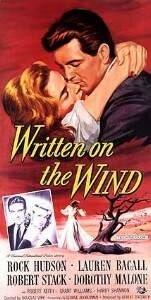 , auquel il sert d'ange gardien. Lorsqu'il présente Lauren à Robert, il ne pense à aucun moment que cette femme élégantissime va tomber dans le piège de ce dragueur que les millions étouffent. Elle se laisse tout de même prendre au jeu de cette vie faite de jets privés et d'hôtels de luxe, le temps d'une journée, avant de faire machine arrière. Mais le Robert est têtu, et finit par la convaincre qu'il est prêt à changer son mode de vie du tout au tout (plus d'alcool, plus de filles faciles, plus de sentiment suicidaire) pour elle. Et ça marche! Rock est dépité mais montre à peine une fissure. Il pourrait lui aussi tomber dans la facilité et se faire épouser par la soeur de Robert, Dorothy Mallone, jeune fille capricieuse et légère, mais il ne mange point de ce pain là. Alors que celle-ci provoque scandale sur scandale à cause de cet amour déçu (superbe séquence au bord du lac où le paysage violemment coloré tranche avec son désespoir), le Robert, lui, remonte la pente et fait preuve d'une sobriété à toute épreuve. Rock est au désespoir tout de même, et projette de se barrer en Iran. Mais, mais... eh ouais, le grain de sable, Lauren ne tombant point enceinte, le Robert se fait dire par le docteur qu'il n'est point stérile mais "a des faiblesses" : lui qui toute sa vie à dû subir la comparaison entre sa conduite déplorable et la perfection de Rock craque tout net et, se noyant dans l'alcool, va retomber dans ses pires travers.
Belle opposition entre cette famille de dégénérés, pourris gâtés par la richesse de leur père, qui n'ont aucune limite dans leurs excès, et leurs deux planches de salut, Lauren et Rock, dont le statut de protecteur équivaut à celui de victime. On ne sait tout du long s'ils finiront par subir la loi de ces deux enfants richissimes qui n'ont pas l'habitude qu'on leur résiste, ou s'ils vont finir par trouver la paix, loin de ces deux ombres auto-destructrices. On retrouve le maître de maison black à la voix caverneuse, cet esthétisme qui ferait passer Les Parapluies de Cherbourg pour un film monochrome, et cette violence des émotions qui gouverne les protagonistes. Certaines séquences sont magnifiques de "composition" notamment celle du père de famille qui s'écroule dans les escaliers, laminé par les excès de sa progéniture, pendant que sa fille fait la bombe, toute seule dans sa chambre, avec sa robe rouge de conte de fées. Je me suis souvent fait l'écho de l'ami Bibice que j'imaginais à mes côtés faisant "po, po, po" devant la magnificence de la mise en scène et le romantisme poussé à l'extrême qui dictent aux personnages leurs agissements. Sirk est bien le maître du mélodrame et réveille mon coeur de midinette (bien enfoui pourtant) encore 50 ans après. Le film n'a vieilli en rien, au pire c'est moi. (Shang - 18/03/08)
---
Je ne peux qu'acquiescer à la critique sentimentale de mon camarade : Written on the Wind est une splendeur esthétiquement, Sirk montrant cette fois son talent pour les scènes de nuit surtout, et sa prodigieuse vision quand il s'agit de filmer des intérieurs. On retrouve comme de bons vieux copains son utilisation des miroirs (qui ouvrent toujours une sorte d'image inconsciente à l'intérieur des cadres : si Stack quitte une pièce pour échapper à Hudson, hop, on fait sobrement apparaître Bacall dans un miroir en fin de plan pour montrer qui il fuit réellement, c'est sublime) et sa passion pour les escaliers. Ce gars est tout simplement le meilleur pour monter un décor "signifiant", et encore une fois la comparaison avec Hitchcock s'impose, celui de Rebecca pour le coup dans cette façon de charger le moindre élément (un revolver, un coup de vent dans un rideau, une feuille qui s'envole) d'une émotion ravageuse.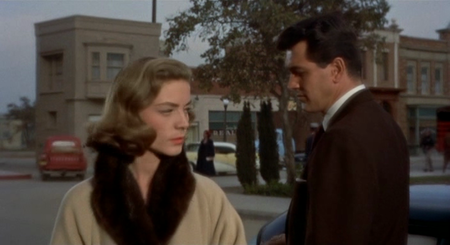 Dans mon classement provisoire et global de l'oeuvre sirkienne, celui-ci n'arrive pourtant pas à la perfection de Imitation of Life. Même si tout est en place pour faire un nouveau chef-d'oeuvre, il manque là-dedans quelques bobines pour vraiment faire exister cette histoire. Les agissements des personnages sont balancés un peu sommairement : la passion de Hudson pour Bacall, la complexité de la psychologie de Dorothy Malone, la conversion de Stack de jet-setteur en homme rangé, tout aurait mérité un traitement un peu plus long, quitte à mon avis à laisser tomber cette histoire d'amour de jeunesse pour se concentrer sur la tragédie du couple. Sirk y aurait gagné en précision psychologique, en simplicité aussi, et ça aurait évité quelques retournements de situations un peu arbitraires. Sirk a voulu faire son East of Eden avec 40 minutes de moins, c'est trop rapide. Toute la fin, par exemple, pourtant génialissime en terme de rythmes, de couleurs, d'émotions, est un peu incompréhensible du point de vue des personnages : le procès final est bâclé et sans vraie pression, et le happy end mi-figue mi-raisin reste le cul entre deux chaises. Dommage qu'au sein d'une esthétique si tranchée, Sirk ne parvienne pas complètement à signer une tragédie, qu'il en reste au niveau du simple mélodrame.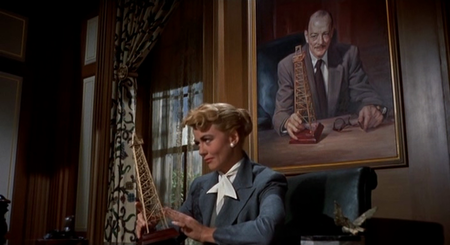 Tant pis : Written on the Wind est bien sûr immanquable et confirme que Sirk est le meilleur cinéaste américain des 50's avec Hitch (voilà une affirmation sans nuance comme je les aime). Acteurs magnifiques (Stack dans une sorte de composition à la Sean Penn, Hudson résolument glamour dans son imitation de Gary Cooper, Malone courageuse dans ce rôle de salope sublime) et mise en scène élégantissimissime, c'est du grand ciné hollywoodien perdu. Po po po. (Gols - 12/08/09)
Search all Sirk here