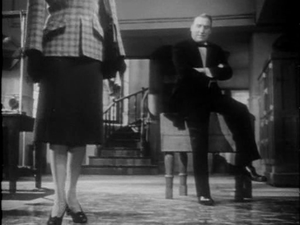 Je ne cesse d'aller d'émerveillements en extase dans ma découverte de Douglas Sirk. Si Lured n'est vraiment brillant que dans sa première moitié, il n'en demeure pas moins un excellent moment résolument bluffant dans sa mise en scène et sa construction. Cette fois, Sirk s'éloigne du mélo pour livrer un film policier grand crin, avec tueur en série à la clé, et en profite pour user d'un humour so british vraiment délicieux. On se croirait revenu dans un de ces bons vieux Hitch période anglaise, tous les éléments du grand cinéma de divertissement à "whodunit" sont en place, et c'est que du bonheur : personnages hauts en couleurs, petits gags adorables, ambiances brumeuses et nocturnes pleines d'ombres, mystère... On a même un soupçon d'analyse freudienne à travers ce tueur frustré sexuellement et qui compense son manque par le meurtre et la poésie de Baudelaire (belle idée que d'infiltrer la légèreté du polar par le venin baudelairien).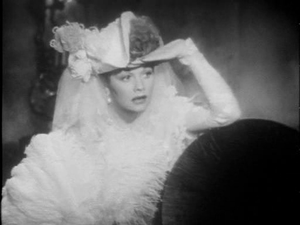 A première vue pourtant, le film a l'air de partir un peu dans tous les sens. Mais c'est la base même du scénario : Sandra Carpenter, brave fille futée, est engagée par la police pour servir de proie à un tueur de femmes qui choisit ses victimes dans les colonnes des petites annonces du coeur. Elle se doit donc de répondre à tous les messages des journaux et rencontre des tas de gonzes plus ou moins louches : ça va d'un petit garçon à un vieux mélomane, le point d'orgue étant une séquence complètement déconnectée du reste, avec Boris Karloff de retour dans le gothique. Il campe une espèce de fêlé, grand couturier déchu rejouant ses moments de gloire devant des fauteuils vides. Quelques minutes absolument sidérantes, qui n'ont rien à voir avec le reste du film, uniquement dédiées au bonheur de retrouver le Boris dans un grand numéro, exclusivement vouées au plaisir de la virtuosité (sublimes mouvements de caméra très doux, montage au millimètre, ambiance parfaite). Il y a donc dans Lured du néo-gothique, mais il y a aussi de la pure comédie (excellente petite Lucille Ball, pétillante mais pas cloche) grâce à de tout petits gags craquants, comme ce détective qui remplit ses grilles de mots croisés en fonction de la situation qu'il rencontre ; il y a du suspense, quelques grandes scènes d'action, du romantisme, de la chronique sociale... bref, c'est éclectique et copieux.
Peut-être un peu trop d'ailleurs. A partir du moment où notre Lucille tombe amoureuse de George Sanders (dans ses pantoufles, mais impeccable bien sûr), ça devient un peu moins intéressant. Peut-être parce qu'on ne comprend plus trop la psychologie de l'héroïne, si débrouillarde jusqu'ici et tout à coup si mielleuse, peut-être parce que les situations deviennent plus quelconques. Il y a toujours de formidables plans tarabiscotés dont Sirk a le secret (des visages pris à travers une rampe d'escalier, des miroirs dans tous les sens, des ombres gigantesques), mais le scénario est moins tenu, ne sachant plus trop dans quelle direction aller : résolution de l'énigme, romance sentimentale ou quasi-documentaire sur les méthodes policières, ça flotte un peu entre plusieurs eaux. S'il ne faut absolument pas rater le début de Lured (avec une scène d'exposition effarante, digne de celle de The Treasure of the Sierra Madre de Huston ou de The Lodger de Hitch dans cette façon de condenser mille informations en quelques secondes, de toucher à l'essentiel dès le début), on peut se permettre de relâcher l'attention sur la fin, d'autant que le coupable se dévoile pas mal de temps à l'avance. Quoi qu'il en soit, un pur bonheur de divertissement, de la grande école indéniablement.
Search all Sirk here