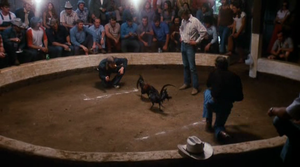 Le grand amusement de Monte Hellman, c'est de démonter pièce par pièce les grands westerns hollywoodiens, et de les remonter autrement, en y incluant des petits bouts de Beckett, de blues chaloupé et de romantisme. Au premier abord, Cockfighter n'est pas un western, mais on se rend très vite compte qu'il l'est peut-être encore plus que The Shooting : c'est juste que les grandes figures de l'ouest sont passées à la moulinette des années 70, et que Hellman regarde le genre de façon totalement unique encore une fois.
Tout y est de ce qui fait les passages obligés du genre : le cow-boy mutique, les duels virils, la gonzesse qui attend son homme sur une balancelle, la violence, le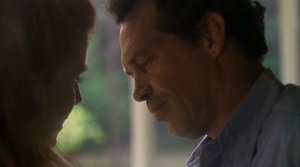 braquage de banque, etc. Mais tout est comme déréalisé, revu à la lumière du blues et de la tristesse. Les cow-boys de Cockfighter sont devenus des sortes de perdants magnifiques, sillonnant le pays de concours en concours pour faire se battre à leur place des coqs en charge de toute la violence des relations humaines. Quand on se fait braquer, on se marre comme des fous ; si le cow-boy est silencieux, c'est par fierté ; si la jeune première refait surface, c'est pour mettre à jour le sentimentalisme profond de son homme. Seules demeurent quelques bribes de ce que furent le Far-West et son lot de symboles : un jeune cow-boy devenu fou de rage quand il perd son duel (mais dont on se débarasse tranquillement), quelques Stetson, une violence privée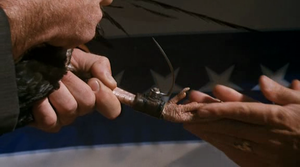 complètement d'humanité. Le film est souvent brutal, mais pas par les hommes : par les animaux, qui se battent frontalement, avec même une certaine fascination de la part de Hellman pour ces duels sanguinaires qu'il filme souvent au ralenti. Autour d'eux, les hommes regardent, sans émotion, et encaissent l'argent ou le perdent.
C'est ce ralentissement du genre qui fait toute la beauté de ce film. Même s'il est sûrement moins audacieux que d'autres films de Hellman, il comporte un charme bluesy remarquable, et montre un cinéaste peut-être un peu fatigué d'avoir à réaliser des films de genre. La scène amoureuse devant le lac (deux bustes nus, et un arrière-plan d'une lumière
aveuglante) montre bien la tendance de Hellman à vouloir sortir des clichés du genre. Le film est réalisé avec une très belle simplicité, sans grands effets (mis à part des fondus enchaînés bluffants qui débordent très longtemps sur les scènes suivantes), mais avec une parfaite maîtrise. Les personnages sont attachants (le grand Warren Oates, touchant, et le lymphatique Harry Dean Stanton) et l'histoire est racontée avec modestie. Peut-être un peu trop, tout ça se terminant sur un final trop explicite, trop simple presque. On peut préférer la métaphysique de The Shooting ou de L'Ouragan de la Vengeance ; mais Cockfighter est un magnifique adieu au western dont le rythme reste en tête.