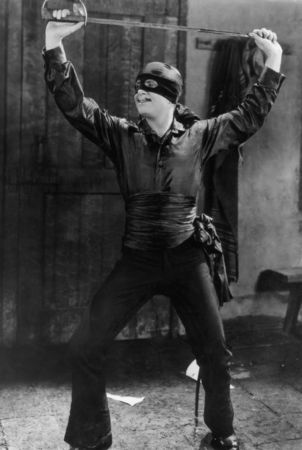 Je suis très branché films muets en ce moment, et c'est donc avec joie que je m'attaquas à ce divertissement grand crin signé de l'oublié Fred Niblo (qui a eu une vie toute pourrie, vérifiez). Eh bien, grande satisfaction : The Mark of Zorro remplit son cahier des charges avec beaucoup de savoir-faire, pas avare en duels échevelés, en Mexicains opprimés, en fêlons punis et en donzelle qui se pâment. S'y ajoute en plus cet humour délicieux et involontaire qu'il y a forcément dans ces films des premiers temps quand on les regarde aujourd'hui. On n'est peut-être pas dans le grand cinoche, Niblo n'est pas Murnau, mais on s'en tape complètement : on se tape sur les cuisses et on suit les aventures trépidantes de Zorro qui, d'un geste, fait régner la loi et qui, vainqueur, il l'est à chaque fois.
La plus grosse surprise, c'est le personnage lui-même. Pour dissimuler son identité de super-héros, Don Diego (Douglas Fairbanks sr, les abdos un peu affaissés mais diablement agile quand même) se fait passer pour un lâche efféminé, qui fait des tours de magie à deux balles au lieu d'aller défendre l'opprimé, et ne sait pas faire la cour aux filles ; en un mot, une tafiole. Mais dès qu'il revêt son masque, il devient el grande Zorro, qui se la pète quand même pas mal, capable de rallumer son cigarillo ou de lancer une rose à sa señorita tout en se battant à l'épée. Ce côté Docteur Jekyll et Mister Hyde est vraiment réussi, et c'est presque plus les outrances de Diego en peignoir qui sont impayables, que les exploits de son double héroïque. La donzelle qu'il convoite, passionnée par Zorro, ne manquera pas de tomber dans ses bras une fois le masque tombé, quand elle se sera bien assurée que ce type qu'elle croyait inverti en a quand même une bonne paire. Autres temps, autres moeurs...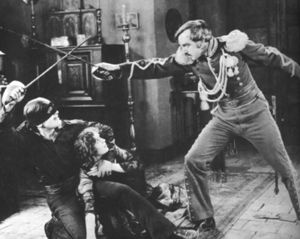 Et puis Niblo n'est pas manchot dans la mise en scène, très enlevée, avec un montage au taquet, et quelques minuscules audaces qui réjouissent (des plongées et des mouvements rythmés qui rendent bien l'espace). Il y a aussi l'idée du serviteur muet (ce qui dans un film muet, équivaut à un serviteur), et un discours fédérateur vibrant qui peut donner de belles prolongations à cette histoire : on est en 1920, et l'oppresseur du film peut en évoquer d'autres, plus teutons, d'autant que Zorro nous sort des pamphlets vibrants sur l'union qui fait la force et sur sus aux méchants. Bon, c'est vrai qu'il y a un problème d'intertitres : ils font au minimum 40 lignes à chaque fois, c'est un peu bavard pour un film muet avec des serviteurs muets dedans. Baste : The Mark of Zorro, c'est du cinéma comme on n'en fait plus, glamour, enlevé, creux et convaincu de son bon droit, et c'est charmant.