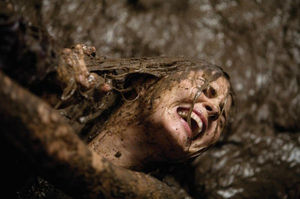 On fait dans le bas du front aujourd'hui avec mon collègue, ça fait du bien de temps en temps. Sam Raimi revient à l'horreur, genre qu'il avait abandonné depuis les Evil Dead de grande mémoire. Le souci, c'est que du temps a passé entre les deux, et qu'il y a eu d'autres films d'horreur depuis que notre ami Bruce Campbell courrait les bois avec sa tronçonneuse. Drag me to Hell est persuadé que, non, tout est comme avant, et qu'on peut continuer à faire peur avec les bonnes vieilles recettes des années 80 : musique, gros plans sur les visages apeurés, un silence, et bouh un monstre qui sort de l'armoire. Ca fait peut-être pêter les ressorts des fauteuils de ciné, mais c'est aussi tellement éprouvé qu'on arrive à lire chaque scène à l'avance, en sachant à la seconde près quand va avoir lieu le fameux bouh. On peut appeler ça un "hommage au genre" ; pour ma part, je serai plus enclin au terme "casserole réchauffée".
Fidèle à sa vision du genre, Raimi invente un scénario absolument creux, en oubliant que depuis les années 80, les films d'horreur se sont chargés de fond sous l'influence de Nakata ou de Marshall entre autres. Ca démarre sur une critique sociale gentiment esquissée : c'est à cause d'un refus de prêt qu'une jeune banquière arriviste subit la malédiction d'une vieille gitane cradouille. On s'attend à un délire anarchiste sur fond de crise, qui règlerait leur compte aux banquiers verreux... Mais Raimi abandonne bien vite cette piste sociale pour se concentrer uniquement sur le spectacle. Parfois, ça fonctionne, au tout début et à la toute fin surtout. Une lutte cartoonesque très marrante avec la vieille, ou une séquence dans un cimetière pleine de coups de tonnerre et de cadavres immondes, on se marre bien. Mais mis à part ces deux moments, tout est poussif et usé jusqu'à la trame. Pour combler le temps entre deux bondissements de peur, Raimi fait une nouvelle fois la preuve de son incapacité totale à diriger des acteurs ou à filmer des scènes de dialogue. Ces scènes "calmes" sont inregardables, inutiles, redondantes et caricaturales.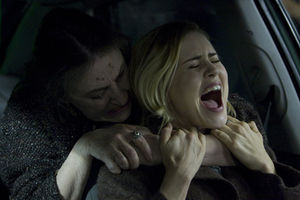 Mais même dans les scènes d'horreur, on s'ennuie. On a l'impression d'être enfermé dans un train-fantôme en carton, sans aucune poésie dans les effets (tous en image de synthèse moches, on regrette la pate à modeler du premier Evil Dead), avec tout le folklore fatigant des diables cornus et des médiums qui roulent les "r". On sent que Raimi aurait envie de revenir à des choses très cracra, et c'est vrai que c'est assez repoussant de voir tout ce que la pauvre héroïne avale comme cochoneries (des insectes, du vomi, des bouts de cadvres, des yeux, de la boue, berk) ; mais c'est comme s'il avait peur d'être trop sale. A la place de la surenchère jubilatoire des Evil Dead, on a droit à des scènes qui s'arrêtent à mi-chemin, qui n'assument pas jusqu'au bout leur côté grotesque et révoltant. Drag me to Hell, c'est Evil Dead avec du fric et du professionnalisme hollywoodien, et ça fait toute la différence. C'est en tout cas la preuve que les premières amours ne se retrouvent pas à 50 ans.