Peut-être pas le film le plus profond ni le plus audacieux de son auteur, mais ce Memoirs of an Invisible Man est un moment charmant et fin, à rattacher disons à la veine la plus populaire du roi John (Starman surtout, dont il partage plus d'un point commun). A cette époque-là de sa filmographie, le gars avait du fric, et c'est vrai que tout est élégant là-dedans, de la photo très travaillée aux effets spéciaux, de la musique au casting très glamour (Daryl Hannah, Sam Neill). Trop élégant peut-être pour un Carpenter, dont on cherchera sans succès l'impolitesse dans cette histoire assez lisse d'un homme rendu invisible et pourchassé par une bande d'espions pour en faire un des leurs. On est quand même très loin de l'insolence coutumière du maître. Mais tant pis : on se console en relevant quelques pistes finalement intéressantes.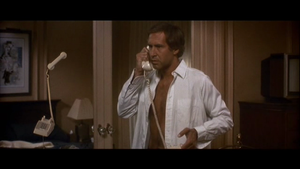 Le choix du héros d'abord : Nick (Chevy Chase, parfait dans ce type ordinaire, qu'on verrait bien dans un Woody, par exemple) est un homme sans caractère, dont les femmes disent qu'elles "voient à travers" avant même qu'il soit invisible concrètement. Il est inexistant, et il y a même une réplique au début dans lequel on lui demande de "remplacer Kaplan" dans une réunion : vous allez dire que je fais une fixation, mais pour moi, Kaplan, c'est l'homme sans identité de North by Northwest, celui symbolisé par le "0" de la boîte d'allumettes de Cary Grant. Belle idée de prolonger le manque de caractère de ce personnage par le concret : il devient invisible, et son objectif premier va être de se faire "voir à nouveau", surtout par la femme qu'il aime, comme une naissance qui passerait d'abord par une annulation complète. Carpenter multiplie les traces laissées par cette ombre
d'homme, et s'en donne à coeur joie du même coup dans les effets spéciaux : la pluie qui dessine une silhouette, les aliments qui font apparaître l'estomac du gusse, la fumée de la cigarette qui révèle ses poumons, et une séance de maquillage ressemblant à une scène de baise, où la femme redécouvre patiemment les traits de son amant. C'est pas grand-chose, et Carpenter ne va d'ailleurs pas assez loin dans cette veine, mais ça donne quelques très jolies scènes.
JC romantise beaucoup cette histoire d'invisibilité. Plutôt que de céder aux fantasmes de la situation (évoqués d'ailleurs ou carrément montrés, voir sous les jupes des filles, entrer dans toutes les maisons, assister à des ébats interdits), il montre la peine de Nick, sa dépression de ne plus exister, et cette lente reconquête d'identité. Le film est souvent drôle, très rythmé (notamment dans son premier quart-d'heure, avec une scène de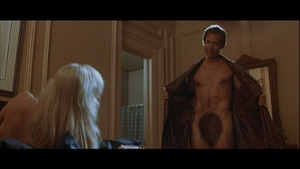 rencontre amoureuse brossée en quelques secondes), mais pourtant c'est une impression de malheur qui reste au bout du compte. Peut-être à cause de cette voix off fatiguée qui raconte l'ensemble, ou à cause de ces longues séquences de solitude qui marquent la nouvelle vie de Nick. mais surtout grâce à cette idée de mise en scène risquée et très bien menée, qui consiste à alterner les scènes où on voit concrètement le personnage et celles où il est invisible. Suivant le point de vue, Carpenter prend le risque, y compris au cours d'un simple champ/contre-champ, de nous faire voir l'expression de Chevy Chase ou de nous la cacher. Curieusement, ça fonctionne parfaitement, ne gâchant jamais la lecture malgré la complexité de la chose. On se retrouve au plus près des tourments du personnage, souvent aussi frustré que lui de sa difficulté à exister. Idée très fine, et très assumée.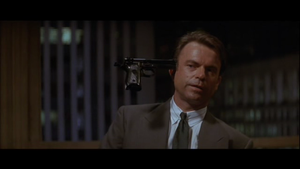 Pour le reste, c'est du spectacle-pop-corn très agréable, avec scènes d'action de rigueur, gags bon enfant et romantisme à tous les étages. Je reste plus intéressé par les oeuvres plus cradouilles du maître, mais dans le genre "je sors les gros moyens", Memoirs of an Invisible Man reste un film attachant et relativement personnel.
tout Carpenter is bloody here