Voilà un titre qui pourrait à lui tout seul résumer toute la carrière du bon Werner. On se demandait dans quel endroit de la planète il n'avait point encore trainé ses guêtres, et le Pôle Sud apparaît forcément comme une bonne idée : plus extrême, tu tombes. Si ce sont les images de ces "cathédrales sous-marines" de son pote Henry Kaiser, plongeur, qui lui ont donné envie de faire un film, Herzog, comme il le dit lui-même en intro, ne vient pas dans le Pôle pour faire un énième film sur ces cons de pingouins (pour le "con", j'assume); certes, on en croisera, ainsi que quelques phoques paisibles, oui, on évoquera aussi certains problèmes d'environnement, mais ce qui intéresse surtout Herzog c'est de faire connaissance avec les quelques allumés - ou voyageurs philosophes... - qui semblent s'être donnés rendez-vous dans ce coin du monde. On arrive pas au Pôle Sud par hasard - ou en dérivant sur un iceberg, ce qui serait pas de bol et assez surprenant en soi. Les personnages sont farfelus à souhait, les images, cela dit, sublimes - WH tentant toujours une approche originale -, la musique est somptueuse et on peut affirmer que le cinéaste revient en très grande forme avec ce docu, malgré peut-être sur la fin un ton un peu plat pour évoquer la disparition de l'être humain (personne n'en a jamais douté...)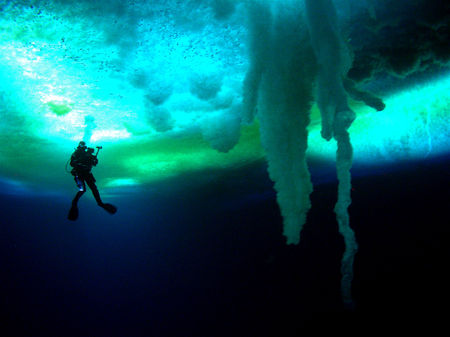 Quand Herzog arrive dans la ville-station de McMurdo, il est quelque peu surpris de ne pas assister à un paysage de neige immaculé; au contraire, la ville ressemble à un vaste chantier tout boueux où se fait entendre le bruit des machines qui fouillent la terre. Seulement il n'est point venu ici pour faire du tourisme et interroge derechef le conducteur du bus, un ancien banquier, qui a décidé de prendre le large. Plusieurs personnages un peu fêlés et forcément intéressants
s'arrêteront quelques secondes devant sa caméra pour évoquer leur point de vue ou leur philosophie : cet homme qui affirme que l'univers se contemple lui-même par nos propres yeux, ce linguiste qui évoque la disparition de certaines langues dans l'indifférence générale et qui cultive des tomates sous serre, cette voyageuse excentrique dont chaque anecdote pourrait faire dix films, ce plongeur fan de science-fiction qui évoque les bizarroïdes et dangereuses créatures sous-marines - Herzog le filme avec les deux gants rouges de sa combi qui encadrent le gars et l'effet est à mourir -, ou encore ce spécialiste des pingouins peu disert qui doit faire face aux questions ultra-pertinentes du Werner : y-a-t-il des pingouins homos ou certains pingouins ne pètent-ils jamais un câble? Le type répond avec précision et Werner de trouver justement un pingouin qui perd un peu la boule et qui fonce tout droit en direction des montagnes, plutôt que de rejoindre ses potes ou la mer. C'est forcément le héros du doc et une belle métaphore de tous ces individus fous-furieux qui ont décidé un jour de couper les ponts avec le reste du monde : dans ce film ou dans d'autres du Werner...
Entre ces rencontres, le réalisateur nous fait découvrir quelques images ou quelques sons étonnants : le bruit des phoques sous la glace est un pur moment de poésie cosmogonique, et ferait passer Pink Floyd pour des troubadours de foire, les couleurs éblouissantes de ces trucs bizarres qui vivent sous la glace laissent pantois, les explosions du volcan au mont Erebus sont... ben non rien n'arrive et on se dit que le Werner est presque déçu de ne pas se prendre une petite pierre sur la tronche, cet "oeil" dans un cratère sous la glace fait étonnamment écho au discours du "philosophe" au début du film... Herzog fait part de sa propre "aventure humaine", c'est parfois un peu décousu, certes, mais on sent toujours la passion dans son regard pour ce territoire "malheureusement déjà exploré" comme si plus aucune terre ne restait désormais pour alimenter les rêves... Heureusement, certains spécialistes découvrent encore, sous la glace, quelques "corps" inconnus jusque là, alors que d'autres envoient des sondes dans la stratosphère pour étudier les "neutrinos" - le gars explique vachement mieux que je pourrais le faire le monde parallèle de ces particules invisibles. Bref, on découvre plein de trucs avec toujours l'inénarrable ton mi-sérieux mi-caustique de WH qui prend un plaisir évident à nous montrer toutes les créatures au sens large qui peuplent ce territoire où perdre sa boussole n'est pas vraiment dommageable... Cette chronique ressemble à un conseil, nan ? (Shang - 23/11/08)
---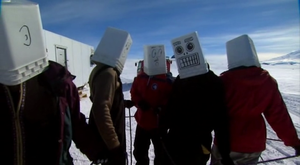 Effectivement, on comprend avec ce film tout ce qui fait l'approche du documentaire chez Herzog, et surtout son originalité. Ses films (du moins le peu que j'en ai vus) sont finalement bien peu préoccupés par le réel. Il réussit le pari audacieux et casse-gueule de poétiser ses documentaires, d'aller chercher dans l'enregistrement du monde quelque chose qui dépasse ce monde. On s'était bien pris la tête il y a quelques temps sur Grizzly Man, qui était selon moi raté à cause justement de cela : il créait de la fiction sur du réel. Avec Encounters at the end of the world, le projet est totalement réussi pour la même raison : Herzog y filme du concret, des images que cette fois-ci on ne peut soupçonner moralement, mais parvient sans rien ajouter à livrer un film de science-fiction, métaphysique et halluciné, psychédélique et complètement irréel.
Parce que, quoi qu'en dise le gars, il ne cherche pas la vérité au Pôle Sud, mais plutôt la réponse à des questions beaucoup plus existentielles, beaucoup plus personnelles. L'angoisse du monde, ainsi que son émerveillement, jaillissent avec une force incroyable dans ces plans contemplatifs des fonds sous-marins, où l'on se rend compte qu'à côté des triviales machines industrielles en surface vit tout un monde quasi-futuriste (ou préhistorique, ce qui est la même chose). C'est cette proximité entre concret et poésie, entre calme blanc et effroi (le volcan, les mystérieuses "araignées" cronenbergiennes des fonds) qui ébahit dans ce documentaire. On sent Herzog passionné par ce mystère de la nature, et il réussit à merveille à rendre visible cette fine frontière entre le connu et l'inconnu : après avoir joué visuellement de ces deux univers opposés et pourtant si proches, il pose l'extraordinaire scène du pingouin devenu fou, qui fonce vers les montagnes alors qu'il devrait suivre les autres. L'univers concret du film est ici élargi à l'univers intime, à travers ce trait de folie incompréhensible.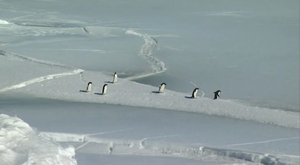 Herzog ne veut pas comprendre le monde tel qu'il est "objectivement", je dirais. Et ça m'arrache une jambe de le reconnaître, mais quand on voit ce film, on se dit qu'il a bien raison. Il faut le voir se battre contre la réalité, préférant chercher un quasi-mysticisme devant chaque élément : face aux explications concrètes du scientifique sur les neutrinos, il cherche à imaginer l'éclair "d'un bleu totalement pur" qu'il pourrait filmer ; face aux scènes de recherches sous-marines, il préfère laisser errer sa caméra devant des créatures qu'on dirait sorties d'un roman de Lovecraft. Presque déçu par la vulgarité de ce qu'il découvre au Pôle (les tracteurs qui fouillent la terre), il choisit d'aller traquer l'inconnu, le mystère, à l'image de ces êtres aux passés tous plus ou moins barrés. Même si le discours écolo ou l'enregistrement scientifique sont bien là, on sent bien que ce n'est pas ça qui intéresse Herzog là-dedans.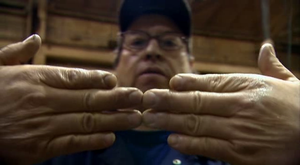 On ne m'enlèvera pas de l'idée que la subjectivité ou le réel ne font pas partie du cahier des charges herzogien. Ici, il y a encore quelques détails qui gènent un peu (une musique explicative, alors que tout ça aurait été dix fois plus impressionnant dans le silence ; un projet déjà prêt avant même d'aller sur place ; une façon de suggérer les réponses dans les questions qu'il pose ; ou parfois un petit montage légèrement douteux (les cris d'oiseaux dans la serre alors que visiblement il n'y en a aucun)). Mais pour cette fois, si on oublie ces quelques tics formels un peu malaisés, on applaudit à deux moufles devant cet essai poétique impressionnant, d'autant que Herzog trouve au Pôle des personnages vraiment intéressants et qu'il filme dans la longueur,
sans "trucages" (l'homme aux mains de roi aztèque est mon préféré). En plus, pour tous les amoureux comme moi du livre génialissime d'Ernest Shackleton (L'Odyssée de l'Endurance, le plus beau livre d'aventures du monde, éditions Phébus, c'est mon conseil à moi), c'est un bonheur, puisqu'on voit plein d'images d'époque de son expédition. Un film honnête parce que fidèle, non vraiment au monde qui nous entoure, mais à celui, intérieur, du cinéaste-poète. Merci du conseil, ami Shang : je vais me taper tes autres coups de coeur 2008. (Gols - 01/05/09)
Venez vénérer Werner : ici