Film rare et effectivement improbable, Gabriel over the White House pourrait être une immense comédie à la Capra, une de ces satires politiques où la naïveté servirait de manifeste pour contrer les gouvernements et célébrer la démocratie. Tout est réuni pour qu'on s'amuse beaucoup, à commencer par le sujet même du film, visiblement issu du cerveau de drogués irréversibles. Un président des USA complètement bouché (et rappelant vraiment Bush Jr, d'ailleurs) est élu : inculte, autoritaire, plus préoccupé par son neveu et son avenante secrétaire que par le chômage, incapable de situer le Siam sur une carte, il sert de façade à des bureaucrates manipulateurs et verreux. Mais un accident de voiture va renverser la donne. De même que Woody Allen considérait le fait d'être républicain comme une maladie traumatique dans Everyone says I love you, le choc va bouleverser les opinions du président : touché par la grâce, il va devenir "démocrate" et militer pour la paix dans le monde, jusqu'à faire signer au G20 un traité de désarmement massif.
C'est tellement improbable et idiot que ça en devient brillant. Il faut voir ce brave Walter Huston lever des yeux de merlan au ciel pour implorer l'ange Gabriel de lui souffler sa conduite, ou traiter directement avec les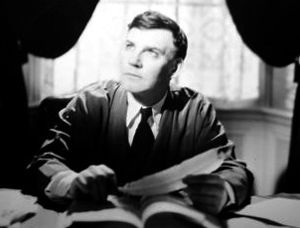 maffieux du coin, pour se rendre compte combien le film est déconnecté totalement de la réalité politique. Le souci principal, c'est que Gabriel over the White House n'est pas une comédie, et que La Cava prend même très au sérieux cette métamorphose. Du coup, la naïveté est remplacée bien vite par une totale crétinerie. La soi-disante démocratie revendiquée par le président est en fait une dictature ++, et le film sert un discours à l'opposé de ce qu'il prétend visiblement défendre : les Etats-Unis deviennent la puissance décisionnelle du monde entier (la réunion des dirigeants européens vaut son pesant de clichés racistes), la paix dans le monde est imposée aux citoyens à grands renforts d'éducation militaire, de mises à mort des bandits, et le président devient une sorte de Sarkozy : convaincu de son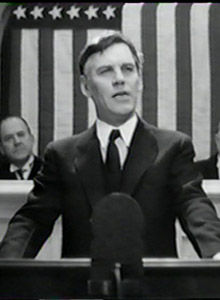 bon droit, refusant tout débat, dictateur sous des dehors de pacifiste. Bref, ça fait vraiment peur, et c'est un gros échec de la part de La Cava.
Le film est quand même à voir, ne serait-ce que pour quelques séquences parfaitement mises en scène : le président qui joue au pirate avec son neveu pendant que le monde s'écroule, des avions qui bombardent des cuirrassés en caméra subjective, ou une signature de traité solennelle en diable. Et puis c'est aussi toute une époque, et on découvre avec amusement les protocoles politiques de l'époque, assez éloignés de notre monde contemporain. A part ça, un film éminemment douteux dans le fond, qui prépare finalement cette fausse gauche qui dirige la planète actuellement.