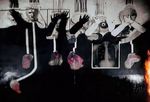 Six Men Getting Sick (six times) (1967) est une pure expérimentation graphique, qui prend pour base une sorte de tableau à la Bacon que Lynch triture à l'envi. Six personnages-tronc, donc, dans des couleurs grisâtres, qui vont muter, se fondre l'un dans l'autre, créer d'autres formes, et finir par gerber des flots de couleurs, le tout sur fond de sirène d'alarme, et répété six fois. Me demandez pas, je dirais, mais tout de même : ça montre l'importance de la peinture et de l'animation dans l'univers lynchien, et ce film marque visiblement l'importance de sa découverte du cinéma. On y voit notamment l'apparition d'une pellicule de film qui marque la débauche de couleurs et fait passer brusquement du terne au vivant. Ce que j'en dis, après…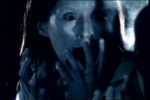 Avec The Alphabet (1968), on s'approche vraiment de la matrice des longs-métrages. Et on se dit aussi au passage que l'apprentissage de la lecture n'a pas dû être très agréable pour le petit David. Sur une bande-son récitant l'alphabet d'une voix enfantine, on voit d'abord une petite animation bizarre mais charmante qui montre toutes les lettres, puis on passe brusquement à quelques plans pratiquement gore où une petite fille dans un lit vomit des flots de sang (ou de lettres) sur les draps. La violence des gros plans sur ce visage couturé, la crasse des images, les sons de vent, tout contribue à vous plonger dans une atmosphère absolument horrible. A 22 ans, le gars était déjà un grand malade, mais son génie visuel éclate déjà dans ces quelques plans hantés et barjots. Eprouvant.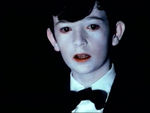 On passe dans la partie chef-d'œuvre avec le beaucoup plus ambitieux The Grandmother (1970). Plus scénarisé, il raconte une histoire assez indicible : un garçon maltraité par ses parents plante une graine dans son lit ; de la plante sortira une grand-mère gentille qui saura le faire s'évader de son quotidien violent. Si l'animation a encore toute sa place là-dedans (des scènes qui évoquent la naissance, la minéralité, les fluides…), les acteurs font leur apparition, et là c'est du lourd : c'est tout simplement une sorte d'introduction à Eraserhead, avec cette haine de la famille qui jaillit dans les portraits monstrueux des parents, avec cette fascination pour la naissance et les fluides corporels, avec cette façon d'aborder le monde comme une épreuve infernale. Le travail sur les sons est grandiose, notamment les rares voix, mélanges de cris et d'aboiements, qui terrorisent immédiatement. Lynch varie les techniques visuelles (image par image, ralentis, flous, travail direct sur la pellicule, pixellisation) pour servir une sorte de symphonie de la terreur enfantine qui reste en tête. Un bad trip génial et complètement barré.
The Amputee (1974) est plus anecdotique, et franchement mystérieux. Une femme amputée des deux jambes lit une lettre à haute voix, pendant qu'une nurse panse ses plaies (à la toute fin, un liquide blanchâtre coule par flots du moignon de la donzelle). Ne comptez pas sur moi pour vous expliquer ce que ça veut dire. C'est fait en un seul plan fixe et c'est malsain à mort, rien à dire de plus.
Moins d'amateurisme et d'expérimentation dans The Cowboy and the Frenchman (1988), et c'est bien dommage : le film est certes plaisant, la première moitié est même assez poilante, mais c'est un peu creux et superficiel aussi. Un Français pure souche débarque au milieu d'un ranch de cowboys roots, avec sa mallette pleine de clichés (une tour Eiffel, des frites, des escargots…). La réussite tient dans les rythmes de dialogues (« What the hell ? » répété à tout bout de champ par les yankees fascinés, et dans cette étrangeté décalée que Lynch sait toujours mettre en place. Cadres originaux et tempo heurté, c'est du bon boulot. Il y a aussi une belle séquence nocturne avec chevaux qui se cabrent dans une lumière glauque, qui rappelle les inspirations de Lost Highway. Mais on s'ennuie un peu devant l'absence de sujet. L'humour de Lynch fonctionne quand il est inséré dans la terreur, il est moins fort dans la pure comédie.
Bien que Industrial Symphony #1 (1989) prenne comme point de départ une scène coupée de Wild at Heart (très jolie scène, d'ailleurs, douce et dure à la fois), c'est bien le style Twin Peaks que Lynch expérimente ici : musique de Badalamenti qui reprend presque le thème de la série, ambiance entre glauques lumières de torche électrique et planage éthéré, récurrences des jeunes filles (qu'elles soient nues et pourchassées ou gamines et rêveuses), et jusqu'au nain mythique qui fait ici son apparition en bûcheron taquin. Ceci dit, on a l'impression que Lynch manque un peu d'inspiration, ou au moins de temps, pour réussir cet opéra contemporain : ses images sentent le réchauffé, et sont un peu cheap dans leur réalisation. Il répète 3 fois le coup de la chanteuse qui descend des cintres, fabrique maladroitement un diable de carton-pâte et peine à relancer l'action entre les chansons. Le gars n'est pas fait pour le live (le film est une captation d'un spectacle qu'il a monté pour un festival), et c'est assez bancal.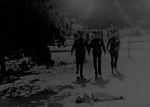 Retour au barré avec l'ardu Premonitions Following an Evil Deed (1995), extrait de Lumière et compagnie. 55 secondes filmées avec la caméra d'origine des frères Lumière, 5 plans isolés les uns des autres (le dernier semble pourtant être la suite du premier). Ca fait peur malgré la rapidité, et Lynch arrive, dans la contrainte, à donner quelques flashs de cauchemar encore une fois très impressionnants. Ce petit machin est fantomatique et dérangeant, retrouvant ainsi quelque chose de l'origine du cinéma « (regarder agir des gens morts », disait je ne sais plus qui).
The Darkened Room (2002) est plus dans sa veine récente, celle de Mulholland Drive. Une femme au rimmel étalé enfermée dans une chambre, à côté d'une poupée branchée sur un fil, une tortionnaire qui vient la harceler de questions, le tout commenté en vidéo par une nana sibylline, inutile de chercher à comprendre, c'est du pur fantasme. Lynch interroge la puissance du regard, et la force de son propre cinéma, en nous suggérant de ne pas regarder alors qu'il déploie en même temps un style hypnotique qui nous accroche aux images. La longueur des plans, le mystère total qui se dégage de tout ça, la « musique » lancinante qui nous prend dans ses filets, c'est impeccable et incompréhensible comme les grands films récents du maître.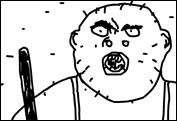 Série de dessins-animés de 8 épisodes de 4 minutes, Dumbland (2002) nous prouve une bonne fois pour toute que le gars Lynch va po bien dans sa tête. Si Freud était encore là il ferait un bilan sûrement pessimiste du type: en 32 minutes on a quand même droit à un enculeur de canard manchot, un marteau dans le cul, un couteau dans la tête, la plupart des personnages pètent grassement, et les éclatages de tronches sont multiples... et j'en passe; ça éructe, ça gueule, ça chie dans tous les sens, du Lynch version je me lâche... Jouant beaucoup sur la répétition - des séquences et des sons - on a pas vraiment l'impression que Lynch ait une vision très saine du monde qui nous entoure - les gamins ressemblent à des monsieur "pain d'épice", les femmes ne font que hurler et le mari dit fuck tous les 2 mots... L'épisode 6 est assez révélateur: pendant 4 minutes le gamin saute sur un trampoline, la femme devient de plus en plus hystérique sur son fauteuil, le match de lutte à la télé montre un gars éclatant la tête d'un autre, la rue n'est également que bruit avec accidents, camions de pompier, tirs à la mitraillette (...)... tout ça pour finir sur une chtite mouche qui vole faisant dire à notre héros qu'elle dérange "Fucking fly"... Voilà donc... Aime bien aussi celui avec les fourmis qui lui chantent pendant deux minutes "quand on te regarde on voit un trou du cul" (il s'est mis le produit anti-fourmis dans la tronche, il a des visions), lui cela le rend dingue, il finit au plafond pour tuer toutes ces putains de fourmis qui l'envahissent, se gauffre, se retrouve intégralement dans un plâtre et là les fourmis reviennent pour s'engouffrer à l'intérieur... Le type hurle avant d'exploser... Ouais, il y a bien que Lynch pour oser des trucs pareils... (Shang – 10/11/06)
… et j'ajoute que ça fait du bien de voir Lynch revenir à l'animation, d'autant que ces petits films sont d'une impolitesse bien inhabituelle chez le gars. Visiblement, Lynch envisage le prolo américain comme un gros beauf qui terrorise sa femme, son voisin, ses animaux et son gosse, regarde la télé toute la journée, et balance des gnons dès qu'il est pris en défaut. Il a sûrement pas tort, et la série est franchement jouissive. On a aimé les mêmes épisodes avec mon copain Shang, mais j'ajoute au palmarès « The Doctor » : un docteur qui teste le seuil de tolérance à la douleur de son patient ; après matraquage au marteau et plantage de couteau dans la tête, l'autre éprouve enfin quelque chose ; « C'est bien ce que je pensais : vous êtes parfaitement normal », conclue le doc. Ravageur et énorme. (Gols – 06/10/08)
Boat (2007) est un étrange voyage commenté en voix off : une femme est embarquée sur un bateau pour un trip hébété qui l'emmène vers une destination inconnue. Lynch tente le truc des images vidéo banales qui deviennent chargées de mystère par la seule force de l'imagination et de l'évocation. Ca marche : le film est très tenu, réalisé en caméra subjective comme s'il nous embarquait nous-mêmes dans son univers. Un gros plan sur une spirale de cordes, une main qui attrape une manette quelconque, un plan nocturne sur le sillage laissé par le bateau, et on plonge dans la Lynch touch. Le gars est bien toujours aussi sombre et abscons, et c'est pour ça qu'on l'aime.
Absurda (2007), extrait de Chacun son Cinéma, est une merveille qui condense en 2 minutes toute la fascination que Lynch éprouve pour le cinéma, et toute la fascination qu'il nous fait éprouver. Sorte de prolongation de Inland Empire, c'est une nouvelle proposition sur la force du regard, et surtout sur la condensation de celui-ci sur l'écran. Un plan large sur une salle de ciné, quelques motifs plus ou moins effrayants qui s'agitent sur la toile, un cri, quelques bribes de dialogues, une musique hantée, des ruptures de ton qui arrivent comme des couperets : c'est magnifique, abstrait certes mais habité comme c'est pas permis. Et ça soulage de voir que Lynch n'est pas devenu le pur réalisateur de concepts qu'il laissait apparaître dans Inland Empire. Son cinéma est toujours aussi hypnotique.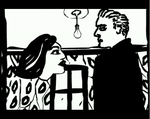 Retour aux sources avec un clip réalisé pour Moby pour son morceau Shot In The Back Of The Head (2009) : on retrouve à travers ces images d'animation cradingues les inspirations des débuts, celles d'Eraserhead, mais on retrouve aussi la veine salace de Dumbland. C'est assez abscons, et je ne suis pas sûr que la musique (très moyenne) de Moby était tout à fait dans cet esprit-là : dans une ville sombre striée de traits noirs, un homme embrasse une tête de femme. Une main armée d'un revolver apparaît (le mari ?) et explose notre homme in the back of the head donc. S'ensuit une échappée dans les limbes sur fond de marasme glauque. Si on reconnaît la patte du David, on ne peut que constater que son inspiration tend sérieusement à devenir torve, à travers un ésotérisme brumeux et malsain qui manque un poil de lumière. Certes, Lynch n'a jamais été un joyeux drille, mais cette nouvelle production l'enfonce un peu plus dans un univers fermé, solitaire et trop mystique pour être honnête. Reste que c'est toujours une bonne nouvelle de voir un nouveau Lynch, et que, comme expérience glauque, ce clip vaut le détour.