Pour beaucoup (y compris pour Carpenter lui-même), ce film est un des meilleurs de JC ; pour moi il est l'un des pires, si ce n'est le seul vrai navet de l'oeuvre du maître. J'ai beau l'avoir vu 5 ou 6 fois (et vous noterez mes efforts et ma constance), je n'arrive pas à voir en quoi ce film peut être intéressant, surtout au vu de l'ensemble de la carrière de Carpenter, qui nous a habitués quand même à d'autres profondeurs.
Si on est bien luné, on y verra un hommage rigolard à la série Z : le film revendique une débilité profonde, à grands coups de monstres improbables, de clichés sur les arts martiaux et de vannes à deux balles. C'est vrai que le film affiche clairement ses ambitions purement spectaculaires et jetables, et il semble inutile de chercher là-dedans une quelconque profondeur. Un peu à la manière de Tarantino (dont Kurt Russell serait une sorte de relais qui pass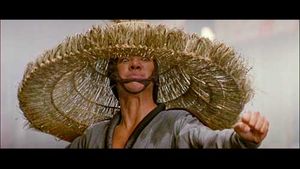 e de main en main), Carpenter semble avoir envie de creuser le genre "film de bagarre exotique" et d'en faire un vrai objet contemporain, comme si le cinéma des années 60 était vu à travers le prisme des années 80.
Si on est vraiment très bien luné, on pourra y déceler une variation sur le thème favori de Carpenter, l'altérité au sein de la communauté, à travers cette histoire de Chine traditionnelle qui débarque dans l'Amérique bas-du-front symbolisée par le lourdaud Jack Burton. Véritable beauf, le personnage est tracé à gros traits caricaturaux, routier hâbleur et bouffeur de hamburgers, et nul doute que ce choix n'est pas innocent. Le film le confronte à un monde qu'il ne connaissait pas, et qu'il découvre d'ailleurs bouche bée, et se double d'une immersion aux forceps du film de kung-fu japonais type Baby Cart dans le cinéma d'action américain.
Mais tout luné qu'on soit, le fait est qu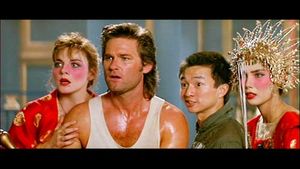 e ça ne fonctione jamais. Jamais trop adhéré à cette vague du cinéma "débile-donc-génial", et pour le coup, trop c'est trop. Pour moi, Big Trouble in Little China, c'est Bud Spencer chez Bruce Lee, deux références qui ne me font pas franchement rêver. On s'ennuie franchement à suivre ces aventures poussives et sans enjeu, et on se cogne comme de sa première chemise des personnages surlignés de cette grosse farce indigeste. Même pas souri aux vannes de Kurt Russell, que j'aime bien d'habitude. Totalement dénué de fond, tout ça s'enfonce dans la pure forme, qui n'est d'ailleurs même pas très tenue : les combats n'arrivent pas au petit orteil de Misumi, le supsense est indigne du réalisateur de In the Mouth of Madness, l'humour reste au ras de la moquette, le glamour patiente aux vestiaires. Dans sa surenchère d'effets spéciaux vintage, Carpenter oublie totalement de raconte
r quelque chose, uniquement plié en deux devant les rocambolesques pseudo-inventions de sa trame. Rien qui tâche, rien qui dérange dans ce cahier des charges ni fait ni à faire, et même quand il tente des trucs (le héros qui est assommé avant même que le combat commence) il les désamorce bien vite de peur d'avoir des idées. Une catastrophe aussi bien esthétique qu'intellectuelle, un film crétin et même pas jouissif.
tout Carpenter is bloody here