The Conversation est un film de cinéphile pur et dur, qui réussit à parler de la passion (de l'obsession) de Coppola pour le cinéma tout en pointant les dérives déjà inquiétantes en 1974 de la surveillance à outrance. Sur fond de Watergate (subtilement évoqué tout au long du film), on assiste au travail quotidien de Harry Caul, taupe professionnelle, as du bricolage, engagé en free-lance pour espionner ses contemporains. Son grand truc, c'est le son, arriver à saisir une conversation privée à 200 mètres de distance et à obtenir un rendu parfait des dialogues d'alcôve. Enfermé dans son appartement sans âme ou dans son labo grillagé, il traque l'intimité des gens. Mais ce jour-là, il écoute une conversation inquiétante ; lui qui refusait toujours de faire entrer le facteur humain dans son job, il va s'impliquer de plus en plus dans cette histoire, et en faire un véritable enjeu personnel.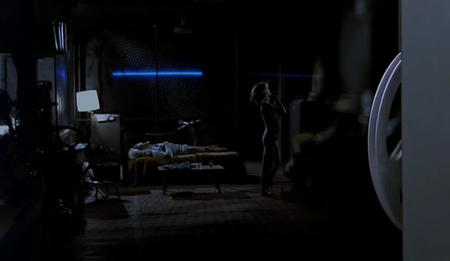 Le film est déjà éblouissant dans son aspect polar anxiogène : Coppola sait à merveille déclencher l'inquiétude, démontrant 30 ans avant Jack Bauer que la société dans son entier est sous écoute, que la sphère privée a été pulvérisée par l'obsession sécuritaire. Les séquences de duels entre pros de l'espionnage sont excellentes, chacun cherchant à se piéger l'autre avec des petits micros super-inventifs planqués n'importe où. C'est drôle, et en même temps c'est un constat terrible : ces taupes ont abandonné tout scrupule, et Caul a beau brandir avec véhémence une éthique de son métier, il est lui-même totalement asservi au système. Une des grandes idées, c'est de permettre au personnage d'exposer ses doutes, lors de scènes d'une bouleversante intimité, au confessionnal ou devant une femme compatissante. Caul s'en veut, sans se l'avouer pleinement, et Coppola dessine avec une magnifique vérité un personnage en proie au doute et à la culpabilité. Gene Hackman est d'ailleurs d'une subtilité renversante, en surface opaque, renfermé, secret, mais à l'intérieur plein de failles. Sa foi religieuse est un thème qui approfondit encore cette thématique : Dieu le regarde regarder, dans une troublante mise en abîme que le gars a du mal à assumer moralement. C'est un peu le thème romantique par excellence : prendre la place d'un Dieu omniscient est un péché grave, et Caul en ressent toutes les épines.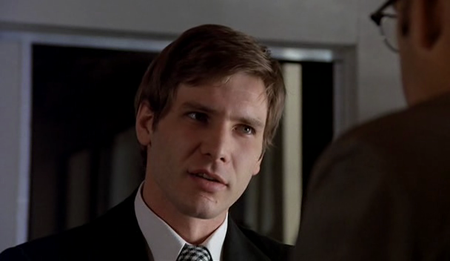 Mais le plus beau réside dans cette thématique de la cinéphilie que déploient le scénario et la mise en scène de Coppola. Caul ne cesse de tourner autour de cette scène "originelle" qu'il a enregistrée, banale conversation entre deux amoureux. Au fur et à mesure de ses corrections sur le son, la séquence nous est montrée, remontrée, re-remontrée, avec des angles légèrement différents, avec à chaque fois la mise en valeur d'un petit détail qui nous avait échappé et qui fait sens. C'est typiquement l'acte d'un cinéphile compulsif : traquer dans une scène le détail, revoir sans arrêt un plan pour en percer le mystère. Comme Travolta dans le sublime Blow Out de De Palma, Caul est un cinéphile maladif, à la recherche du sens. A force de mater toujours la même image, d'écouter toujours les mêmes, sons, ceux-ci finissent par contaminer complètement son univers, et dès lors le fantasme surgit ; encore une fois, tout comme le cinéphile qui transforme l'univers réel en image de cinéma (belle séquence de rêve notamment, et final magnifique où on ne sait plus trop ce qui ressort de l'imaginaire de Caul et ce qui est réel). Dès lors, l'ambition scientifique de Caul (enregistrer le réel, sans éprouver d'émotion particulière) se transforme en torture intime et morale, en questionnement éthique.
The Conversation a le mérite de nous parler de ce fulgurant et profond sujet sous des aspects de polar très tenu, sans en avoir l'air. Le film est fermé, et donne peu de portes de sorties à son personnage, qui finira enfermé dans son propre piège, avachi dans la paranoïa qu'il a lui-même contribué à fabriquer. La vision de la société, presque kafkaïenne dans son opacité inquiétante (très belles interventions d'Harrison Ford, employé de "The Director", mystérieuse énigme sans visage) est terrible, visionnaire et complètement d'actualité, et Coppola sait en rendre toute la sève à travers cet impressionnant édifice formel et narratif. Grand film.