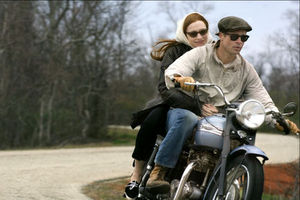 Fincher est pris en flagrant délit de fausse bonne idée avec ce film clicheteux et finalement bien normatif. Alors qu'il croit avoir déniché le sujet en or (un homme vit sa vie à l'envers, vieux à sa naissance, bébé à sa mort), on se rend vite compte que cette idée ne mène strictement à rien : on assiste tout bêtement à une histoire d'amour tout ce qu'il y a de banal. Rencontre, séparation, retrouvailles, amour impossible puis mort, c'est le cursus normal. L'erreur du script réside dans le fait que Benjamin Button ne rajeunit que physiquement : moralement, il vit la vie d'un homme comme les autres. Seule son enveloppe corporel témoigne de l'étrangeté de son cas. Ainsi, les trois temps de la vie sont finalement rangés dans le bon ordre : enfance, age adulte et vieillesse, avec ce que chaque âge apporte de métamorphoses physiques.
Fincher, lui, est persuadé que son scénario est prodigieux. Il tente donc de réaliser son Titanic à lui, grâce à des images chromo venues directement d'Epinal, grâce à une esthétique sur-romantique qui apparaît du coup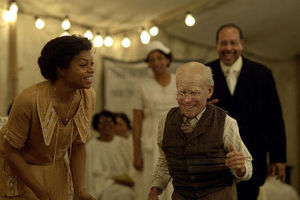 plaquée contre son gré sur ce sujet sans intérêt, grâce à une "glamourisation" excessive de ses acteurs. Il aurait pu trouver quelque chose dans le corps de Brad Pitt, le film aurait pu prendre de l'intérêt dans l'enregistrement du corps d'une légende, depuis son âge actuel jusqu'à sa période de starisation. Et c'est vrai que dans sa partie centrale, The Curious Case of Benjamin Button parvient à troubler un peu son jeu. Le plaisir vient de ce que, dans ce corps qui rajeunit, on décèle petit à petit les traits de Pitt, et qu'on ne sait plus trop quand il est vieilli ou quand il est rajeuni. Comme une statue qui sortirait d'un magma de pierre, dirais-je pour faire le malin. Cet exercice est bien troublant, et Pitt semblait bien être l'icône idéale pour incarner cette métamorphose (on aurait bien vu Cruise aussi, mais il est moins bon acteur : Pitt est dans l'ensemble très convaincant). Jolies séquences, notamment, entre Pitt "au milieu" de sa transformation et une femme vieillissante qui le rejoint chaque nuit : là, on touche enfin à un sujet, celui de l'aspect éphémère de l'amour et de la tristesse de la perte.
A part cet agréa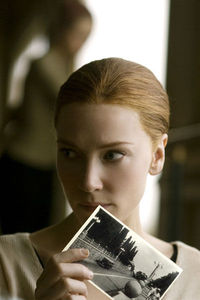 ble petit jeu, le film déroule une trame très convenue et très polissée. Fincher, frileux, refuse obstinément de se coltiner à la seule bonne piste qu'aurait pu donner son sujet : celle de la chair et des corps. On aurait aimé qu'il montre plus frontalement ces deux corps inadaptés (celui vieux de Button et celui adolescent de Blanchett au début, puis l'inverse sur la fin). Mais les scènes de sexe sont soigneusement cachées, par peur de la censure sûrement, et on n'assiste jamais à ces plans dérangeants tant espérés. Pour combler le manque d'enjeu (mais était-il nécessaire de prendre 2h45 pour filmer une aussi classique histoire ?), Fincher remplit avec des scènes complètement déconnectées du reste (une bataille pendant la guerre, une foule de personnages inutiles), creusant sans profondeur dans sa thématique de la métamorphose (un marin tatoué, un père plus jeune que son fils, une femme qui meurt à l'hôpital), et multipliant les clichés. Blanchett, en danseuse, est énervante en diable, surtout dans cette scène sucrée et infâme où elle danse au clair de lune devant Pitt médusé : c'est sûrement romantique, c'est sûrement une allusion à Fitzgerald (à l'origine du scénario), mais c'est surtout ridicule de poses. Le film est vraiment raté, déjà vu dans son esthétique (Titanic, donc, qui a eu le mérite d'arriver avant) et sans enjeu. Fincher n'a pour l'instant fait qu'un seul bon film (Zodiac).