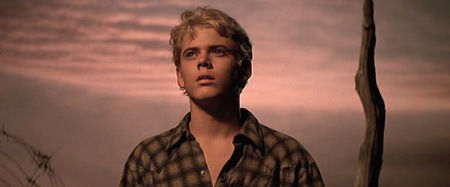 Toute petite mouture coppolienne, The Outsiders apparaît aujourd'hui bien veilli, et même à deux doigts de la ringardise la plus totale. Qu'est-ce qui a pris le maître de s'attaquer à ce scénario lourdissime et clicheteux ? Sûrement l'honorable désir de filmer la jeunesse de son temps, et de donner sa propre vision des films de gangs, une vision tendre et glamour du voyou des temps modernes. Il tente donc de faire son West Side Story à lui, un West Side Story qui serait passé par le prisme de sa cinéphilie : on croise au milieu de ces bagarres de rues quelques allusions à Night of the Hunter pour le côté "innocence brisée" et petits animaux utilisés comme contrepoints à la violence, ou aux mélodrames à la Sirk dans ces à-plats de décor et cette vision sur-hollywoodienne de la pureté.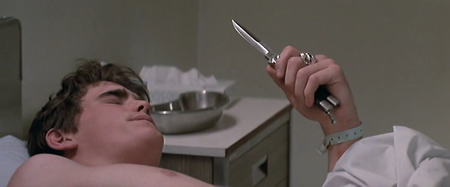 Malheureusement, si l'intention est bonne, le résultat l'est moins. Le scénario est le plus gros handicap du film : une succession de scènes attendues dans le meilleur des cas, impossibles dans le pire. Deux voyous qui rêvent de sortir de la zone, et qui sauvent d'un incendie quelques gosses, un discours à gros sabots sur l'impossibilité d'échapper à son destin et sur la violence, des dialogues soulignés, c'est d'une indigence totale. C'est en plus plein d'invraissemblances et de personnages qu'on a déjà vus mille fois dans d'autres productions américaines, notamment de son pote Lucas (American Graffiti). Ca tombe très vite dans une mièvrerie too much ou dans de lourdes tentatives poétiques (les voyous qui dévorent Autant en emporte le Vent ou Robert Frost, ben voyons). Coppola voudrait bien que ses personnages rentrent dans la légende : ils restent toujours au ras de la moquette, trop stéréotypés, peu attachants dans l'ensemble (Swayze en frère crâneur remporte la palme, mais tous les seconds rôles en général sont affreusement simplistes). Il faudra attendre le Mickey Rourke de Rumble Fish (dont The Outsiders est un peu le brouillon raté) pour obtenir la figure mythique que Coppola cherche désespérément ici. Heureusement, les acteurs des rôles principaux sont un peu plus réussis, surtout, il faut le reconnaître, grâce à leur photogénie : Matt Dillon, surtout, cabotine bien, on le sent déjà très physique et intérieur en même temps.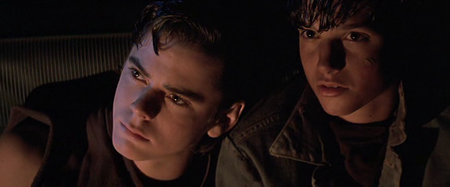 Il y a parfois, pendant quelques secondes, une jolie idée (l'eau d'une fontaine qui se teinte du sang d'un gars qu'on poignarde, la pluie qui tombe sur une bataille collective, quelques plans de campagne plutôt réussis), mais dans l'ensemble, c'est poussif et vraiment caricatural. Un film qui porte bien son nom : on est définitivement dans la seconde catégorie de la filmographie du grand Francis.