Cycle "Vent et Poussière" sur Shangols. Quelques quatre-vingt ans avant Rêves de Poussière, le père Sjöström donnait sa vision d'une plaine américaine balayée par des vents furieux : un vent à décorner un troupeau de zébus et tous les ancien maris de Liz Taylor dans la foulée. Lilian Gish (Letty) endosse le rôle de cette femme qui débarque au milieu de nulle part et qui va faire le dur apprentissage de l'amour (rigolez, j'aurais voulu vous voir à sa place). Densité dramatique, séquences d'action, tensions multiples, il est difficile de ne pas être sous le charme de ce film qui vous embarque comme un courant d'air. La musique tonitruante de Carl Davis (qui date de 1983) convient parfaitement pour traduire cette initiation amoureuse déchirante rythmée par les tempêtes et les cyclones. Lilian Gish s'en donne, elle, à coeur joie pour traduire, de ses pupilles effarées, ses tourments intérieurs et ses visions cauchemardesques.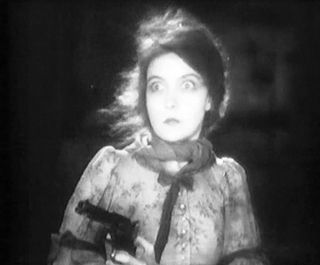 Letty fait la connaissance, dans le train qui l'emmène sur les terres de son cousin, d'un vendeur de bestiaux un peu encombrant qui la met en garde contre le climat sauvage des lieux. Letty est encore toute à la joie de ce voyage mais ne va pas tarder à déchanter : il y a d'abord ce putain de vent, Letty, qui rend fou et ensuite ces deux rustres qui l'accueillent à la gare et qui jouent à coups de flingue le droit d'être à ses côtés dans la carriole. L'arrivée à la baraque n'est guère plus encourageante : la femme de son cousin lui jette un regard qui flinguerait Marc Lavoine, et les trois bambins hirsutes semblent tout droit sortis de la famille Adams. Notre Letty tente tout de même de faire au mieux, gagne la confiance des gamins mais la mère de ces derniers, jalouse comme pas une, la met au pied du mur : elle doit épouser un des deux rustres; re-coups de flingue entre les deux gus qui détruisent les deux yeux d'une chouette empaillée (Chris Marker fait la tronche) et qui lui font, du même coup, ensemble, leur proposition. Letty se marre -c'est qui ces guignols?- mais pas longtemps : elle pense trouver refuge auprès du vendeur de bestiaux, malheureusement ce dernier ne dirait pas non mais il est déjà marié, l'enfoiré. Po le choix pour la Letty qui choisit le plus jeune des deux rustres, j'aurais fait pareil...
Letty est froide comme un glaçon pour lui donner un baiser le soir de la nuit de noces. Notre homme rembarré finit par claquer la porte de rage et lui donne 5 minutes pour se préparer, bien décidé à consommer le bazar. Les deux font les cent pas chacun de leur côté, Sjöström prend le parti de filmer uniquement leurs pieds (il sait ce qu'il faut faire pour me faire craquer), le pas de l'un étant nerveux, celui de l'autre totalement affolé : ils se rejoignent, bon, notre gars comprend rapidement que la Letty n'est pas du pain béni : il lâche l'affaire et promet de la renvoyer dans ses foyers dès qu'il aura assez de thune. Un soir, alors que le vent fait rage et que son mari est parti pour aller attraper des chevaux sauvages, notre pauvre Letty se retrouve seule, devenant à moitié folle dans la cahute qui tremble par tous les bouts. La poussière s'immisce par tous les interstices, une loupiotte tombe à terre et enflamme la baraque, Letty est en plein délire (ses sourcils sont facilement à un mètre de ses pupilles, son teint diaphane se diaphanise, c'est la panique)... Et le vendeur de bestiaux, véritable étalon en plein rut, (la superbe image de ce cheval blanc sauvage qui hante l'esprit de Letty aurait une signification sexuelle que cela ne m'étonnerait pas...) débarque de nulle part : vision ou réalité, la Letty dégaine avant lui (...) et l'abat... Retour du mari, c'est la révélation, Letty will stay with the wind...
La séquence du cyclone au milieu du film (en pleine fiesta locale) et la séquence finale font souffler un joli vent de folie sur ce film tendu comme le voile d'une nonne bretonne, sur son vélo, un soir de grand vent. Plus le vent et la poussière s'engouffrent, plus notre Letty tente de résister à cet appel sauvage de la nature. La nature sauvage des lieux fait écho à celle des hommes qui passent leur temps à lutter (Letty est en duel face à la femme de son cousin, les deux rustres passent leur temps à se combattre, sans parler de ce mâle "dominant et dominateur" - le vendeur de bestiaux - qui se fait pressant...). Il ne s'agit pas tant d'une éducation sentimentale que d'un apprentissage face à des éléments déchaînés - émanant de la Nature ou de la simple nature humaine. La scène finale nous montrant notre pauvre Letty au bord de l'hystérie (Sjöström triture ses cadres, le décors valsant et tanguant comme s'il était à Vienne) traduit parfaitement l'état d'âme et la lutte de cette pauvre hère pour tenter d'accepter son destin de femme... (la fin, initialement prévue - elle errait dans le désert - étant bien loin de ce happy end...). Un superbe film âpre qui séduit en rafales.