Je découvre petit à petit les longs métrages de Keaton avec émerveillement, et The Navigator est encore une fois un grand moment de gags excellents conjugués à une folie des grandeurs effarante. Keaton s'offre cette fois un décor à sa mesure, un immense paquebot sur lequel il est pratiquement seul, terrain de jeu colossal dont il va utiliser le moindre cordage pour faire se gondoler le public.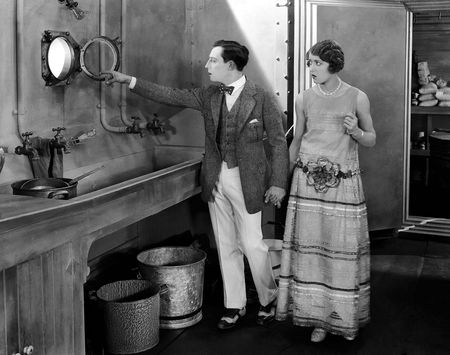 Ce film est sûrement moins virtuose à tous les niveaux que ses autres films : moins d'acrobaties (quoique sauter de 20 mètres la tête la première dans la flotte ne manquât pas de mérite), une mise en scène moins impressionnante (pas de jeu avec les possibilités du cinéma pour cette fois), moins de grands moments. N'empêche qu'au niveau du scénario, c'est toujours aussi joliment poétique. Buster est un fils de riche qui rêve d'épouser la voisine, qu'il va d'ailleurs visiter en cadillac malgré le fait qu'elle habite la porte en face. Refus de la belle, mais par un concours de circonstances, le couple se retrouve seul sur le Navigator, paquebot à la dérive. Ce voyage en solitaire va bien sûr devenir le lieu où l'amour naîtra, avec toutes les étapes de la relation de couple à la clé : quête de l'être aimé (les deux se cherchent sans se voir pendant un long moment), adaptation, puis vie quotidienne et déclaration finale. Très jolie idée, qui donne à Keaton l'occasion de partager un peu l'affiche pour une fois : sa partenaire de bêtises en tout genre gagne sa part de gâteau, elle est elle aussi impayable et pas avare en cascades et en gags. Emouvant de voir comment Keaton laisse sa part d'écran à Kathryn McGuire, et comment le couple fonctionne merveilleusement.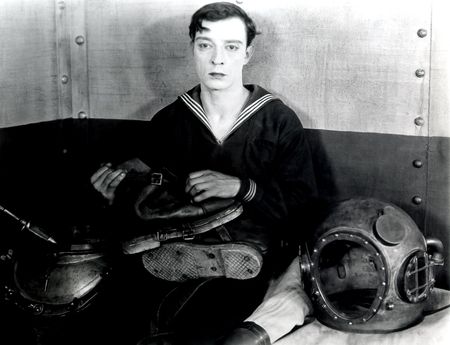 On passe d'énormité en gigantisme, avec attaque de cannibales, duel au sabre avec un poisson-épée, galipettes à bord d'un sous-marin ou lutte avec un poulpe géant. Le plus grand moment est certainement celui où Buster revêt un scaphandre : son corps célèbre pour sa légèreté est engoncé sous ce costume de plomb, et rien que l'idée est hilarante. Il y a aussi ce passage presque chaplinesque où, forcés de rester plusieurs semaines sur le bateau, les deux s'adaptent et organisent une vie quotidienne très réglée, loin de tout souci. Les gadgets inventés pour se faciliter la vie (un "cuit-oeuf" très ingénieux, notamment) sont imparables. The Navigator est mené tambour battant, sans répit (le dernier gag se termine à la dernière seconde de la dernière minute), et demeure avec The General l'archétype de ce que sait faire Keaton quand il explose les budgets. Grand.