Immense déception à la vision de ce film que j'ai attendu des années avant de voir, fébrilement je dois le dire. Les Cendres du Temps est pourvu non seulement d'un scénario très confus, bien qu'ambitieux, mais il est aussi mis en scène de façon très vaine et crâneuse. Le projet ne manquait pourtant pas d'envergure : méler en une seule histoire les temps, les rythmes, les personnages, les époques, les histoires, pour créer une sorte de fresque intime centrée sur le seul personnage d'un "agent de tueurs". Mais ce projet est gâché par une prétention formelle sans borne : WKW filme tout ça en ayant l'air de toujours se dire qu'il est le plus grand cinéaste de son temps. Et vas-y que je t'éblouis avec des ralentis impossibles, et vas-y que je t'en fous plein les mirettes en filmant (mal) des coins de désert ou des chevaux qui traversent l'écran. La complexité n'est pas forcément le signe du génie, je suis navré de le remarquer. La musique est pompeuse, pompière, à deux doigts d'être infâme ; les acteurs prennent des poses de mannequins en versant des larmes de crocodile (Maggie Cheung vient de baisser d'un cran dans mon estime (mais appelle-moi quand même, Maggie)) ; le scénario est longuet, indigent et digeste comme une patisserie polonaise (souvenir personnel)... Bref, le film aurait été signé Bartabas que ça m'aurait pas étonné outre mesure. Bon, je propose d'oublier tout simplement cette erreur dans le carrière du sublime Wong Kar-Wai, et de revoir 2046 en ravalant notre colère. (Gols 10/06/06)
---
Bon, on ne peut pas toujours être entièrement d'accord, c'est aussi ce qui fait le charme. J'attendais pour ma part la sortie de la version Redux pour apporter mon grain de sel à cette oeuvre qui, si elle fait preuve d'un maniérisme wongkarwaien poussé à l'extrême et d'un scénario qui brouille un peu les pistes, n'en demeure pas moins totalement en adéquation avec l'éternelle thématique du cinéaste : l'amour n'existe qu'a posteriori, quand il ne reste dans la bouche qu'un léger goût de cendre.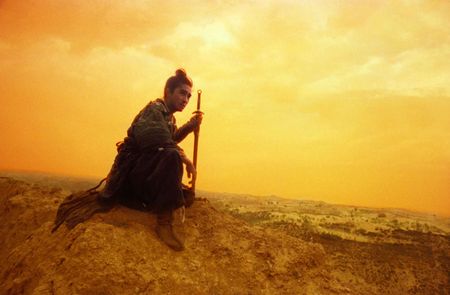 On retrouve bien en germe le fond d'In the Mood for Love ou de 2046. Il est question d'un vin qui permet d'effacer les traces du passé, de personnages qui ne tombent jamais amoureux de la bonne personne au bon moment, d'individus qui se répandent en confessions amoureuses quand il est trop tard. Le film s'étale du printemps au printemps, comme un éternel retour, un cycle infernal d'amours qui se sont consumées sans avoir, le plus souvent, jamais eu le temps d'être consommées. Chaque année, Feng (Leslie Cheung) reçoit la visite de Yaoshi (Tony Leung, celui de L'Amant). Yaoshi est, comme on l'apprendra sur le tard, secrètement amoureux de l'ex-amante de Feng (Maggie Cheung). Cette dernière s'est mariée avec le frère de Feng et, depuis, le Feng vit complètement isolé au milieu du désert en ressassant cet amour perdu. Maggie Cheung, lors d'une ultime confession à Yaoshi (sûrement le plus beau moment du film et je ne comprends point les réserves de l'ami à cet égard) avouera son erreur d'avoir abandonné Feng. Si cette histoire est une sorte de "fil rouge", de multiples intrigues ont cours à chaque nouvelle saison.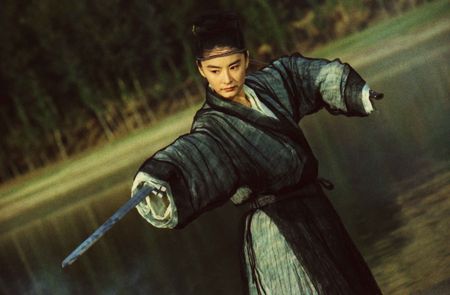 Il y a tout d'abord le personnage très trouble (pour ne pas dire double) de Mun-Rong. Celui-ci (Yang) veut la mort de Yaoshi qui lui avait promis d'épouser sa soeur. Cette dernière (Yin) demande, quant à elle, à Feng de supprimer son frère (Yang) qu'elle juge trop possessif. Ce personnage duel pour ne pas dire ambivalent (le Yin et le Yang, forcément, Mun-Rong version homme et femme étant interprété par la même actrice, Brigitte Lin) concentre en lui à la fois les thèmes du désir de possession, de l'amour impossible, et du sentiment de trahison... Notre Yin/Yang finira complètement esseulée, se battant contre son propre reflet et donnera lieu à des explosions aquatiques de la plus belle eau (WKW n'y va pas de main morte avec les charges d'explosifs). Elle incarne parfaitement toute la symbolique des échecs amoureux "en puissance"...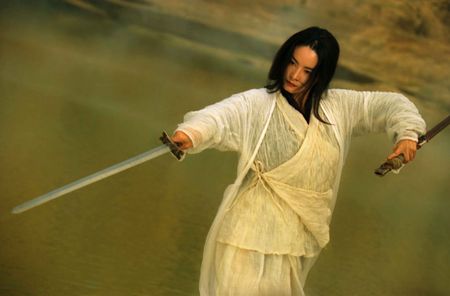 On fait ensuite la connaissance d'un chevalier quasi aveugle (Tony Leung, le vrai dirai-je, celui d'In the Mood): il désire se faire de la thune (les paysans du coin se sont cotisés pour qu'on élimine des bandits) pour pouvoir aller voir une dernière fois "Peach Blossom" - on croit qu'il s'agit des "pêchers en fleurs" alors qu'il s'agit en fait du nom d'une femme (oui, c'est tortin les noms chinois). Il refuse, tout comme Feng, de se battre gratos pour une jeune femme (dite "la femme aux oeufs") qui cherche à venger son frère, l'embrasse tout de même sur "un coup de sang" (mais l'amour est aveugle, on le sait) avant de partir au combat où il se fera proprement égorger. C'est pas vraiment ce qu'on peut appeler, une nouvelle fois, une issue amoureuse heureuse, ce chevalier ayant déjà perdu le sens de sa vie avant de perdre sa vision et... sa vie elle-même.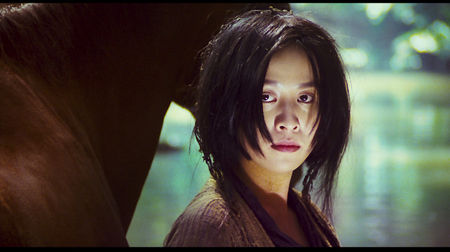 Un autre talentueux "sabreur" qui marche nus pieds (WKW insuffle alors un soupçon de comédie avec sa théorie sur la plus-value que représente un sabreur avec des chaussures) fait son apparition, terrasse les bandits et venge la femme aux oeufs (ayant peur de finir avec le même cynisme que Feng, il le fait surtout par bravade). La femme tombe amoureuse de lui, mais il finit par repartir, bien que réticent au départ, avec sa propre femme (abandonnée, elle est partie à sa recherche et vient de le retrouver chez Feng). C'est bien l'une des seules histoires "conjugales" qui finit bien... (même si on apprend, que trois ans ans plus tard, il trouvera la mort lors d'un combat avec Yaoshi)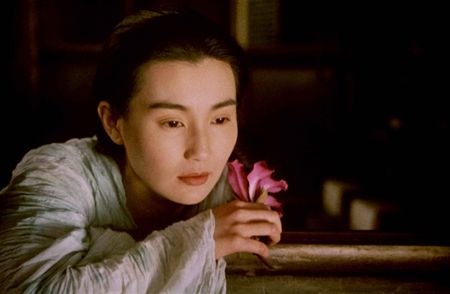 Il est clair que dans le genre "chassés-croisés amoureux", WKW nous sert un peu la totale avec un récit qui multiplie les flashs-back et télescope outrageusement le passé et le présent - mais c'est bien là que se situe l'essentiel de ses préoccupations : l'impossibilité d'avouer ses sentiments au présent, l'impossibilité de faire table rase d'un passé qui nous hante - une impossibilité à revenir en arrière qui finit par pourrir le présent... Il est facile de dire "Je t'aime" au présent uniquement lorsque les deux personnages pensent, en fait, à quelqu'un d'autre (Feng dit "Je t'aime" à Mun-Rong en pensant à Maggie alors que Mun-Rong le prend pour Yaoshi... Vous suivez toujours?). La partition musicale de la version Redux serait différente de la version originale mais c'est vrai que, omniprésente, elle ne fait pas vraiment non plus, je l'accorde, dans la dentelle. Au niveau des filtres jaune et vert, ce film doit être un cauchemar pour tout bon daltonien - se lâche grave le Wong; quant à l'usage des ralentis, notamment lors des combats où chaque image semble déteindre sur la suivante, cela donne quelque chose d'assez bluffant visuellement, entre le fauvisme et Munch - vous comprenez aisément pourquoi je n'ai jamais été invité dans une galerie de peintures sans quelques réticences. Esthétiquement, on sent bien que Doyle fait péter la palette couleur, se fait un malin plaisir à pencher tous ses cadres comme si la bière coulait dans ses veines, joue avec bonheur avec une lumière blanche aquatique qui se reflète sur un visage ou avec l'ombre d'une cage à oiseau et ne se refuse aucun effet quand il s'agit de filmer les éléments déchaînés (mention spéciale pour les reflets dans le lac et le crépitement infernal, sur la fin, du feu). On a droit, enfin, à quelques plans féminins d'une beauté rare... (la sensualité d'une main d'albâtre dans une crinière de cheval aussi noire que les cheveux corbeau de la donzelle, une main qui s'immisce entre les pans ouverts d'une chemise, le maquillage délirant de la Maggie qui, personnellement, me subjugue...). Non, une oeuvre décidément essentielle - et si "excessive", juste un poil, alors - dans la filmographie d'un WKW qu'il ne faudrait point griller trop vite. (Shang 21/02/09)
Tout WKW : cliquez